From the Washington Post:
VATICAN CITY — Pope Francis gave the Catholic Church 14 new cardinals Thursday, exhorting them to resist any temptation toward haughtiness and instead embrace "the greatest promotion" they can achieve: tending to those neglected or cast aside by society.
Among those receiving the cardinals' biretta — a crimson-red square cap with three ridges — was his point man for helping Rome's homeless and poor. Polish Monsignor Konrad Krajewski has handed out sleeping bags to those spending cold nights on the Italian capital's streets and driven vans taking the poor on seaside day trips arranged by the Vatican. The choices of many of the new cardinals reflected Francis' determination that the church be known for tireless attention to those on society's margins. He also turned his attention to countries located far from the Vatican after centuries of European dominance of the ranks of cardinals, honoring churchmen from Peru, Madagascar and Japan, which has a tiny minority of Catholics.
[Return to www.spiritdaily.com]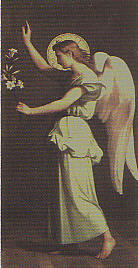 Pray always for purity and love
+