From the Irish Times:
The late president John F Kennedy's rosary beads – valued at up to $400,000 (€356,000) – failed to sell at auction in New York last month.
In this centenary year of his birth, mementos associated with JFK continue to attract intense interest but, for once, bidders balked at the steep estimate ($300,000-$400,000). The rosary, described by auctioneers Christie's as "one of the most important and personal possessions" of America's first Catholic president, had "impeccable providence," having been later given by JFK "to his best friend and special assistant, David Powers." The rosary beads are made of onyx (a black, semi-precious stone) and are attached to a silver crucifix with the name "John F Kennedy" engraved on the reverse. The decade beads are connected to the antiphon beads by a silver circle containing an image of the Holy Spirit inside of a triangle.
[Return to www.spiritdaily.com]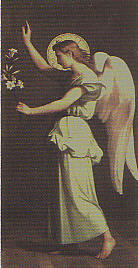 Pray always for purity and love
+++