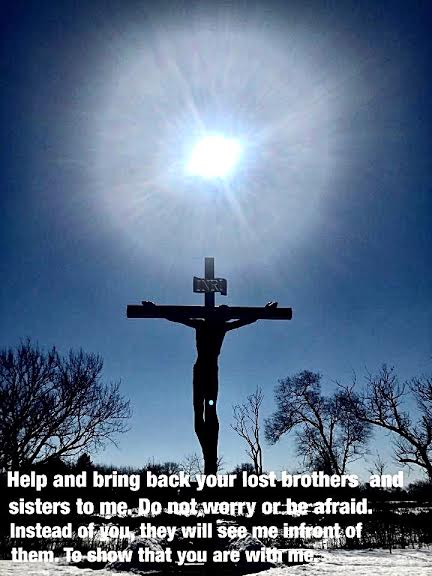 Amazing it is, that an estimated five percent of the population — in the U.S., that tallies to about seventeen million; in Canada, 1.9 million; in Australia, 1.2 million — have had what are labeled as "near-death experiences": not just close calls, but the actual passage to the other side, with memories of sights unseen and sounds unheard and fragrances never experienced by the rest of us.
As one London newspaper put it, "With so much evidence available for further investigation, the most vexing question now is not whether life continues in some form after we die, but why mainstream science is so resistant to the idea."
Glimpses of paradise.
And purgatory. And hell. (We'll be doing a webinar on this in the near future.)
Also — allegedly — the future.
Take the case of one Bill McDonald, a Vietnam vet who has claimed a number of such glimpses, both during near-death episodes and visions.
McDonald, who was eight years old first when he had his first near-death experience (due to severe kidney and lung disease) testifies about that first episode that "I was going over the edge [at the hospital]. I was taken to and then left alone in a room in an isolation ward — all by myself.
"I'm laying there and the next thing I know, there's a light in this dark room.
"I realized I was sitting up — but it wasn't my body sitting up. It was the 'me,' the spirit, the soul. I'm sitting up and there's my body behind me.
"The light expands and expands
and expands and the whole room is just light. The darkness is gone, destroyed. I sat there and was just feeling love. I'm staring at this light, feeling no fear, just the opposite. I felt like I was being hugged; the Divine was just embracing me.
"All of a sudden, in this light, I'm seeing a panorama. I'm seeing these holy scenes. I'm seeing the John F. Kennedy assassination, although I didn't know who he was. This was around 1954 or 1955, and I'm also seeing battle scenes with helicopters — Viet Nam wasn't yet on the scene — I'm seeing myself on the battlefield. I'm seeing my future houses, jobs.
"I'm seeing my wife, who — I was eight! — I hadn't met yet. I saw my wife, I saw my children. I saw going out into my life about fifty years."
For the next fifty years, McDonald asserts, it was "like constant deja vu." He did meet his wife. That happened in high school. They were both just fourteen. "And we started going steady in senior year, 1963," he relates on the website for a scientific group, IANDS that investigates such experiences.
"I knew we were going to get married even though we broke up because she was going to college and I was going to war. It wasn't ESP: I [had been] shown what was going to happen." As for the Kennedy assassination, he says he forewarned the school principal a week before it occurred. "I'd seen it in black and white, just like a TV screen." The scenes in Dallas. The scenes in Washington. Little John-John saluting.
Says a psychiatrist at the University of Virginia School of Medicine, Dr. Bruce Greyson, who logs such experiences, and whom we previously interviewed, "Back in the '80s when someone had this experience they thought they were the only person who had it. It's increasingly common for people to feel comfortable talking about them." This is why we are able to relate so many episodes — though each must be carefully discerned.
In a new book, Dr. Greyson relates the case of Barbara Harris Whitfield, a Georgia therapist who had an near-death experience, a thirty-two-year-old in 1975 when she suffered respiratory complications while immobilized from back surgery. "As I left my body, I saw my 1-year-old self … facedown in my crib … crying," Whitfield told Greyson. "In every scene of my life review I could feel again what I had felt at various times in my life. And I could feel everything everyone else felt as a consequence of my actions. Some of it felt good and some of it felt awful."
Alas, like apparitions and locutions, there are often question marks about aspects of such experiences, when one drills down a bit. In the case of McDonald, the search for a spiritual context in the religions of this befuddling world apparently led him (in our minds, very unfortunately) toward Eastern religions.
This happens often — if not swamis, then the New Age.
It is perhaps why, when it comes to mystical affairs, one heeds 1 Thessalonians 19-21: "Do not quench the Spirit, do not utterly reject prophecies, but examine everything; hold firmly to that which is good, abstain from every form of evil." Keep what is good and leave the rest.
Another such "experiencer" notes that we are all surrounding by light and love when we take the time to notice it — and that "all healing comes with true surrender."
The suffering of this earth cleanses when we let it; when we unite it with the suffering at Calvary; when we meditate with Him on the desert.
How about that: praying your next Rosary on the desert, next to Him?
Take what is good. Hold it fast.
The good?
The good, undisputed news that we live forever.
[resources: books on afterlife]