---
Reuters reports that during a television interview with an outlet in France, the Pope has suggested worldwide change to the Lord's Prayer.
"That is not a good translation," he said in a television interview on Wednesday night — according to initial reports, referring to "lead us not into temptation" in speaking with God.
The Supreme Pontiff apparently said the Catholic Church in France had decided to use the phrase "do not let us fall into temptation" as an alternative and indicated that it or something similar should be applied worldwide.
"It is not a good translation because it speaks of a God who induces temptation," he said, according to another media report.
He added Christians in France had adapted the prayer to get around the issue.
Pope Francis said: "The French have modified the prayer to 'do not let me fall into temptation', because it is me who falls, not the Lord who tempts me to then see how I fall."
Two versions of this prayer are recorded: the long form in the Gospel of Matthew in the middle of the Sermon on the Mount, and the short form in the Gospel of Luke when "one of his disciples said to him, 'Lord, teach us to pray, as John [the Baptist] taught his disciples.
[see also:  Pontiff encourages young people to study Latin]
[Return to www.spiritdaily.com]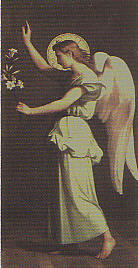 Pray always for purity and love
+++