From United Press International:
SAN JOSE, Calif., Sept. 7 (UPI) — An 86-year-old California man said the Virgin Mary may have had something to do with his $696,000 California Lottery jackpot.
Daniel Mendez of San Jose told California Lottery officials he has been watering the flowers his wife planted around the Virgin Mary statue at Our Lady of Refuge Catholic Church "every four or five days" since last year, and he always follows up the tradition by purchasing $4 worth of lottery scratch-off tickets. 
"I don't ask the Virgin to pay me with [lottery] money. I ask that she pays me with taking care of my grand kids," Mendez said.
"That's more valuable than money to me — but I really do need a new roof on my house!"
[For Full Story; caution tabloid]
[Return to www.spiritdaily.com]
[our upcoming retreat next month, join us]
[Special reports subscription]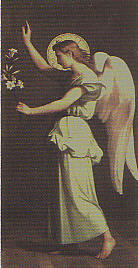 Pray always for purity and love
+++
---
---