---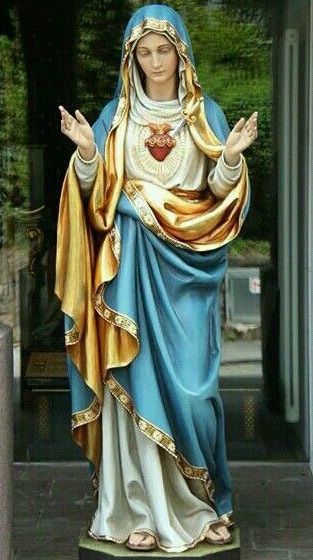 There is always the alleged prophetic front.
Let us traverse there, as tends to be a proclivity.
And let's start by noting a recent article in a newspaper, the Philippine Daily Inquirer.
It focused on a letter by Cardinal Ricardo J. Vidal, archbishop emeritus of Cebu, who according to the newspaper had written to Philippine bishops a long time ago about the dangers of China.
In that note, dated October 17, 1949, Cardinal Vidal (who once oversaw Lipa) implored his confreres to "pray hard, for China's dream is to invade the whole world. The Philippines is one of its favorites. Money is the evil force that will lead the people of the world to destruction." He was referring to highly controversial apparitions in Lipa, now disapproved (at times they have held Church favor) to a nun, Teresita
Castillo, who hinted China was the focus of a "secret" which, back in the 1940s, had been entrusted to her.
"It is thus to the Queen of Prophets under her title of Mediatrix of All Grace to whom we will have recourse in order to avert the buildup of tension and to check the territorial ambitions of this Asian superpower," Cardinal Vidal had written. "It is by following this path of prayer and penance sounded out in Fatima and reiterated at Lipa that our beloved Philippines will be spared the scourge of war and the domination of a Communist giant."
---
We have a report that (as another newspaper puts it) "thousands of faithful on Sunday, May 17, flocked to Minako Village [in Uganda], turning the site of a suspected Virgin Mary apparition into a pavillion.
"The believers are flocking to
the village following fast-spreading, wild news that the blessed Mary has appeared to a woman, in the village. An incident that started on Saturday, May 2, with 42-year-old Philister Lekuru, has now reached the ears of thousands of people. An avocado tree in the middle of Lekuru's compound is the center of attraction to the believers, who are claiming to see the image of the Virgin Mary. The woman, who is on a 14-day lockdown and fasting, reveals that she was directed to do so by the Virgin Mary in a bid to imitate the 40 days fasting of Jesus after His Baptism."
No "messages" available as yet. We'll see if this continues and to what end.
---
At Medjugorje the most famous visionary there, Vicka Ivankovic-Mijatovic, said recently, "Dear friends, for me it's a big joy to greet you even through the phone; you know that you are always, always in my prayers. I always entrust you to Our Lady and pray for all of your intentions! Do not fear corona this too shall pass! We believe in Our Lord! Our Lord sees and provides! We know that fear does not come from God! And now I want to tell you all that I love you very much and I'm close to each and every one of you! May The Queen of Peace bless all of you with Love and Peace!"
As previously reported, in February a second seer, Marija Pavlovic-Lunetti, told Radio Maria: "This virus is evil, it doesn't come from God. I am convinced that this situation won't last long, but for us it is an invitation to start a new life. When I heard this coronavirus, I asked myself: 'How can we fight him?' As the name tells us, let's stick to the Crown, let's stick to the Rosary. Holy Rosary has won on a thousand occasions. Let's start with the Rosary in our families. May the Lord free us from this fear… Jesus said that certain evil spirits can only be removed by prayer and fasting. Even for this virus we start praying and fasting."
More than any vaccine or medication, this is the remedy.
—————————-
Next:
Is a reputed (though officially unrecognized) seer from Brazil named Pedro Regis right when he quotes a message from Mary as saying, "A haunting event will take place in the House of God and many will have their faith shaken – Be ye attentive – Whatever happens, do not depart ye from the truth"? We'll stay tuned, placing it for now, with so many others, in a "suspense account."
---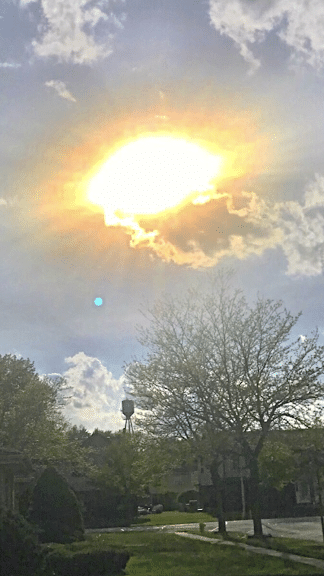 In Chicago is a fellow who maintains anonymity but often sends interesting cell photos. Here is a recent one [left], which he interpreted as "God being close to us." Might it relate to the apparent lessening of the corona crisis? He feels words are sometimes placed on his heart. "Please pray for the message that I received May 12 at 3:15 a.m. after I prayed the Divine Mercy," he writes, for our discernment only. "Pray for what I heard is happening in our world. Many of us remain as hypocrites. If we do not listen, we cannot stop God's wrath; if we do not change—especially those who continue to persecute the Word of God — soon, He will punish each corner of the world along with those who ignore His warning (without them knowing that God's Word is actually true). Lord Jesus said in front of my Heavenly Father, Who had created the world, 'I will acknowledge those who had faith in Me until the very end.'+
"Thousands of armed angels with a sharp sword and spear are coming with the fires of anger from God. The worst of fear and disease will spread. Your teeth will grind out of panic. Many of you are losing faith and starting to weaken. Behold, He will send His hope to those who have faith in Him and He will destroy those who have work from the evil [one]. Pray for those who are in need—especially the lost souls. Learn to forgive them from the past. With 'true repentance in yourself,' this is our only chance to receive the Grace from God. Pray not only for your family or your friends. Pray as a whole nation. Like the Blessed Mother praying the Holy Rosary, pray for all the creatures around the world. Listen wisely to the Holy Pope, with your wisdom and discernment. Thank you. Please continue to pray with hope and patience. Pray for the truth of this message. Ask guidance from God. His word will come through your heart and in your mind along with a sign from Him. May God bless you all!"
After that, however, on May 15, a more favorable "word of knowledge" (or intuition) from the same person:
"My children. Pray and continue to pray to remove your doubt and sadness. Do not fear for what is happening now. Your faith and trust is important to my Son. He will not abandon you all. Instead, you are the ones who try to be separated from Him. It is not too late because my 'Son's Door of Mercy in Heaven' continues to open to those who ask for His Grace and forgiveness. Teach the new generations to not neglect my beloved Son. It is a sin if you failed your responsibility. Do not hesitate to pray the Holy Rosary with your young ones because their prayer alleviates my Son's wounds. Do not be afraid at the greed for the world because everything you see is temporary. My Son will raise up those who trust in Him. Everything that happens is written and will happen to most of you. Because of this, you must learn to meditate and to confess. Open your door to others and teach them to introduce my dear Son with all your heart. Forgive one another—just like how my Son gave his life to you to pay for your sins. My children, be prepared for His coming and for His angels. They will knock at your door to get those who are good and to separate the bad and put them in eternal darkness. Many changes will occur in the future. Many will pretend to be good and the effect of this is that you cannot avoid losing some of your loved ones to my Son. The wicked will do his best but my Son will not allow this to happen to his good, devoted ones. Focus on my Son instead of the material things that will not bring you to my Son's kingdom. Instead, show your charity to those who are much poorer than you and because of that, you will enter the Sacred  Heart of my dear Son. I am saying this to teach you how to draw closer to him.  Because I am your Mother of Help. I am here beside you and to intercede for you and to your loved ones for my Son. Thank you, my dear children. Continue to pray with hope."
——————
(Now, a question: If everything is being done so right in the United States, why has it suffered so much, compared to many other nations, from the virus? And New York? Does it take us back to materialism? Consumerism? Look at what has been most affected.)
And then from Ned Dougherty, the former nightclub owner from Long Island who had a near-death experience and now asserts messages, from a voice he interprets as the Archangel Michael:
"Have no doubts! You are Powerful Prayer Warriors in a Globalist War Against Humanity — waged by the sinister global elites, who have now been clearly identified for you. Know your enemy and stand with your Heavenly Father, your Savior and Redeemer, your Blessed Mother, and all the Angels and the Saints, for you will defeat the evil through the power of your prayers, as well as through the secular activities that will be necessary for you to defeat the evil one; to defeat their new world order; and to usher in the Father's Plan for All Mankind — a New Heaven and a New Earth."
As always: for your discernment.
[Prayer from Cardinal Vidal:
"Most Blessed Virgin Mary, amid the crisis brought about by the territorial claims of China, we come to your presence seeking your queenly protection and motherly help. We pray for peace and the safety of the Philippines, as we keep in mind the spiritual welfare of those who advance their territorial claims to the detriment of the security of our country.
"May the love of your Maternal Heart attract the Chinese people to your Son, Jesus. May your Immaculate Heart be the center from which the rays of the light and love for the Sacred Heart will radiate forth throughout China, becoming for them the unquenchable fountain from which the living water of the Divine Mercy will flow. Through your intercession, may the Lord grace the Chinese people with faith, hope and love, that by your maternal mediation of grace, the Father, Son and the Holy Spirit will be worshiped and glorified in that vast expanse of land. (Adapted from a message of Jesus to Sister Lucy of Fatima as documented in a letter of the Seer to the Bishop of Gurza, May 27, 1943)
"Remember O most gracious Virgin that the Philippines is your beloved 'Pueblo Amante de Maria' and that we belong to you absolutely, totally, always and forever. We are all yours and all that we have is yours, O most loving Jesus through Mary, Mediatrix of All-Grace. (Imprimatur:  Ricardo Cardinal Vidal, June 19)]"
—————————
[Footnote: beware upsetting content in videos below]:
China is the most pressing concern in the world not only because of the coronavirus pandemic (which it may be largely responsible for); its Communism (which is quashing nascent Christianity); and its growing military/economic ambitions; but its apparent lack of respect, at least in certain circumstances, for life at all levels. 
Beyond its notorious abuse of animals and its policy (now somewhat lightened) that a woman could have only one child (in some cases second newborns were literally ripped from a mother's arms and killed by police, sometimes in front of the parents), during the Wuhan lockdown it was reported that some moribund victims were stuffed into body bags and cremated before they were actually dead (their screams heard by those in proximity). 
Perhaps most chilling is how it has "harvested" human organs. These are often taken from condemned or political prisoners (especially those of a meditation cult called Falun Gong). And there have been allegations that in some cases organs have been extracted from living people.