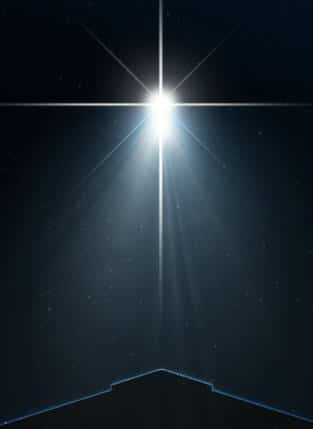 This is the year of what they call the "Christmas Star."
That's when Saturn and Jupiter will almost meld into a beautiful bright luminosity ("star"). This rare spectacle will appear in the night sky Monday, December 21, the first occasion in which they've aligned like this since the Middle Ages. To be more precise, the last time the two planets were this close together was March 4, 1226.
Interestingly, that was also time of great climate swerves, including global warming, as well as chaos, social upheaval, and conflict as wars broke out in various parts of Europe and Genghis Khan was conquering large swaths of Asia.
Meanwhile, December 21 is also the Winter Solstice, shortest and darkest day of the year (and the beginning of what some expect to be a cold dark winter season).
"But on the darkest day this year, Jupiter and Saturn meet, giving us the Christmas Star! How fitting…that in the moment of time during the Christmas season that we get to see this beautiful reminder…that even in the darkest of times…Light will, and has, stepped in," notes an e-mail. "In our chaos, He is there. In our darkest time, He is there. He brings Light, and makes all things new."
The year 1226 was also known for the institution of Eucharistic Adoration among the laity. (The date for that Church event was September 11, 1226.)
Is there any chance the "Christmas Star" — two "coinciding" planets — was the Star of Bethlehem? (Below, how the two planets were positioned last week, as they neared each other.)
Probably the Star of Bethlehem was different, but in the annum Jesus was born (one researcher claims he can show it was 1 B.C.) were also violence, chaos, political and social unrest. 
There are other interesting lights in the sky. The northern lights have kicked up — not to the extent some hoped (they were expected last week to be visible in most parts of the U.S.), but in a substantial way. They were likewise prominent right after September 11 and just before the Afghanistan and Iraq wars. 2020 has proven to be a year of unusual signs in society as well as nature, events that have far surpassed 9/11.
+
What about strange sounds?
The rumblings and booms and subterranean echoes and "skyquakes" that a few years back were a global sensation are still around, albeit not nearly as prominent as several years back, at least as far as the news. Is that because incidents have dwindled or simply because
there has been so much other news?
At any rate, they have not disappeared.
At the very beginning of 2020, last January — just before covid — booms heard by residents sparked calls to 911 on the coast of North Carolina and in upstate South Carolina. Those who live in the areas of Brunswick and Spartanburg seemed especially affected. Reported the Charlotte News-Observer, "In North Carolina, the rumblings jolted residents and rocked houses near the coast on Wednesday night, according to a Facebook post from the Southport Police Department. And in South Carolina, a seconds-long boom shook windows, piercing the stillness of a quiet Upstate neighborhood late Tuesday, WSPA reports.
There have been some small quakes, to perhaps account for some of those echoes. But not all, by any stretch. "
Booming sounds coming at all hours are rattling residents in communities south of Akron in northeast Ohio," said another report. "
Residents would like to know what's causing the sounds, and their guesses range from fireworks to shifting mines to aliens."
Elsewhere, mysteries linger in states like Texas, where, says KHOU 11, "The loud boom heard [again last January] was unlike anything the [city of] Alvin residents had heard before. But the story gets a bit more bizarre. It wasn't just Alvin. The KHOU 11 newsroom was flooded with reports of the same loud boom all across the viewing area. The mystery still remains. It's still unclear what the boom actually was."
In February, a loud sound moved through parts of Anchorage, reported the Anchorage Daily News. "It came in bursts, getting louder, then evaporating. It was heard from Midtown to West Anchorage, from Spenard to the Old Seward Highway. Some heard it once, others repeatedly for hours. People miles apart reported the tone abruptly waking them up. It came in bursts, getting louder, then evaporating. 'I would say it sounded like underwater moaning," said Stephanie Quinn-Davidson, who lives near Ted Stevens Anchorage International Airport and has heard the sound multiple times over the years.'"
Strangely, some described it as "symphonic." In other cases, lights have been seen in regional skies.
Virginia?
"Some people said it felt like an earthquake or maybe a sonic boom. Others thought it might have been a tree falling on a house or maybe a violent crash nearby," said the Virginia Pilot last April. "Whatever it was, it shook homes in parts of Virginia Beach, Chesapeake, and possibly other area cities around 10:30 a.m. The disturbance led some residents to step outside their homes to look for the source, while others reached out on social media to find out if their neighbors and friends heard it. Speculation was rampant."
It still is.
The United States Geographical Survey believes they can be accounted for, in most cases. "Reports of unidentified 'booms' have emerged from different places around the world for hundreds of years, and although many of the 'boom stories' remain a mystery, others have been explained," it said in a statement recently. "Most of the booms that people hear or experience are the result of human activity, such as an explosion, a large vehicle going by, nearby construction, or sometimes a sonic boom, but there have been many reports of booms that cannot be explained by man-made sources. Some of those booms are associated with a variety of interesting natural phenomena, including earthquakes."
In New Jersey, a man who had built a subsonic "gun" to scare away birds was the culprit in reports there.
But our bet: you will hear more such "mysteries" — hear of more booms, read of more lights — in the near future.
[resources: Medjugorje's Ten Secrets and Lost Prophecies of the Future of America]+
[Feedback (from the mail): "We believe the Bethlehem star was the conjunction of Jupiter, the King planet, and Venus, the love planet, that came to announce the birth of the Messiah, God's love sent to earth. If you look up what Saturn's symbol is, you will see it is a sickle. Therefore, the conjunction of Jupiter and Saturn may be announcing the coming harvest.  Christ will come again at the harvest, but in judgment this time. Something to ponder…. Mary Ellen DeBor]