---
Isn't it sad?
Witches and other pagan types including satanists apparently sent spells and curses on President Donald J. Trump Friday night, and now plan to do the same thing every crescent moon.
Are Christian set to remember this — every crescent, negating it?
Here are the crescent moons this coming year: March 26, April 24 and May 23, June 21, July 21, August 19, and on it goes. Apparently, it's the "waning crescent" phase that is used for negative witchery (as if there is any "positive"). "After the Full Moon peaks, we enter the waning half of the lunar cycle. Waning energies repel rather than attract, so it's a good time to begin working on spells to get rid of things," says a witchcraft site.
Here's a moon calendar for the whole year.
Whatever our politics, we're obligated as Christians to come against such stuff, praying that those who are targets of spiritual venom be provided a buffer — a bubble — of protection.

Reports the International Business Times: "The people behind it reportedly created a Facebook page and used the hashtag #magicresistance. There were over 12,000 likes for the page at the time of publishing. Joshua Feuerstein, an evangelical pastor, issued an 'urgent warning' and said that millions of people were trying to curse the president. 'Their bippity-boppity-boo isn't more powerful than the name of Jesus!' he said, according to BBC."
We don't know about "millions" — but one curse is too many. "At Trump Tower tonight, ~15-20 witches (& non-witches) cast a binding spell on Trump while one Christian mystic shouted counter-prayers," noted one "tweeter."
Said BBC: "At the stroke of midnight on Friday, followers of witchcraft across the U.S. performed a mass spell designed to remove the president from office. Writer Michael Hughes, who describes himself as a 'magical thinker' posted a version of the spell online, saying he had seen multiple versions on private witchcraft groups. In it, he suggests using a stubby orange candle, an unflattering picture of Mr Trump, and a Tower tarot card."
[Return to www.spiritdaily.com]
[March retreat in Atlanta]
[Michael Brown Special Reports]
[Books written by Michael Brown]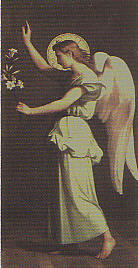 Pray always for purity and love
+++
[Feedback: " Just some thoughts. Everywhere I saw something on the T.V. Networks and on Fox Cable News it was presented as being humorous! Just wondering if in general the media has a clue as to the real dangers of the occult? I immediately said the Prayer to St Michael, specifically to defend our President from these attacks! God help us! St. Michael, defend us in the battle for our Nations soul! " Bill Whitecavage Ringtown Pa.]
---