[SD: Can Russia be trusted? Substantial are the Christian "prophets" who have "seen" Russia invading North America after great natural disasters. Maria Esperanza once warned that in the future, "Russia will act in a surprise way."]
From The Most Important News: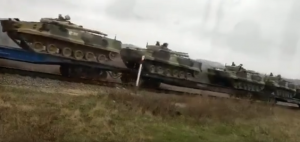 At this hour, more Russian military forces are massed near Ukraine's borders than we have ever seen before.  Western military leaders say that they are concerned that the troop movements that we have witnessed in recent days may be leading up to an invasion, and if an invasion does happen it will greatly test the resolve of the Biden administration, EU leaders and NATO brass.  In particular, the hawks in the Biden administration would almost certainly not be willing to just sit back and let the Russians conquer all of Ukraine.  There would likely be a major response by the United States, and that could set off a chain reaction that could ultimately spark World War 3.
So what made the Russians suddenly move a massive invasion force toward Ukraine?