From The New York Times:
Catholics in Germany who have divorced and remarried without receiving an annulment may receive Communion on a case-by-case basis, the German bishops' conference announced on Wednesday. The decision is a major acceleration of a more welcoming — but disputed — stance on family life adopted by the Vatican under Pope Francis.
The decision was not unexpected; many German bishops are generally considered to be within the more liberal wing of the Roman Catholic Church. It was they who, at a 2015 synod on family life, proposed inviting divorced and remarried Catholics who had not had their first marriages annulled to seek the counsel of a priest to determine their future participation in church life. But several German bishops have dissented, insisting that Catholics who have divorced and remarried must abstain from sex if they wish to receive the eucharist.
[Return to www.spiritdaily.com]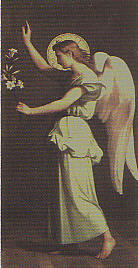 Pray always for purity and love
+++