---
Big and damaging as "Irma" may end up being, and as devastating as was "Harvey" (remember that storm, a couple weeks ago?), these are but forerunners of the coming mega-cyclones.
Back in 1999, I interviewed literally dozens of meteorologists and climatologists, including several at the National Hurricane Center, near Miami, and all of them fretted over major future weather events.
A number of them, particularly one at M.I.T., outright predicted that an upward trend in global temperatures, which was already in evidence back in 1999 (before it became political folly), was going to produce "hyper-hurricanes."
I spoke to one government official, Earle Peterson, at Miami's Office of Emergency Management, who believed that during the Middle Ages, mega-hurricanes unlike any we have ever witnessed — call them category-sixes (or more) — lashed the west coast of Florida. Enormous storm surge.
Meanwhile, a scientist at Louisiana State University, Dr. Kam-biu Liu, told me how he'd collected ancient sediment samples along the Gulf showing great hurricanes there also — with much higher storm surge than any on modern record during medieval times (when there was also a sharp upswing in temperatures).
Where "Irma" has had winds of 130 to 180 miles per hour, and "Andrew" clocked in with sustained winds of 140 and gusts up to 200, there were the ingredients, in place, for a much more terrifying storm.
Scientists in England told me they expected a 25 percent increase in top winds with projected future warming while at Princeton calculations called for an increase of up to 12 percent.
There were indications something was up, and officials were screaming about it, shouting at developers who were building so close to the water.
They expected a return of what occurred in 1926  — the Great Miami Hurricane, except now worse; not necessarily Miami.
Monster hurricanes were brewing, and if trends held up, quiet years would be followed by ones that were explosive. No matter how many storms they had seen, how many they had flown into, how many radar images, hurricanes like "Andrew" and now "Irma" left them scared.
The famous hurricane expert, Dr. William Gray of Colorado, said there'd be an increase in frequency for fifteen or twenty years as the speed of ocean currents shifted according to salinity and favorable conditions due to rainfall in Africa (where storms like "Irma" and "Andrew" were spawned), and gyrations in the upper atmosphere.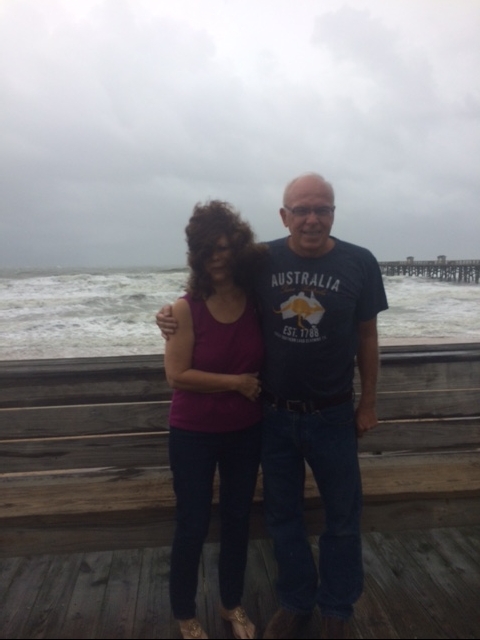 As I write (here in Florida), "Irma" approaches with a pressure of 930. The barometric pressure of the strongest storm ever recorded, Hurricane Gilbert (which did not affected the U.S.), was 888. The lower the pressure, the more potent the storm. And it can go — will one day go — appreciably lower.
These were "conservative" numbers — erring on the side of reserve — yet even these figures, when applied to the most powerful hurricanes in history, meant that the future could see gusts well over 250 miles an hour.
Using other figures, an argument could be made for future storms with actual sustained winds — not just gusts — of 230 to 250 miles per hour: heading into the category of tornadoes (but so much larger).
One day, they said, hurricane-force winds could extend outward for more than a hundred miles.
Winds from "Irma" already have at times extended out seventy miles, so we are getting there.
"Gilbert" sent out gale-force winds for 600 miles— yet the emergency management fellow in Miami, Dr. Peterson, said he was "absolutely confident that it's not even close to the maximum that can be done."
If true, that's chilling.
Could a storm plunge to 860? To 859? (At its lowest, "Katrina" was 902.)
Anything is possible in a climate that is warming — for whatever reasons.
It depends on how volatile the air is, and by all signs it is swerving.
As I wrote, in Sent To Earth, "In a climate that was unsteady there was no reason why such a storm would not balloon into larger than 'Gilbert' or a record typhoon named 'Tip' with winds of destructive force for several hundred miles. That meant the possibility of trauma for Florida. A new up-cycle was in place, would last a minimum of fifteen years, and few were prepared for it. Florida had been 'extremely lucky, just unbelievably spared,' hurricane expert Dr. Gray, who formulated annual hurricane forecasts, told me. But the state, he warned — back years ago — was now a 'recipe for disasters.'"
That was said before the great outbreak of hurricanes in 2004, and now we have a similar eruption.
I heard this time and again, including from the director of the Hurricane Center.
At Cocoa Plum south of Miami mansions were being erected on land that had been under whitecaps in 1965 during an all but forgotten hurricane called "Betsy"!
"That was a category-three," said Sent To Earth. "What was coming now was a five; without prayer, no doubt about it. If not Florida, Virginia or the Carolinas. A five or a five-plus. And Dr. Gray was right: It was going to be a tragedy. There were now 6.7 million people in Florida who were susceptible to the effects of a category-five, and even without further warming we were entering into what Dr. Gray deemed a 'new hurricane era.'"
That was written seventeen years ago. We are now seeing the forecasts — prophecies — materialize, or begin to. The book warned that one day we would see the first statewide disaster. One day, what happened with "Andrew" would happen to an area ten times larger.
As the book said, "The big ones were coming, Gray warned. Maybe not next year, maybe not even the year after, but they were coming. And it would deserve the term 'mega,' with Florida and specifically the 'Gold Coast,' the corridor between Miami and Palm Beach, the most inviting target, a candidate for the kind of event that would be heard by everyone everywhere."
Ditto for Naples up to Tampa.
"The nation — the world — would watch as the storm-of-all-storms swept over the Bahamas like a giant cogwheel dealing hateful tongues of red and violet, radiating like plasma on the radar."
Without God's Grace, that's what will happen.
If it sounds uncannily like what we are now seeing on TV, but remember that however "Irma" pans out, and whatever the final damage estimates in Houston (and recall too "Matthew"), they are but forerunners.
–Michael H. Brown
[resources: Sent To Earth and Where the Cross Stands]
We appreciate it!