From  Missionary Sisters of St Peter Claver of North America:
Devotion to the Mother of Good Counsel is associated with the story of a miraculous icon. The sacred image is found in a church in Genazzano, a beautiful town thirty miles south-east of Rome. The church dedicated to the Mother of Good Counsel was built there in the fourth century. In 1356 the church was given over to the Augustinians. Restoration started in 1467, when a widow, Petruccia, sold all her belongings to help finance the project. However, funds ran out before the task was completed.
That same year, all the residents of Genazzano heard a beautiful melody coming from heaven. As they looked up, they saw a white, shining cloud that descended on the church of the Mother of Good Counsel. The cloud gradually vanished, revealing a beautiful painting of Our Lady tenderly holding her Divine Son in her arms. Immediately, Mary began to cure the sick and grant countless graces.
[Return to www.spiritdaily.com]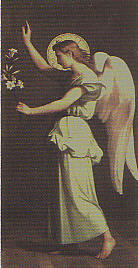 Pray always for purity and love
+
Please report any inappropriate ads or content
---