From Forums of the Virgin:
The book  Catechesi di Satana , collects the compilation that Father Marcello Pellegrino Ernetti made about the words spoken by the same demon.
They are expressed by the mouth of the possessed, during exorcisms. When they were commanded, in the name of Jesus, that the demons confess what they liked most and disliked more. In short, what most displeases it is . * Confession, where Christ washes our souls with his precious blood. . * The Eucharist, which feeds us with the Body and Blood of Jesus. . * Eucharistic adoration, where we continue the union with Jesus. . * Love to Mary and the prayer of the rosary. . * The apparitions of the Virgin, which lead us to conversion. . * Obedience to the Pope, representative of Jesus on earth. . * The prayer of contemplative souls.
[Return to www.spiritdaily.com]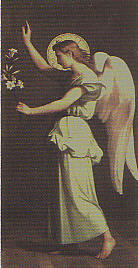 Pray always for purity and love
+
Please report any inappropriate ads or content
---