From America: The Jesuit Review:
The following excerpts are drawn from The Election of Pope Francis: An Inside Account of the Conclave That Changed History (Orbis Books, 2019), by Gerard O'Connell, America's Vatican correspondent. We join O'Connell's tale on March 13, after the resignation of Pope Benedict XVI on Feb. 28, 2013, and the calling of a conclave to elect his successor. Those 115 cardinals eligible to vote in a papal conclave have gathered in Rome and have been sequestered under heavy security in the Sistine Chapel inside the Vatican, where they will conduct secret votes at regular intervals until a new pope is elected with two thirds of the votes.
Before the conclave, several cardinals had predicted that there would be a wide spread on the first ballot, but few had imagined how wide: 23 prelates received at least one vote on the first ballot; this meant that one out of every five cardinals present got at least one vote, with four cardinals getting 10 or more votes. The top five vote-getters in the first round were as follows:
Scola 30
Bergoglio 26
Ouellet 22
O'Malley 10
Scherer 4
Angelo Scola came first with 30 votes, but he did not receive as many votes as had been predicted by some cardinals and the Italian media.  The big surprise was Jorge Bergoglio, who came in at second place, close behind Scola, with 26 votes. His total, in fact, would have been 27 if an elector had not misspelled his name, writing "Broglio" instead of Bergoglio on the ballot sheet. It was a most promising start for the archbishop of Buenos Aires.
[Return to www.spiritdaily.com]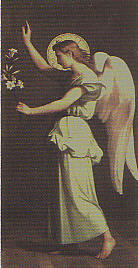 Pray always for purity and love
+
Please report any inappropriate ads or content
---