From the Christian Post:
A former Satanist [Jose Ramirez] has attested to the power of Christian prayers, saying he was prevented from carrying out his evil plans when he encountered a group of intercessors during one of his missions.
'When I came into the neighborhood and they were in the spirit together holding hands. Do I know they were physically holding hands in one area? I don't know, but in the spirit realm, they were holding hands. And, they were able to chase me out the neighborhood,' he added.
Ramirez said that he aborted his mission because of the power of the prayers of Christians. He is now encouraging Christians to expand the scope of their prayers, and pray for the schools, the neighborhood and the whole nation.
[Return to www.spiritdaily.com]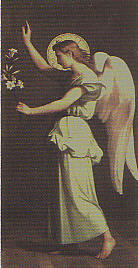 Pray always for purity and love
+