You'll have to excuse the disturbing photos.
But a point has to be made, not just in a societal sense, but in all our lives.
The lesson: evil begets evil.
The more darkness we allow, the more darkness follows.
A chain reaction.
A magnet.
A gateway to hell.
You look at images such as the one above and those just below, and you can sniff the smoke of what looks like hellfire, the "concert" last weekend in Houston starring a "rapper" named Travis Scott.
One headline:
+
"Travis Scott's concert, described as 'dark and hellish' by people present, was the site of at least eight deaths and countless injuries," said an article. "Throughout the entire time, and despite pleas from the public, the show never stopped. As Travis performed in front of a background that was described by some as 'the gates of hell,' lifeless bodies were being carried away by security."
Continued that piece, "Soon after the concert, social media was flooded with accounts by concertgoers who felt a 'dark energy' throughout the event which prompted many to declare that the entire thing was a satanic ritual sacrifice. These suspicions were only amplified when reports emerged that several people in the crowd (and at least one security guard) were 'pricked' by a needle. Not only did these people get injected with an unknown drug, but these assaults prompted panic in the crowd which lead to people fainting and getting trampled."
The upshot: hundreds of others were injured when the frenzied mob, raising those two-finger, horn-like salutes, rushed toward the stage.
Oh, the smoke.
Did it smell like sulfur? (Are there "faces"?)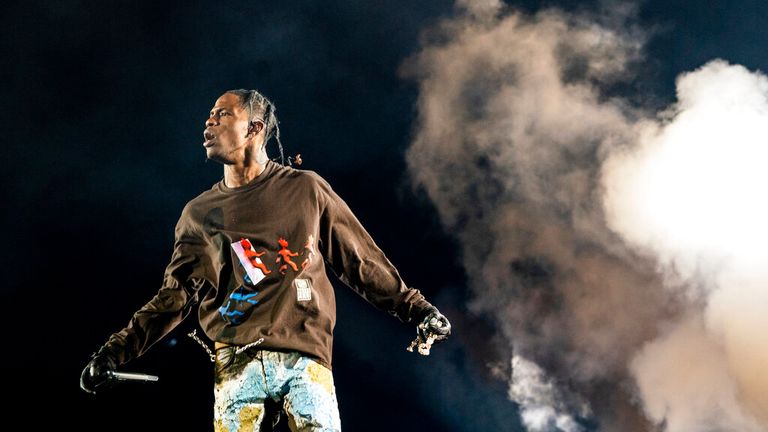 Just days before, Travis  was photographed trick-or-treating as "Jason," from the blockbuster horror movie Halloween.
Now a real horror was playing out, was stalking.
Prayer need, indeed.
Note the ill fortune of many in horror movies (Poltergeist, Omen).
There was also the matter of the actor, poor Alec Baldwin, who accidentally shot and killed the cinematographer of a movie he was producing just outside of New Age-encrusted (but old-church enriched) Santa Fe, New Mexico last month, the month of Halloween.
The gun was not supposed to have a bullet in it, and while the entire story and blame for it has not yet been established, it really doesn't help when a young and inexperienced woman in charge of such props — the so-called armorer — is involved, apparently, in strangeness exhibited on the back of a t-shirt she was photographed wearing that depicted a naked woman in bondage — promoting sado-masochism. Talk about drawing forth spirits! (Again, caution: upsetting, graphic material).
The way she dresses! (Notice the spider boots — and webs).
What a mess we weave, indeed (when we stray from purity).
When we taunt hellfire.
And when we deceive (especially ourselves).
When we consort and cavort with the spider.
At the same time was news of a Jamaican cult leader — death-cult leader — dying unexpectedly in mid- October. Death of the unexpected or suicidal kind often waits in one way or another for those who themselves have caused death (see Hitler).
Said the news: "Jamaican cult leader Kevin Smith, who has been in custody since last Sunday after two of his followers were killed in a 'human sacrifice' ritual, has died in a car crash. The accident took place on Monday morning while police were transporting Smith from Montego Bay to Kingston where he was set to be formally charged in connection with the murders."
Said a previous article about the killings, "The 144 men, women and children summoned to church, robed in white, found themselves witnessing a macabre ritual of sacrificial death and facing the long arms of police and military personnel. The hellish nightmare played out in the Jamaican city of Montego Bay on the night of Sunday, Oct. 17."
Even some police officers were among the church's congregation, the city's Police Commissioner, Antony Anderson, said in a press briefing about the incident.
Distance thyself from those who harbor demons.
Let us not judge, but purge ourselves and pray. Let us remember, this month of November, the Immaculate image of Mary during the Miraculous Medal apparitions.
Here is our safe harbor.
Here is the gateway to Heaven.