From Forums of the Virgin Mary [translated]:
The power of the evil one through the witches.
The end of time is between us.
In no way does it mean the end of the world, but quite the opposite, a rejuvenation of the world as God created it.
The signs in human societies and nature are already present.
And that is why the evil one is acting more and more forcefully to degrade morals, to generate fear, and enslave people, so that the dominance that it has had over the world for centuries does not dissipate.
We will see from now on that the "bad guys" will be increasingly bad and will resort more to the powers of the evil one.
That is why exorcists warn about the growth of possessions (already happening) and especially of hexes.
Here we will talk about what hexes look like, how to protect yourself, and how to get rid of them.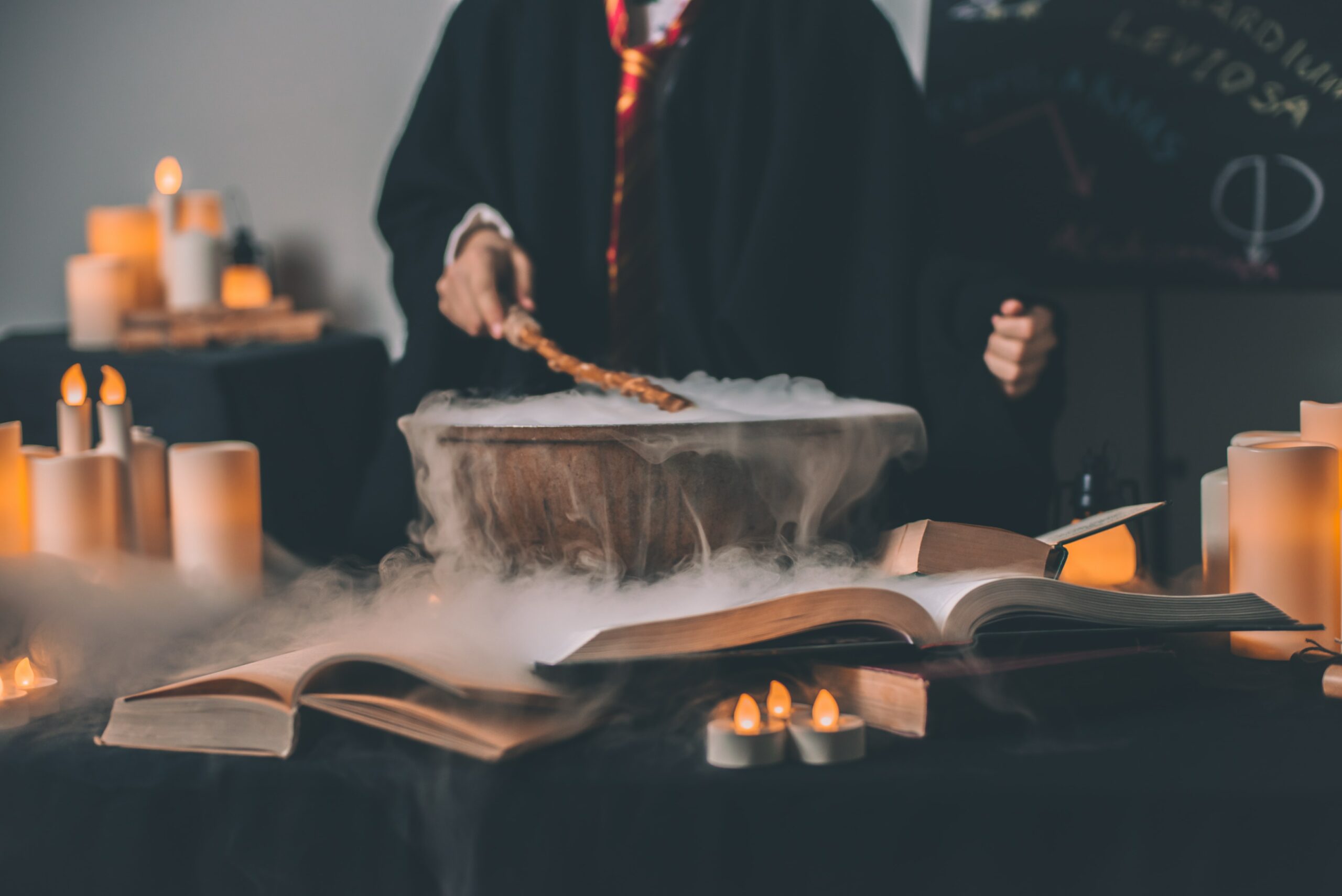 We have entered the End of Times, which is not the end of the world but a great epochal change.
In which the world dominated by the evil one will have a purification and a Eucharistic Reign of Jesus will come for a long time, which will begin with the triumph of the Immaculate Heart of Mary.
This will mean the temporary defeat of Satan and his minions.
And that is why this transition will be turbulent, because the evil one will try to achieve the impossible, that God does not defeat him.
It is this stage of the tribulation that will precede the change of epoch and in which we will see that the bad guys will get worse. [scroll beyond ad for more]
And therefore the curses will increase, because those who do witchcraft will increase.
There will be more people turning to the power of evil and more witches who will operate those curses.
The evil one will protect himself by inciting leaders of the Church, so that they tell the baptized that the devil is an idea that occurred to [ancient] men to explain evil.
That there is no such figure of Satan.
And that witchcraft and hexes are only explanations that obsessed people find to explain the misfortunes that happen to them.
There are cardinals, bishops and priests who think this and misinform the faithful.
They are expressly unaware of what their own priestly colleagues, the exorcists, have encountered in their melee with demons.
The famous exorcist Father Gabriele Amorth has said several times in reports that in his room he had more than two kilos of objects expelled by the mouth, by people possessed or abused by the evil one.
Nails, some four inches long, plastic dolls, pieces of iron, wood, and objects of all kinds.
These objects materialize as soon as they come out of the mouth, so if a few moments before materialization an X-ray were taken of the person, nothing would be seen.
So if there are these physical proofs, how are there cardinals, bishops, and priests who do not believe that the devil exists?
We must be very clear that these things do exist, otherwise we will not know how to combat or prevent them.
Curses, hexes and magic are the tools of satan, his witches and sorcerers. 
While the tools of the believer are faith in God, trust in Jesus, and love of neighbor, including persecutors.    
Today we see that there is a great growth of witches and sorcerers. We made several videos warning about this. [scroll for more]
They teach how to do witchcraft in articles online and in videos.
Things that make Harry Potter almost a benevolent parody.
This supernatural, evil, and perverse power is known by the name of witchcraft or sorcery or shamanism.
Some of these practitioners of magic claim to be channeling the natural energy of the cosmos.
Others say they are appealing to a "feminine energy."
And still others claim to be empowered by pagan deities. 
But they are all deluded.
What they think of as spiritual energies, earthly powers, or deities are nothing more than masks for satan.
All of these pagan "deities" are demons under the control of Satan. 
High-level witches are deeply mired in this dark world of evil. 
And their luck can only be a growing darkness and slavery by the Prince of Darkness.
Although they threaten others with hell, it is they who are in the greatest spiritual danger.
There are only two spiritual sources of power: God and Satan.
God's servants use their spiritual authority to bless others and to defeat evil.
While the emissaries of Satan use the power of Satan to curse, control others, and do evil.
The New Age, radical feminism, and the admirers and practitioners of ancestral cultures, are those who wield this power
So if God allows a curse, Satan and his demons are the instruments that carry it out using the hands of these human beings.
Much is said about possessions and little about demonic vexations; that is why sometimes witchcraft is ignored.
There is possession when the demon is present in the patient's body.
And vexation, when disorders caused by the devil appear without necessarily being inside. 
The number of possessions is small, while harassment is very common, and more than 90 percent has its origin in hexes, according to Father Amorth.
The people who suffer the hexes are not necessarily possessed; they are being attacked from the outside; perhaps some are, but not most.
Those who are possessed or linked to the devil are those who operate the hexes. 
Although not necessarily possessed either, because when one is strongly linked to the devil, he already belongs to him and possession is not necessary.
Exorcists know that the demon has great powers; it can even heal. 
Obviously, it is incomparable to those Powers God has.
But it gives the goods they ask for: success, money, pleasures. [SD note: Some are given these "gifts" by evil in more indirect ways.]
In other words, a depraved life, with all the illicit pleasures.
These sorcerers linked to the diabolical power take advantage of the associated powers and this is how they capture people and lead them to Satan [again, sometimes indirectly — SD].
Father Stephen Rossetti, who heads a Catholic organization of exorcists, has given examples of what happens to three of his patients attacked by witches.
The family also suffers physically, and mentally; and the witch gloats.
Every night another victim hears the threatening voice of a witch telling her that she will be condemned to hell.
A third person undergoes regular visits from a witch with a variety of tortures and physical manifestations.
He says that in the process of liberation, several have dramatically excreted from the bodily orifices a kind of "bolus," a mass that the witch uses to curse the individual.
And he advises that as long as the bolus remains inside, the release process will be hampered.
Some of these witches manipulate objects, for example, it says that a witch materialized a cursed object inside the closed car of the victim.
And how is the liberation process accomplished?
Victims of the hex should never turn to a witch or sorcerer to undo the hex, but instead turn to the original teachings of the Church.
They must learn to trust Jesus and His Commandments.
To resort to the sacraments of the Church.
Lead a life full of grace, fasting, and continuous prayer.
The power of the witch or sorcerer, like that of demons, is limited.
They may harass, torment, and inflict suffering, but the Power of the risen Christ is supreme.
But we can all be the target of a curse.
And how to protect yourself so that a curse does not harm?
Sin is one of the main doors through which a curse enters, because it weakens your ties with God. 
Repent of all your sins, confess them. Accept and receive God's forgiveness and forgive yourself. Forgive all those who have ever offended you.
Renounce the sins of your ancestors.
Avoid any contact with sects, the occult, and Eastern religions or their substitutes such as yoga or reiki.
Destroy books and objects associated with sects, the occult, or false religions.
Go to Mass frequently, take Communion, do Eucharistic Adoration.
Pray the rosary, the chaplet of Divine Mercy, and other prayers that you feel are beneficial to you.
Wear and use sacramentals, such as Holy Water, the Miraculous Medal, the Carmelite scapular, or the medal of Saint Benedict.
And above all, have supreme trust in God, give him your life and that of your family with great faith.
Proclaim blessings on yourself, your friends, and your family.
So far we wanted to talk about curses and witchcraft, which are increasing and will grow exponentially, as the tribulation grows and the demarcation lines between good and evil become more precise.
WATCH THESE VIDEOS