Strength beyond strength — strength beyond what seems like the limits of physical power.
When twenty-two-year-old Lauren Kornacki discovered her father crushed under a BMW that had slipped off a car jack in Glen Allen, Virginia, she was able to wedge herself under the mid-sized vehicle and yank it right off her dad…
In 2013 two teen sisters in Oregon lifted a tractor to save their father, who was pinned underneath.
In 2015, a fellow named Nick William in Newfoundland heaved a four-wheel-drive vehicle off a young boy.
We marvel at such feats. When I was a kid, my grandfather and a neighbor lifted a full sedan off a young girl who was trapped under one of the car tires, which was on her chest. You never forget scenes like that.
A professor at Penn State University calls such cases demonstrations of the human body's "absolute strength." Remarkably, scientists tell us most people can lift up to seven times their own body weight when the adrenalin of stark terror kicks in.
I'd call it God-given strength. But on the scientific nuts-and-bolts level: It seems cascades of proteins and enzymes are released, contributing to superhuman power not normally accessible to humans.
That sort of thing pales, however, next to what occurred to Bruce Van Natta, a mechanic who was looking for an oil leak under a logging truck. He already had fixed a coolant problem in the mammoth vehicle, and now crawled under a thick axel as the truck, minus one of its wheels, was jacked up.
The problem: no stands or blocks — safety equipment — had been positioned. And when the driver jumped back in his truck to shut off the motor, the cumbersome vehicle shifted slightly — rocked — and "out of the peripheral vision in my left eye I saw movement," Van Natta, that fellow under it, recounted. "I turned my head just in time to see the jack wiggle around and shoot out like a rocket."
That was when the truck's axle came crashing down on his torso, with such force that like a blunt cleaver, it came close to cutting him in half.
There was a crushing blow across his abdomen and the loudest noise he'd ever heard or would want to…
"Lord help me!" he cried out — twice.
Blood shot from his stomach into Van Atta's esophagus. He was all but drowning. Later, they would find major arteries severed in five places…
When Bruce looked at the left side, he saw that his body on that side, to his astonished horror, was now just an inch thick! — less than the thickness of his spine.
He'd had close calls before, but Van Atta wasn't going to make it through this! Seeing his critical situation, once he hopped from the truck, the driver at first froze with panic, then called 911. As they waited, the driver was able to place the jack under one of the wheel springs.
Meanwhile, as he struggled to remain conscious, Bruce screamed instructions, looking back and forth to his grotesquely flattened torso. "Get me out from under this truck!" he shouted — afraid, perched as it was under the wobbly spring, it would fall again, delivering the final blow.
Van Natta grabbed the massive chrome bumper, summoning all his strength to get his head out. But the rest of him remained trapped under the 10-000-pound truck.
Then, he passed out.
Which was when a horribly unusual day turned all the more unusual — even unbelievable.
For this was no run-of-the-mill superhuman strength account. Van Atta says he felt his spirit leaving his body and wafting up to the roof of the garage. Suddenly he was looking down at his smashed body and the truck that had pinned him. He watched as the driver ran his fingers through his hair, crying, "I'm sorry, I'm sorry."
That's when Van Atta — not the type to fantasize — saw two huge angels, positioned on each side of his body — matching bookends, muscular and in robes, with arms positioned under the bumper.
This he observed for more than half an hour, while they awaited the arrival of emergency assistance from Adams Friendship, Wisconsin — not exactly around the corner.
Was he delusional — hallucinating those assisting angels? (Very wishful thinking?)
He felt himself rocketing in and out of his mangled body — as one of the ethereal beings gently slapped the face of his earthly body, trying to revive him down below.
The thought of his wife Lori and four kids flashed to mind. I can't die, I've got to be here for my family, he thought. Despite the excruciating pain, he forced himself to keep his eyes open.
It was two hours before he got to a trauma center — where doctors, briefed on the emergency, were shocked he was still alive. ("We were looking at the CT scans of a dead person," noted one later…)
They couldn't make sense of it. They'd never seen anything this bizarre. Van Atta had bled out. There was no flow of blood. Yet — Van Atta's heart was beating like he was a marathon runner.
Despite broken vertebrae, a crushed pancreas, and an all-but-obliterated small intestine, Bruce clung to life for twelve hours, until doctors decided they could chance surgery. Against towering odds, he made it through multiple operations.
Too hard to believe?
For medical personnel, yes.
Not for Bruce Van Atta — who saw what he saw and doesn't believe for a minute it was only those doctors who saved him…
–MHB
[resources: Heaven Is For Real]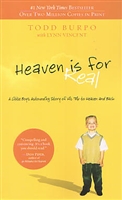 =
=
=
=
=
=
=
=
=
=
=
=
=
=
==