From the National Post:
He is a short, smiley, serene 82-year-old French-Canadian monk at the Notre Dame des Prairies monastery near Holland, Man., named Brother Alberic. Who, coincidentally, had been making cheese for over 60 years and was edging closer to, as he puts it, "heaven," and wanted to find a protégé to pass along his knowledge — and the 300-plus-year-old secret cheese recipe — before it was lost forever.
"The monastery life isn't for everybody," Peltier says. "It is a tough go. You're sitting in a dim cellar, making cheese all day, but I had been using Brother Alberic's cheese and talking it over with my wife, Rachel (Isaak), about how we should go and meet him." The monks don't have a listed phone number. But they do operate a small storefront selling monastery wares, including pictures, cards, crosses, jams, honey and, of course, three-kilogram rounds of Brother's Alberic's celebrated cheese.
[Return to www.spiritdaily.com]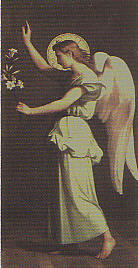 Pray always for purity and love
+++