The news last week that a volcano had erupted on La Palma in the Canary Islands set off alarms in some circles, not just for local residents who could be impacted by lava, pyroclastic chunks, and concomitant smoke, but for those along various Atlantic coastlines who, whether large or small, theoretically could witness a tsunami. [Below, actual recent photo]
The pyrotechnic display is known as Cumbre Vieja, and like other volcanic islands, La Palma could see a massive chunk of rock — acres of it — collapse into the ocean (again, at least in theory).
This has seemingly occurred on the Big Island of Hawaii, where what is known as the Southern Flank is gradually parting from the rest of that volcanic rise of land. Geologists have long wondered if pressure from lava burbling from the depths could push that rock outward, causing cataclysmic collapse into the Pacific.
In 2018 just such a collapse occurred at the famous volcano called Krakatau, causing a tsunami nowhere nearly as threatening as what some fear for the Canary Islands, but demonstrating that such events do happen.
Whether a resultant tsunami could actually wash over parts of Western Europe and northern Africa (see Morocco) is highly debatable. There are those who have posited that. Two such scientists are Steven N. Ward and Simon Day, who in a 2001 research article proposed that a Holocene change in the eruptive activity of Cumbre Vieja volcano and a fracture on the volcano that formed during an eruption in 1949 may be the prelude to a giant collapse.
"They estimated that such a collapse could cause tsunamis across the entire North Atlantic and severely impact countries as far away as North America," notes Wikipedia. "Later research has debated whether the tsunami would still have a significant size far away from La Palma, as the tsunami wave may quickly decay in height away from the source, and interactions with the continental shelves could further reduce its size. Evidence indicates that most collapses in the Canary Islands took place as multistage events that are not as effective at creating tsunamis, and a multi-stage collapse at La Palma likewise would result in smaller tsunamis."
Let us hope that's accurate.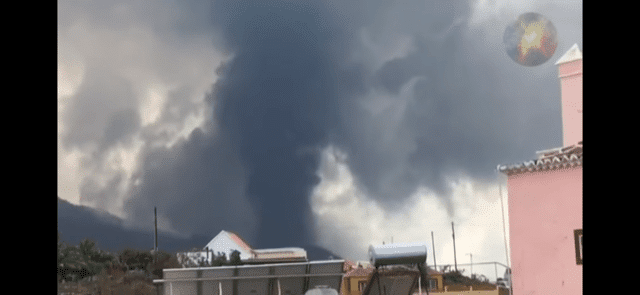 Ward and Day hypothesized that a couple minutes after the collapse, a three-thousand-foot thick dome of water would rise above the landslide, and several minutes after that the "dome" would fall to a height of 1,600 feet as it traveled thirty miles.
After ten minutes, the hypothetical landslide would be over, waves reaching heights of up to two thousand feet (nearly twice the height of the Freedom Tower) and hitting three western islands in the chain.
An hour or less later — they claimed (controversially) — 160 to 330-foot waves might hit Africa, and a three hundred-mile wide "train" of waves would advance across the Atlantic.
Give it another six hours or less and the waves would hit South America and Newfoundland — at heights of up to sixty feet, along with smaller ones in Spain and England (which are partly protected).
Nine hours later?
Hypothetically, waves from sixty to eighty-feet high might approach Florida.
The recurrence rate of similar collapses in geologic time has been almost infinitesimal — seismologists estimate about one every 100,000 years or less, in the case of the Canary Islands — but it's not really an estimate so much as a guesstimate.
Other volcanoes across the world are also at risk of causing such tsunamis.
This is where science stops and only God knows.
Could it be a part of "future events" expounded in prophecies?
Prehistoric landslides that caused tsunamis include the Storegga slide 8,200 years ago — a 720 cubic mile submarine landslide off Norway — that generated a tsunami recorded from geological evidence in the Faroe Islands, Norway, and Scotland.
Others greatly differ, saying tsunami heights in the U.S. and Caribbean would not even exceed ten feet. And dispersion along the rest of the coast could reduce it to just several feet in other coastal U.S. areas. Additional estimates are in between the aforementioned ones. Thirty feet. Sixteen feet. In other words: not quite a Freedom Tower of water!
It's all speculation — some perhaps greatly exaggerated. Perhaps not.
The latest eruption began on 19 September 2021 following a week of seismic activity.
That's the feast day of Our Lady of LaSalette, where the Virgin allegedly predicted just such geologic events. Lava from the eruption has destroyed Saint Pius X Church there. "Firefighters were hoping to divert the flow of the lava from away from the church," says a report, "but were unsuccessful."
Meanwhile, let us note that the 1755 Lisbon earthquake, also known as the Great Lisbon earthquake, impacted Portugal, the Iberian Peninsula, and Northwest Africa on the morning of Saturday, 1 November — Feast of All Saints.
In 2015, it was determined that the tsunami waves from that historic quake may have reached the coast of Brazil — in short, spanned the ocean. Letters sent by Brazilian authorities at the time of the earthquake describe damage and destruction caused by gigantic waves.
[resources: Fear of Fire and Michael Brown webinar video]