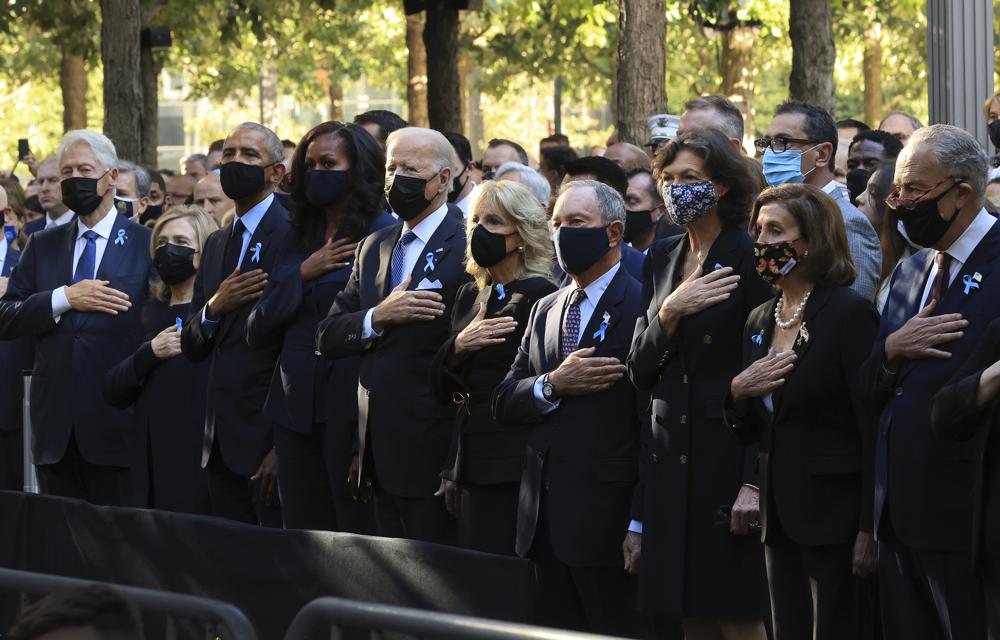 Ironic?
Very.
If it doesn't strike you that way, it does us: the leaders and former leaders of the U.S. and NYC at a 9/11 ceremony wearing masks — an emblem of the ongoing coronavirus chastisement — standing in deference during the National Anthem at the 9/11 Memorial and Museum, emblem of a different, smaller warning or chastisement twenty years ago.
As stated during today's retreat: September 11 marked a new stage in warnings from the Lord, a stage that now ends, as the pandemic ushers in new, higher-magnitude stage with an as yet unknown trajectory and endgame.
It didn't have to be that way. 
But it is that way due to our response and a series of leaders (not just George Bush).
What was our response to 9/11? Was it humble deference to God? Was it replacing the burnt-out hole left by those two gigantic symbols of world trade (capitalism) with a Cross, or a non-denominational religious monument of some sort, or was it replacing it instead with a soaring new "freedom" tower, even taller than the towers were.
Instead of humility, the U.S. chose defiance, just as ancient Israel did when chastised by God, to its great detriment (and chastisements by the Assyrians — see Isaiah 9:10 — who were on territory that now, gallingly enough, is inhabited by modern terrorists).
Oh, how what goes around comes around.
How history repeats.
Immediately after 9/11, with New Yorkers remaining off the streets out of fear, the mayor of that city urged them to come out and go shopping — as a way of bolstering the hard-hit local economy and "showing" those terrorists.
Meanwhile, the U.S. president visited smoldering Ground Zero and shouted through a bullhorn that the terrorists would shortly be "hearing from us" — as they indeed did, with America blowing off massive "daisy-cutter" bombs and entering a war that was doomed from the start and in the end served no purpose (as wars rarely do), costing the U.S. more military casualties than the three thousand who died at the twin towers, the Pentagon, and that field in Pennsylvania. Literally, tens of thousands of enemy troops and Afghani civilians, including children, also were killed.
The mystic Maria Esperanza had loudly warned against precisely this — going to war — telling this website that if the U.S. displayed reserve and humility and repentance, the world would sympathize with the United States and Americans would gain prestige. God would look with favor. The opposite has occurred.
And tragically, the U.S. also went to war in Iraq, leading to the utter destruction of much of that nation, including Christian communities. Churches were bombed by ISIS, the progeny of al Qaeda. Catholic churches were in ruins.
Since 9/11 failed to reorient society, more warnings came: there were Hurricanes Katrina and Sandy, the latter flooding Liberty Island and causing it to shut down; there was an earthquake in the Richmond, Virginia, area that shook places as far away as D.C. and caused severe cracks — and shutdown — of the Washington Monument.
That brought to mind the seismic pulse from collapse of the Trade Center that during 9/11 caused cracks in Federal Hall where the Bill of Rights were signed and George Washington was inaugurated.
We still didn't "get it." We did not learn.
Notes Associated Press today: "For the U.S., the zero hour of Sept. 11, 2001, meant a chance to reshape its place in the post-Cold War world from a high perch of influence and goodwill as it entered the new millennium. This was only a decade after the collapse of the Soviet Union left America with both the moral authority and the financial and military muscle to be unquestionably the lone superpower. Those advantages were soon squandered."
And so along came a greater event, called covid, terrorizing first New York and then the rest of the nation (and really the entire world; it wasn't meant as chastisement just for the U.S. The entire globe apparently was in need of rebuke).
Not pleasant thoughts, not thoughts anyone wants to have, but honest ones.
At any rate: a prayer please for all (including a dear friend ours) who died on this somber day twenty years ago…
From Associated Press:
Millions of people solemnly marked the 20th anniversary of 9/11 on Saturday, remembering the dead, invoking the heroes, and taking stock of the aftermath just weeks after the bloody end of the Afghanistan war that was launched in response to the terror attacks.
The ceremony at ground zero in New York began exactly two decades after the deadliest act of terrorism on U.S. soil started with the first of four hijacked planes crashing into one of the World Trade Center's twin towers. "It felt like an evil specter had descended on our world, but it was also a time when many people acted above and beyond the ordinary," said Mike Low, whose daughter, Sara Low, was a flight attendant on that plane.