The church, Abuna Yemata Guh, in northern Ethiopia is carved out a cliff above a 250 metre drop
Every day, this Coptic Christian priest, Fr Haylesilassie Kahsay, walks for two hours and then climbs a sheer cliff to reach his church.
Abuna Yemata Guh in northern Ethiopia is carved into the side of a cliff, complete with colourful frescos and two cupolas, above a 250 metre drop and accessible only by climbing the cliff and traversing narrow ledges. The climb includes one 10 metre section of sheer vertical cliff. It is tradition to scale it without shoes or a rope.
The church was built by St Abuna Yemata, one of the nine saints who came out of Syria, Constantinople or Rome to bring Christianity to Ethiopia in the late fifth century. It features in a Lonely Planet Traveller guide of inspiring destinations, and now the priest has been filmed making his daily journey to work by Charlie Northcott, Kalkidan Yibeltal and Berihu Lilay for the BBC World Service.
[Return to www.spiritdaily.com]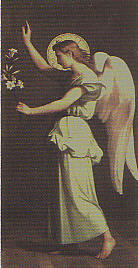 Pray always for purity and love
+++