---
Too many act as if the miracles of Jesus ended two thousand years ago. We rejoice (especially this time of the year) in seeing the miraculous all around us — in big things, in little things, in the natural course of life, in phenomena.
Is the miraculous sometimes manifest, as we often ask (again, especially this time of year), in reflections of light?
Here we always walk a tightrope between openness and so-called gullibility — although, truth be known, the Lord prefers "gullibility" in the way of faith (like babes) than the hyper-rationality that has overtaken the Church and is so prevalent in pews that become vacant.
When we over-rationalize we miss manifestations. We're left with the aridity of the cerebral over the spiritual (not that we should forget to exercise reason!).
Some disdain claims of photographic marvels. Here's one, taken from our mailbag. One can be excused for seeing Mary praying, near the ceiling. (That blue!)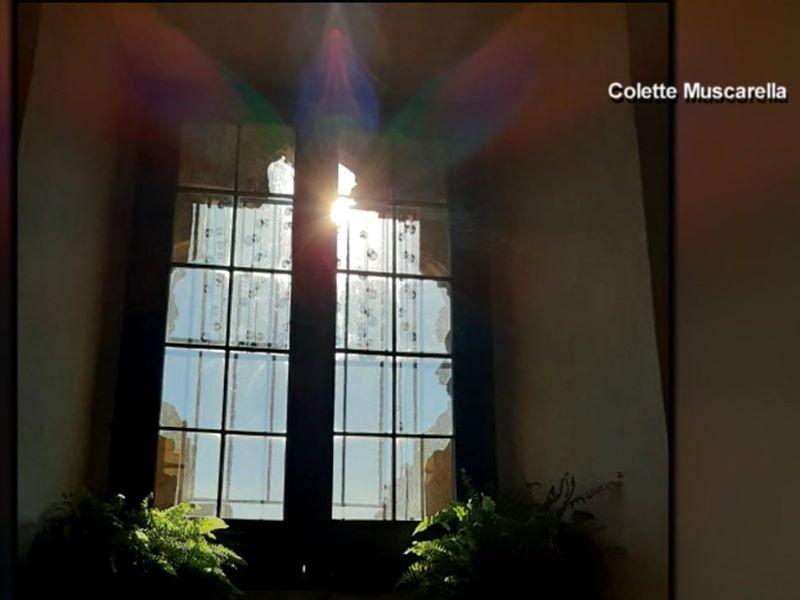 Can it be a coincidence? Of course. Just about anything can.
Now also: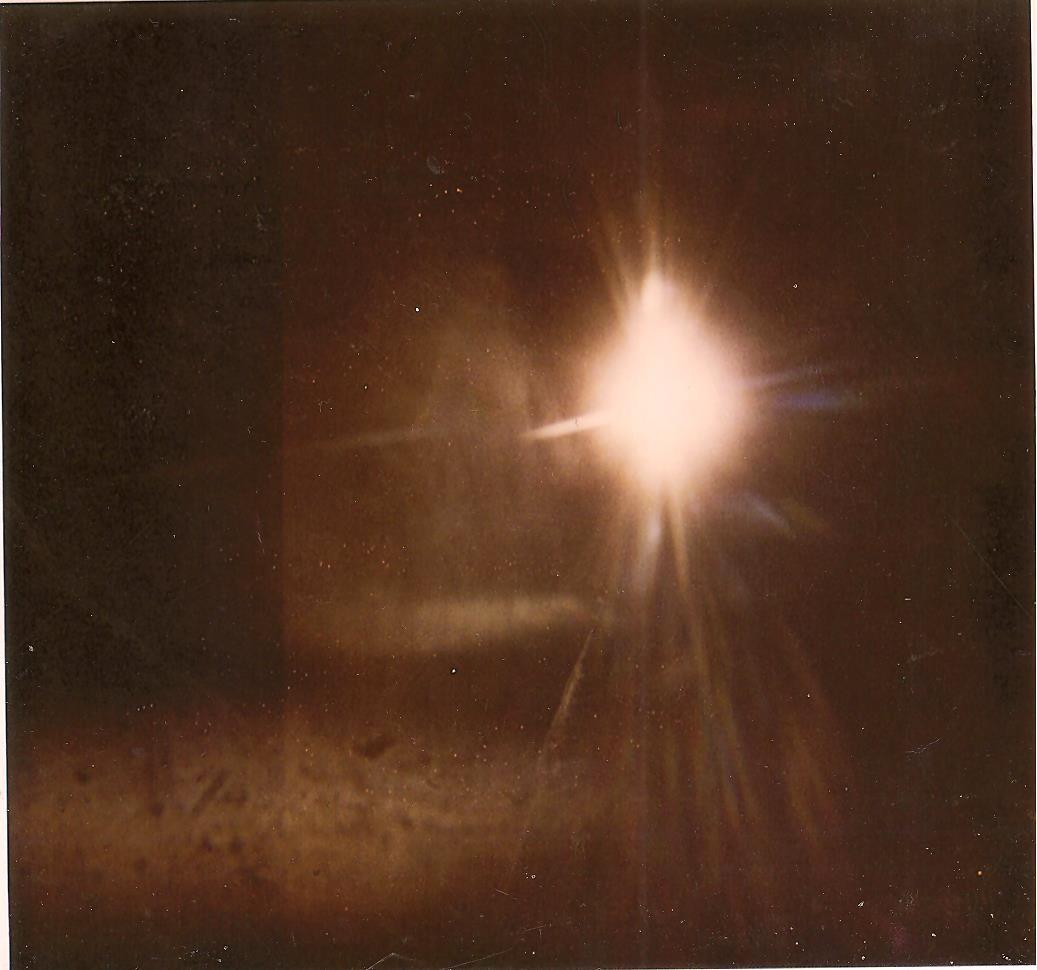 A kind of star of Bethlehem — radiating the Virgin to the side?
"I sent you this photo a few years ago," writes a viewer named Pam Thorne from Plymouth, Connecticut. "It was taken one December 18 during prayer by a friend who was praying for me to have a safe delivery of my third child. As was her habit, she pointed her camera towards the sky while praying for me and this image which I believe to be miraculous, appeared. Can you see a figure to the left of what may be the sun? I also see that she seems to be standing in front of the sun's rays. For each of my three babies I had prayed for the gift of one of them to be born on one of Mary's feast days, as I have a devotion to her. December 18th is not a commonly celebrated feast day of the Church. But, I later and joyfully found out this date had been celebrated in the church at one time and was known as the 'Feast Day of Expectation of Mary.' I think that this is a beautiful and miraculous image of the expectant Mother of God!"
One tends to cautiously concur. This season, greater lessons, of course, can be meditated upon. Dig deep enough into yourself — past the grudges, past the likes and dislikes, past the competition — and you will always find goodness. See life as a test — a good test, with little signs along the way. Look at what a woman finds, beyond pain, when she gives birth. Look high enough and you see into the miraculous: over all trouble. The highest glance is a vision of tomorrow. Life itself is a miracle.
Here's another,

this time from a news station in New Mexico.
Go ahead and make fun of it, if you must.
We just say, "who knows?" (And who can tell where God, in His littleness, unlike our hubris, deigns to manifest?)
"A Farmington man was staying at an Albuquerque hotel earlier this year when he noticed something unusual on a tree,"
said the report
on television station KOB-4 in New Mexico. "'And I was walking back to the car and noticed something off my right shoulder and took a look and I stopped dead in my tracks. It was a beautiful sight,' said Richard Rodman.
Outside the Best Western Hotel on Yale, Rodman saw a familiar image.
'It appeared to be a person and I looked closer and it appeared to be the Virgin Mary with a baby in arm,' Rodman said."
+
Go ahead and make fun of it.
Somehow, we don't dare.
[Feedback: "This image appeared above the doorway and next to the tabernacle. The image resembles either Bishop holding a Crozier or a Priest lifting a Chalice. Image appeared after a storm. It is natural. The image is from St Peter Chapel, part of Prince of Peace Parish, Diocese of Pittsburgh. St. Peter Chapel is slated to be closed — Andy Zenchak"]