When is coincidence just coincidence?
When is it something more?
Is there any such thing as coincidence?
The other day, a rare warm spell this winter, one found oneself kayaking on the St. Johns River near Orlando and Blue Springs, known, in the cold-morning months, for its manatees, which seek the spring waters (year-round, 72 degrees) for warmth.
On an offshoot of the river near the spring, one prays directly to Jesus to see a large specimen of wildlife, and immediately, on the north side, also seeking warmth from a strong early-afternoon sun, is a huge alligator, a "chub" — of very impressive girth — and about ten feet in length.
Coming immediately after the prayer, was it a simple coincidence? [Below, gator along St. Johns from Quora]
Not too long after, one prays directly to Jesus to see a manatee and a couple minutes later, after one spots the telltale gray of a barely submerged such animal, its head breaking the surface to munch on shoreside hyacinths.
It was another "coincidence," but since manatees are known to play with (tip over) kayaks, one prays a little while later for protection, and a second or two (no more) later, a loud thrashing erupts as another manatee surfacing inches from the kayak, this one startled, splashes water across one's right side and even face.
A close call, but protection. A banner day it was, for spotting wildlife. (A couple dozen more manatees, close up, at the entrance to Blue Spring.) [Below, a boat in the spring itself]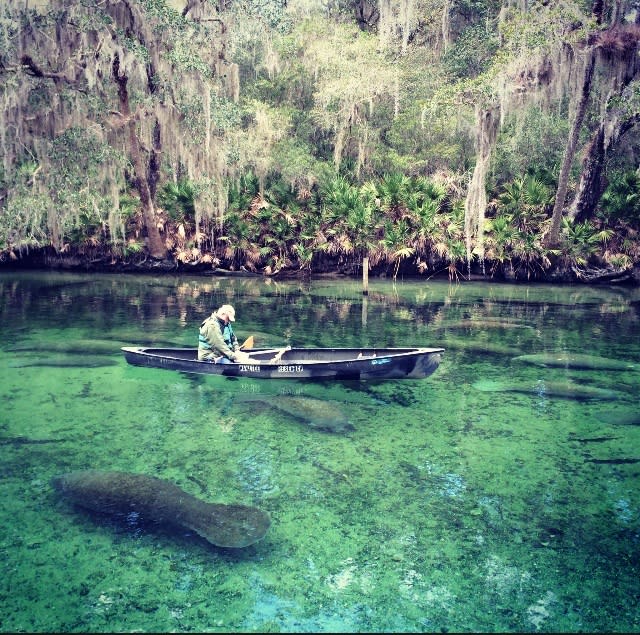 No coincidence there, and no coincidence years back with Saint Padre Pio in Italy.
Researching a book called The Final Hour, one is traveling by rental car from Rome to San Giovanni Rotundo and praying for three things. One: to save money. A daily budget is close to breaking (limited cash) and a hotel the night before had cost nearly twenty dollars more than budgeted. Back then, many didn't take credit cards. Prayer one: make up that money.
Prayer two: a Xerox machine. After San Giovanni Rotundo, one planned to take a ferry from Italy to Croatia and then travel to Medjugorje. But a war is raging, and one fears confiscation of notes and tapes by Serbians. So: Lord, a copying machine.
Prayer three: a hotel room. It was a Saturday night with no reservation in San Giovanni Rotundo (where Pio spent most of his life, and which on the weekend is swarming with pilgrims). And the hour was going to be late, as indeed turned out to be the case.
One arrives at about two a.m., and hotel after hotel is full or locked for the night. It looked very much like the night might be spent in the car. One is repeatedly turned away. At the very last one, a night clerk who speaks English finally came to the door, rubbing his eyes and after hearing the plea, ponders it a moment and then says, "Well, I'm not going to be going back to sleep. I'll let you have the clerk's room." Because it was not a regular room, he reduces the price by exactly the amount, to the dollar, one prayed to save.
When one enters the room, there is a single bed, a desk, a sink — and a Xerox machine. (How one looks forward to returning to San Giovanni next September, for our pilgrimage!)
Coincidence is God's subtle way of indicating His Presence.
He can do anything, at any time, when, in His eternal eyes, it redounds to our eternal benefit.
–MHB
[More on coincidence next week]
[resources: Pilgrimage to Italy]