From the Catholic Herald:
A French bishop declared Sunday that the recovery a long-debilitated nun made after she visited the shrine in Lourdes was a miracle, the 70th event to be recognised as an act of divine intervention at the world-famous pilgrimage site.
Bishop Jacques Benoit-Gonin of Beauvais proclaimed the miracle nearly a decade after Bernadette Moriau attended a blessing of the sick ceremony at the Lourdes sanctuary in southern France. The Bishop of Lourdes, Nicolas Brouwet announced the declaration during Mass at the shrine's basilica. The shrine in southern France where apparitions of Mary, Jesus's mother, reportedly appeared 160 years ago to a 14-year-old girl is considered a site of miraculous cures. Water running from a spring in the sanctuary's Grotto of the Apparitions is purported to have curative powers and millions of pilgrims visit the sanctuary every year.
[Return to www.spiritdaily.com]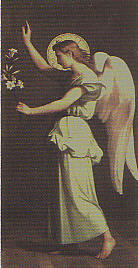 Pray always for purity and love
+++