---
Healing miracles apparently continue at a Greek Orthodox church in Hempstead on Long Island and have for nearly six decades now.
It all began during Lent long ago, on March 16, 1960, when an area resident, Mrs. Pagona Catsounis, was praying before her Icon at her home in Island Park when she noticed a tear drop from the left eye of an icon of Mary and roll down her cheek. Many trekked to see the icon.
On April 12, 1960 another Long Islander, Mrs. Antonia Koulis, of Oceanside, noticed that a lithograph her family had of "Panagia Portraitissa" similarly began to cry. A priest went to the home, along with the president of the parish council, soon followed by Archbishop Iakovos, who arrived in the evening and instructed the icon to be taken to the Cathedral of St.Paul on Holy Thursday, April 14.
As with the first, thousands of people flocked to witness the floriferous tears of the second icon. The Koulis household was the scene of the third miraculous icon as well.
In addition to tears, the eyes on one of the icons were seen moving for hours — garnering world attention (including that of future president Richard Nixon) — and when the first icon was processed to the church, "a trinity of white sea gulls, soaring against the blue sky over Island Park, heralded the enshrinement of the Madonna of the Tears," reported the New York Journal American — escorting a procession of thirty cars and circling over the church as services were conducted. Hundreds of thousands began to visit the beautiful church on Long Island just east of New York City.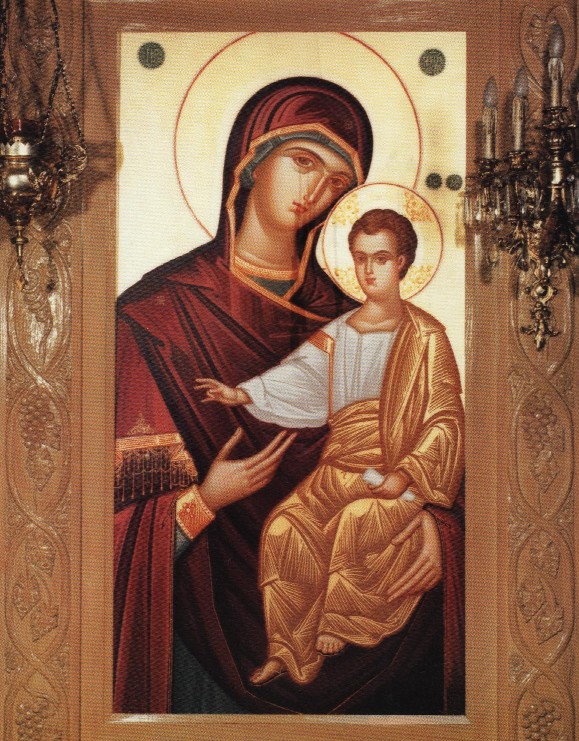 We reported on it years ago, with occasional updates, for as stated the healings allegedly continue, about two fully documented ones a year, according to priests there.
Notes one testimony in a pamphlet currently issued by the church: "A mother writes that her pregnancy was progressing well, when she went for a routine doctor visit on October 31, 2014, at which time she and her husband were told that there were a lot of cysts in their baby's brain and that with a condition like that their baby could either be stillborn or brain dead.
"She and her husband were devastated. They went home and told his mother, who told them about her Tuesday prayer group (at the cathedral) and invited them to attend."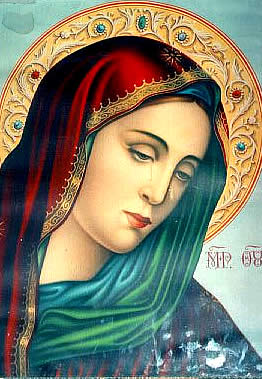 This the expectant mom did, as the woman was prayed over by the group and anointed with oil from lamps that burn before the holy icons.
She was petrified to see a specialist.
However, notes the church, the specialist "was shocked to see that every cyst in her baby's brain was gone, as if it never happened. He called in every doctor in the practice to look at her and her test results. They said they had never seen anything like it before — every cyst was gone and the pregnancy was now a good pregnancy."
Indeed: on April 9, 2015, at 12:24 p.m., a baby they named John — fully normal and quite happy — was born.
In another case, says the church, a man had hit rock bottom emotionally, financially, and especially spiritually. "At one time he wanted to become a priest," says the pamphlet, sent to us by a woman who is active with the ministry there. "And there was still a part of him that had that desire. He came to the cathedral and prayed before the icons of the Blessed Mother. One year passed and nothing happened. He felt that he was still a failure. Financially he was just making ends meet. He felt spiritually lacking and emotionally drained.
"A parishioner, a devout Christian and believer, Thecla Johnides, brought him to the cathedral and prayed with him before the icons.
"On March 16, 2000, the fortieth anniversary of the first tearing icon of the Blessed Lady of Sorrows, his first blessing came to him in a new career. His life from that day on was blessed beyond his wildest expectation. He writes, 'I have a healthy family, good fortune, sincere friends, and much love has flowed incessantly towards me. My life has changed and my faith in God has grown stronger. I know I can weather any personal storm and rely on God for His Grace and love."
The church is located at 110 Cathedral Avenue, Hempstead, New York, 11550 (www.stpaulhempstead.org) and one can write Father Christopher Constantinides or Father Constantin Ursache there and obtain vials of oil. If only Roman Catholic parishes were as open to reputed miracles.
Might miracles even occur after praying before replicas — reproductions, as above and below.…?
The prayer said before them:
"O Most Holy Mother, entrust me not to any human shelter, but accept the supplications of thy servant; for I am in distress and sorrow and cannot bear the darts of Satan. I have no shelter and know not where to seek refuge, being wretched and assaulted in many ways; I have no solace except with thee.
"Wherefore, O Holy Mother of the world, who is the protection of believers, turn not away from my petitions, but grant that which will enrich my soul and save me. Amen."