See the lights above? According to a testimony connected with what has become known as the "Tear of Joy" ministry, they appeared in association with an allegedly miraculous photo of Mary.
+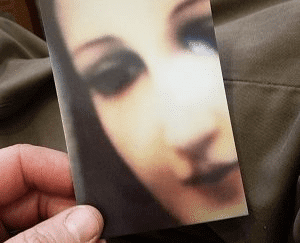 As we explained a while ago, a viewer named Arrow Osborne sent us a photo of Our Lady, explaining that Mary somehow materialized on an "instamatic" photo. It occurred near Cincinnati last September 8, 2019, as someone was taking pictures of balloons released at the home of a woman celebrating Mary's official birthday, in connection with a visit from the mystic, Carmelo Cortez, of the Philippines (known for rose petals on which holy images seem to materialize).
For your discernment. If nothing else, they remind us that in addition to Christ's Blood, there were what must have been the tears of Mary at Calvary — tears that shortly, upon His Resurrection, turned to tears of joy.
How could it hurt to invoke them?
"I gave two talks on Our Lady of the Tear of Joy on Saturday, February 13th in Chatham Illinois," Arrow says. "The first talk was at 4:30 p.m. and then at 6:30 p.m.  People arriving for the 6:30 p.m. talk told Pam Branham and Donna Caminiti (who sponsored my talk) and myself of a 'brilliant bright light' over the city. Then I was shown a video of it and I posted that story. Since then, I have received other emails and texts saying the same: Several people have told me they could see Our Lady in the bright light (under the sun). Others felt that 'it looked like fire was coming down from the sky.'+
Why might Our Lady have chosen February 13?
"Pam speculated it was because Sister Lucia of Fatima's canonization process was started on February 13, 2017," continued Arrow. "Pope Francis proclaimed Francisco and Jacinta Marto as saints that day. February 13 was also the 16th anniversary of the death of Lucia."
+
According to Arrow — who now travels speaking about that photograph — "At each of the talks I gave in both Missouri and Illinois, I had numerous people tell me that they could feel Our Lady's presence and truly, some were absolutely crying 'tears of joy' themselves.
+
"[A priest named] Father Michael from Omaha Nebraska, who came to my talk on a Friday evening, said that during it he could feel Our Lady's presence. [A friend named] Lou Ann Corrigan texted, 'I think Arrow is carrying the Blessed Mother to various locations as the Jews carried the Ark of the Covenant in the desert. The Ark was protected by a cloud by day and a pillar of fire by night. Exodus 13:21-22.  Mary is the Ark of the New Covenant, so She is accompanied by a pillar of fire."
+
Again, for our considered judgment. 
+
There are certainly those — a constant stream — who claim health improvements or at least spiritual uplift in connection with the photo. To wit:
+
"On January at two a.m. I had severe abdominal cramps [due to a recent kidney transplant]," wrote Connie Abenoja, whose several bouts with them had led to hospitalization. "I had cold sweats and almost fainted on the bathroom floor. My husband helped me back to bed, while he drove to CVS to buy some medicine.
+
"While he was away I took a picture of Our Lady Tear of Joy and placed it on top of my tummy directly to my skin and prayed the 'Memorare' many times. I asked Our Lady to intercede for me, so that I wouldn't be taken to the hospital just like the past several times.
+
"True enough, Our Lady came to the rescue: The moment I laid down her picture on my stomach, the cramps and diarrhea stopped suddenly. Everything came to a halt, and I was in a state of calm and peace and fell asleep with the picture on my [stomach]. I woke up refreshed, as if nothing happened…"+
Testified a couple

named Joann and Robert from Michigan (about an incident last December, following serious neurosurgery on Bob), "We
 are so very grateful for all the prayers that were said for him on Saturday, December 5th.
+
"After six hours of neurosurgery, the doctor came out and told me everything had gone well — with one exception: Bob was not moving his left arm. We knew there were major risks in having the surgery, even quadriplegia. The doctor said with a lot of physical therapy, Bob would probably move his arm again. 
+
"As the doctor walked away, I called out to Our Lady and her Son with tears in my eyes, 'This man has been through so much, please, please come to his aid.'
+
"Within minutes, I saw the doctor

walk back toward me waving both arms in the air shouting from across the waiting room, 'He's moving his left arm, he's moving his left arm!' I was in shock. Praise the Lord we received a miracle. Believe in miracles; they do happen!"
+
"When this miracle occurred on September 8th, 2017 and Our Lady gave us Her image, a very close up of Her beautiful image and then Our Lady started giving messages about Her image. In the first days of Our Lady giving messages, she kept repeating "It gives me joy, Tears of Joy, when My children flee to Me……….." "It gives Me Tears of Joy, for when my children call upon me, they are fleeing to me……….."  This went on for days and this beautiful message kept getting repeated, with Our Lady saying the word, "Flee."  
Then….. Our Lady said, "When My children look at My image, they are to say the Memorare prayer, for in this prayer they are fleeing to Me, and all those who flee to Me, I will intercede for them and lead them to My Son."  So, here we have that word again, 

"FLEE." 

How appropriate for Our Lady to pick the Memorare prayer, for in this prayer, she again is saying the same, to

"Run to her in prayer, to flee to her"

as fast as we can, for anything and everything in our lives, even if it's only for five seconds — stop and tell her what's on your heart. 
"Our Lady already knows, but She wants to hear it from you, for she is your Heavenly Mother and you are her child.
"O most gracious Virgin Mary, never was it known that anyone who fled to thy protection, implored thy help, or sought thy intercession was left unaided. Inspired by this confidence, I fly unto thee, O Virgin of virgins, my mother; to thee do I come; before thee I stand, sinful and sorrowful.  O Mother of the Word Incarnate, despise not my petitions, but in thy mercy hear and answer me, Amen"     
"Flee to your Heavenly Mother, and she in turn will flee to her Son, Our Lord and mighty Savior, Jesus."