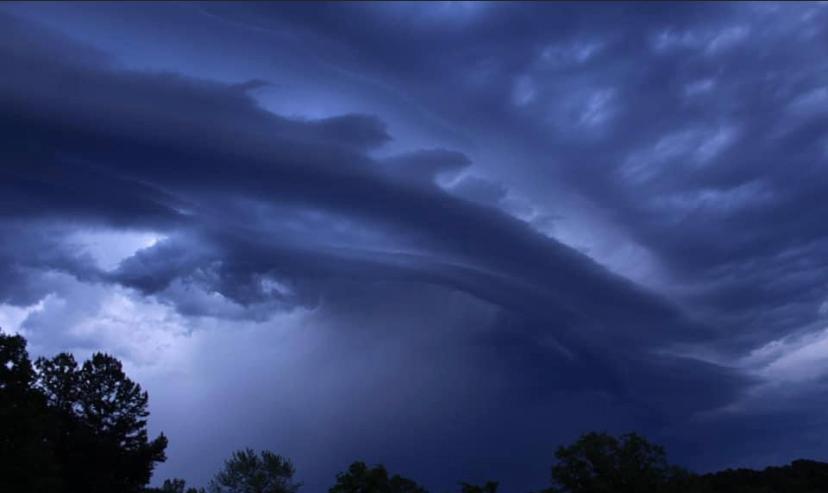 It's time to clear some items from the mail. We apologize for how long it sometimes takes.
There are, as always, some interesting photos. One above, taken by a photographer named Kimberly Spurling-Gray, appeared first on Facebook and was snapped on the backroads of Arkansas during a storm.
Is an "eye" in it? If so (for those who want to interpret it that way), of whom (or Whom)?
A bit ominous, with or without a supernormal subtext.
This is also interesting: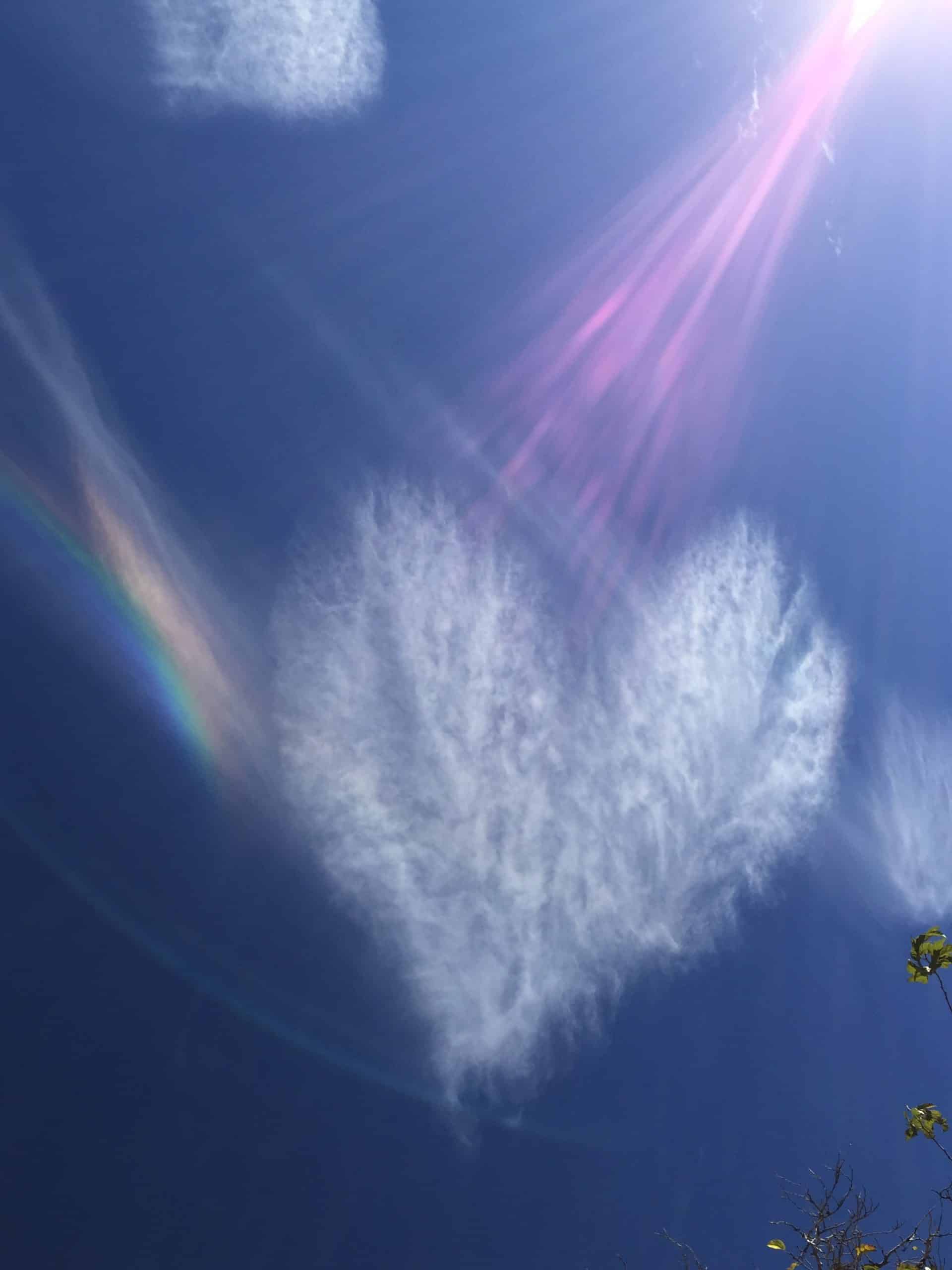 Orbs?
Here's one taken during Mass and sent by Marianne Litchfield of Orange, Massachusetts. It seems a bit more textural than your standard lens flare.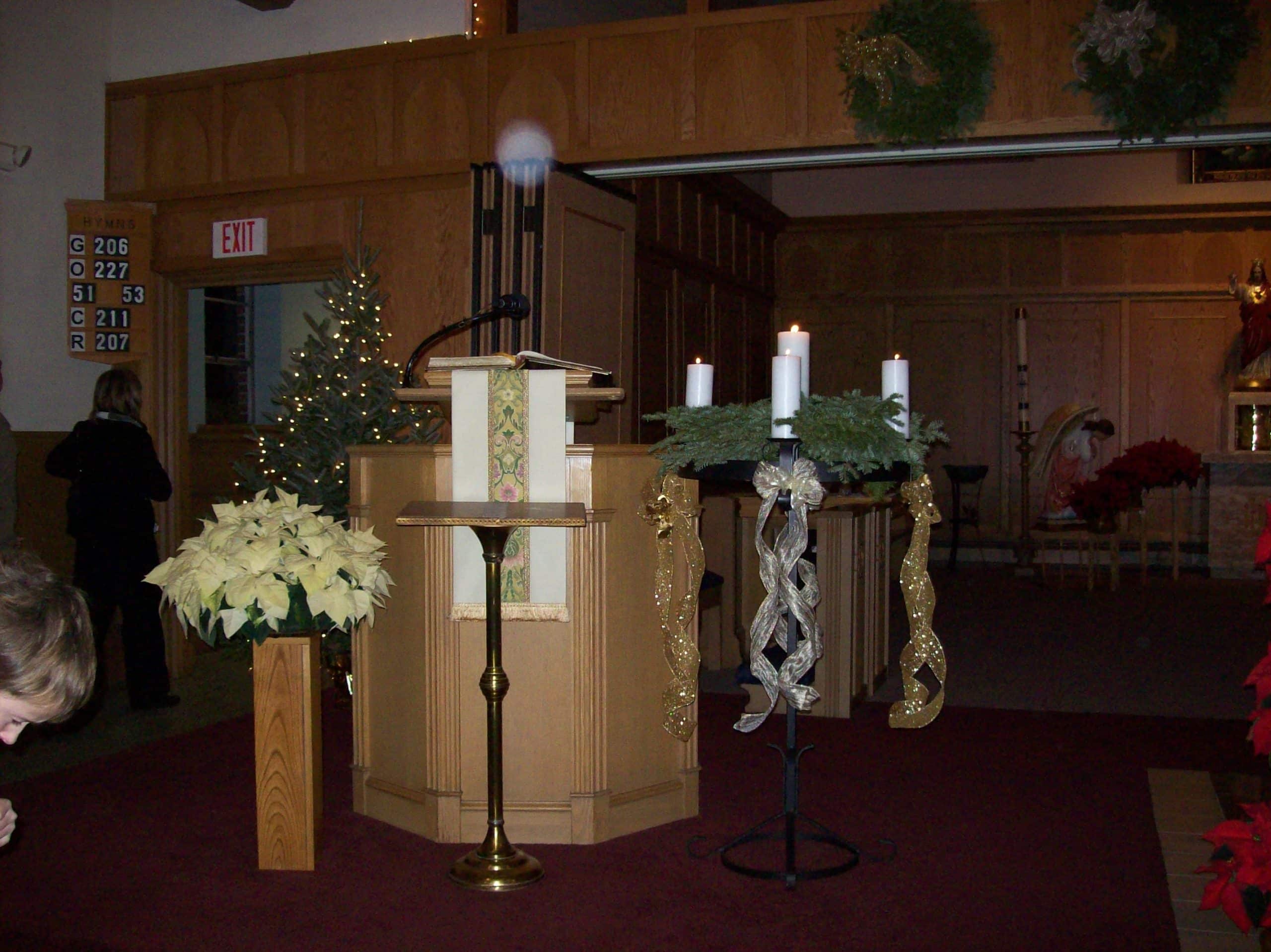 We had a mailbag story a while ago that included strange cellphone experiences. Those who have their own accounts to share included Linda Dunlap in Wisconsin, who writes: "Last year on June 4th, 2019, my 58-year-old sister, Martha, died in Florida, following an extended hospital stay.  I live in Wisconsin and due to difficult circumstances, I was not able to go down and be with her at the end. On that day, I received the dreaded phone call letting me know that she had just passed away a few minutes before.  I fell apart in grief, but walked over to my computer area and set my cell phone down on the table next to me.
"I thought I should do something helpful, so I opened up Facebook to let everyone on her 'friends' list know.
"I started typing my heartfelt words then I came to the realization that my cell phone was making noises — an unusual sound — while typing my paragraph.
"CLUNK-clunk.  CLUNK-clunk.  CLUNK-clunk. Several times in maybe five minutes. This was not normal. I looked over towards my cell phone and said out loud, 'What in the world is THAT all about?' I looked closer at my phone on the table, and there, on the screen facing me, it said at the top, 'Text message from Martha.' Then I looked at the text message. On the screen was the very last text I had ever sent to my sister, dated about five weeks before. It showed my own message to her — asking her if she was all right, to please let me know.
"She had never answered that last text question, as it got too hard for her to type. Normally Martha was big on texting; she was the one who got me texting, and we did it often. I stared at that text message on my screen. How did THAT get on there? I didn't do it. I looked up and around the room and — sheepishly — asked to the air, 'Martha, are you THERE?' I didn't give much more thought to that, but as I went back to typing, I couldn't help but feel perplexed, as I thought about how I had never heard that particular sound on my phone.
"I went on typing my sad notice. At the very end, I finished it with the words, 'Dominus Vobiscum.' Precisely as I finished the last letter 'm,' the same unusual sound came from my phone: CLUNK-clunk! I swiveled around and looked at that message on the screen; I looked up and around the room again, more seriously this time: "Martha?  Is that YOU? Martha, if you're there, I sure wish you could talk to me!' No answer, just that line on the phone that said, 'Text message from Martha,'  and my written plea to hear if she was all right. I later went through the phone's list of available notification sounds and played each one; I could not find that particular sound."
Of course, we have to warn about conversing with the deceased, but this wasn't quite that kind of situation (spontaneous communications from the beyond are different from evoked ones, like those with a medium/channeler or a Ouija board; though caution is in order, and a q-and-a is not advised, as we'll discuss at the upcoming online retreat).
Meanwhile, we were taken to task a bit by Paula Amicarelli, a viewer who, concerning a recent "special report," said (and we take all such comments seriously), "Thank you for your recent Special Report on Jeff Epstein. I wonder if you are aware that Epstein had a large Crucifix over his bed (see the Netflix Epstein documentary which shows footage of his house) while most of the art in the house was lewd and suggestive. That's very strange for person of Jewish ancestry, and certainly suggestive of a diabolical connection. You may want to dig into that more deeply. I noticed that you weighted Bill Clinton's relationship with Epstein much more heavily than Donald Trump's association, despite the fact that at least one of his 'girls' was recruited right out of Mar-a-Lago. I believe you implied the falling out between Trump and Epstein had to do with that recruitment, when most sources point to the split having occurred when both Trump and Epstein traded barbs while vying for the house Trump later sold to Russian oligarchs. Also, you continue to highlight the Clintons' association with Epstein and Maxwell, while Trump continues to 'wish Maxwell well.' This is not a Clinton vs. Trump argument. They were all in the same circle together and supported and protected each other. In the interest of fairness, that should be called out. Michael, you ask us to pray and to discern and I do that. I have never been able to reconcile Donald Trump's cruel, crass and narcissistic behavior with any semblance of the God I know, love, and worship. I hope your coverage will reflect a more balanced approach toward politics in the time ahead."
Unfortunately, even Bill Gates (see last month's "special report") had a strange association with Jeffrey Epstein, who as a suicide or murder victim needs our prayer.
"I read your article on putting the pandemic into perspective," says another, Steve Jalsevac of Lifesite. "Fully understand the need for masking and serious penalties during the Spanish Flu, but the Wuhan virus is not remotely as dangerous as that flu was. Also, there are a number of high-level globalists who have openly stated that this current pandemic presents a great opportunity for them to implement their globalist plan of a Great Rest of the world.+
"As well, there is a massive evil related to this virus. That is, there have been very effective treatments all along that would likely have saved the lives of most of the people who died but they have been constantly suppressed for the purpose of keeping the public so terrified and wearied that they will accept the need for a worldwide vaccination. That is a terrifying prospect because it is not really necessary for such a relatively flu-like virus that endangers only a select, easily identified segment of the public that can be otherwise economically and safely protected with the long-available treatments."+
We love hearing from everyone, everywhere, and though imperfect, strive to bring information from many perspectives — for your discernment.+
[resources: Michael Brown on-line retreat, May 22]
+