Some oddities as we head toward summer.
A reader points out that in President Joseph Biden's book, Promises to Keep: On Life and Politics, published in 2007, Chapter 8, the current president states, "Jill and I were married by a Catholic priest at the United Nations Chapel in New York City in June 1977. We hadn't told anybody but our closest friends, we didn't want to tempt the press. The ceremony itself was family only–but that counted nearly forty. Beau and Hunter stood with us at the altar." Wikipedia confirms that the Bidens "were married by a Catholic priest on June 17, 1977, at the Chapel at the United Nations in New York City. This was four and a half years after his first wife and infant daughter died in a motor vehicle accident."
A tragedy that was. As for the chapel, odds may be that Biden wasn't aware of it, but the chapel has problematic attachments. As reported a while back in a "special report," for at least one period in the past, a deeply occult group called Lucis Trust managed — was the custodian for — the non-denominational prayer room and held some meetings there.+
The "altar" is a six-ton magnetic construct that rests on a pillar below the floor that goes into bedrock and supposedly taps into the earth's hyper-dimensional energies, inducing a meditative state.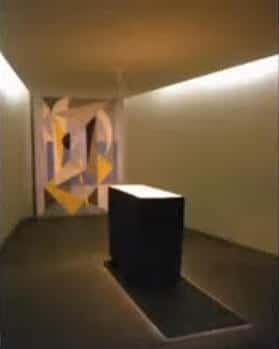 An oddity.
—————–
Coincidence it was how a year ago, before Covid-19 became quite the global catastrophe that now will be recorded by historians, Twitter was aflare with items on a "human-sized" type of bat in the Philippines. Do you remember seeing that here?
"This post [on Twitter] has had more than a quarter of a million likes and was captioned: 'Remember when I told y'all about the Philippines having human-sized bats? Yeah, this was what I was talking about," noted pulse.ng.
"And although the bat pictured – thought to be a giant golden-crowned flying fox – is considered a megabat, many comments from people claiming the bat is 'taller than me' are wide of the mark. The species of bat can have an impressive wingspan of up to about 5.8ft (which is very much human-sized and very much terrifying) but their bodies are estimated to be in the 1-2ft range."
Creepy though (and coincidental) indeed.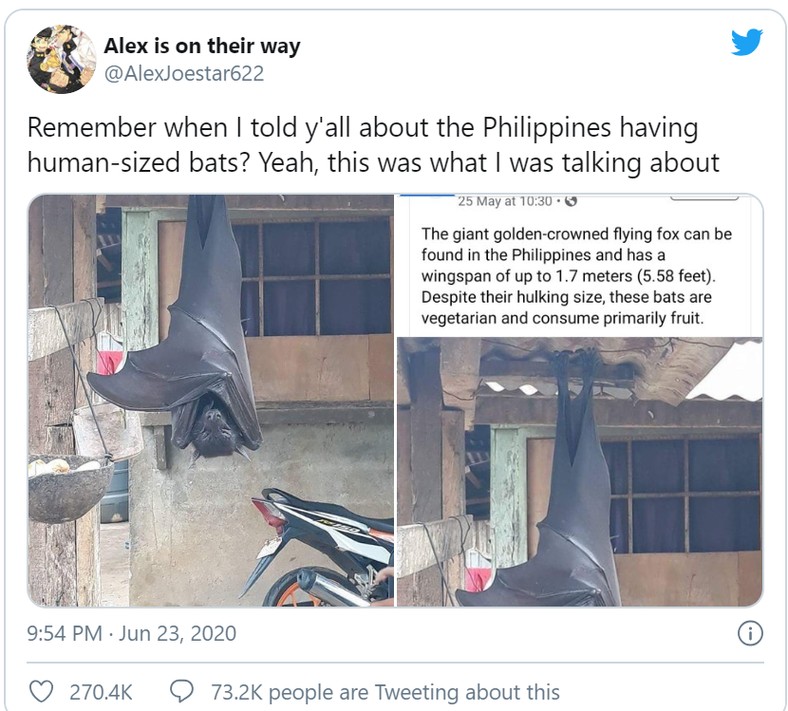 —–
———————-
Strange too, speaking of the virus, is how, if it was formulated in a laboratory, which we have long believed is probably the case, it was done through testing that involved "humanized" mice or other rodents — just as, now, two of the major vaccines were tested with use of stem-cell lines derived from babies aborted decades ago. It is in effect nearly a choice between a synthesized virus that may be linked to humanized mice or abortion and vaccines that in one case uses an enzyme nicknamed "luciferase" (because it is bioluminescent; very clever scientists, we have!). Is this what it has come down to: a choice between two problematic synthetic concoctions? Are we dealing with what may in effect be a biowarfare pathogen — not to mention a twist of fate?
————
Also interesting, speaking of politics, and the pandemic, in these topsy-turvy times, is how, while the majority of those declining vaccination tend to be conservatives, Donald J. Trump himself, as recently as Wednesday, issued an official statement backing vaccines and taking credit for their development ("Operation Warp Speed"). He, Melania, and Ivanka all have publicly announced that they were vaccinated. 
Said his statement in part: "New United States COVID cases, because of the record-breaking development of the vaccine and its early purchase and distribution by the Trump Administration, has hit its lowest level in more than one year, and falling fast. I want to thank all within the Trump Administration who pushed so hard for a vaccine and got it done in less than nine months when everybody was saying it would take at least 3-5 years, and probably not happen. Without the vaccine the world would be a much different place right now." He called the vaccines "one of the greatest miracles of the ages." 
+
Another irony: Bill Gates, often named along with liberal organizations such as The New York Times as a mover in establishing global humanist control, was brought down by an article in The Times linking him in 2019 to Jeffrey Epstein. You can view that here.
+
Oh, the dynamism of our time!… what will summer itself bring?