---
From the mail (and news):
Many things. 
We'll tackle a few.
First: news is spreading rapidly about an image of Mary "bleeding" in Mexico.
Let us be cautious: it is very unsightly (thus, no photo of it here) and when something is "miraculous" but unsightly, we question which side of the spiritual fence sent us the wonder (especially in those cases where the blood nearly grossly clots).
Over in India — we see in a London paper — "Believers gathered in Kharodi, near Mumbai, to collect fluid flowing off the figurine's feet" [below, Youtube]. This is certainly more palatable, and more likely from the side that is good. Much coming out of India!
Back here in the U.S. (Salida, Colorado, to be precise) a resident named Veronica Barrientos was in her garden when she felt a shadow that made her feel comforted and happy and suddenly a flock of birds from nearby began flapping around her yard. She felt "led" to the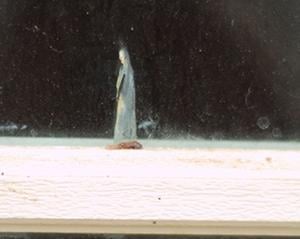 back of her garden. There's a shed there, on a pane, she spotted what seems (and impressively) like an image of the Madonna. (Decide for yourself. The night before, Veronica and her husband had donated toward surgery for a deformed Guatemalan boy.  The photo, right, ran in the Mountain Mail.) Perhaps something anointed there, indeed.
So many reports! It isn't just evil that abounds. And, as Einstein famously intoned, God does not play with dice. Below, in Kenya, "Dozens of Makueni residents are reportedly flocking to a dam in Katheka village to see an impression on a rock they say is that of Virgin Mary holding baby Jesus," reports a paper called Tuko, which carried the photo and picture.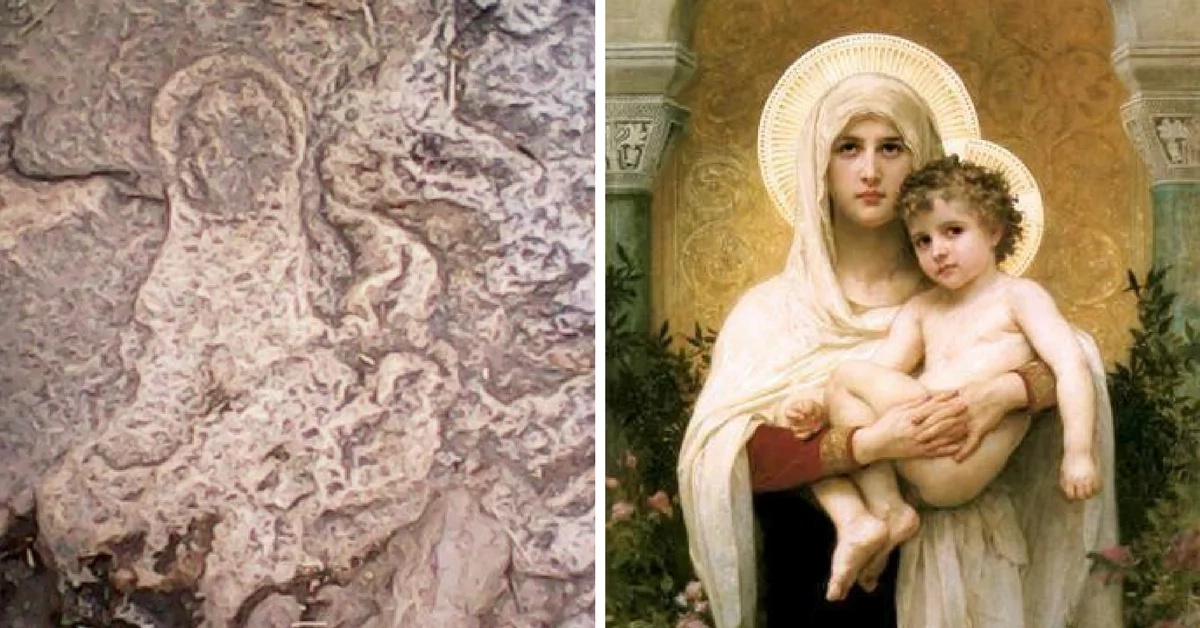 From the mailbag (accounts can be sent here), a priest recently wrote:
"About three years ago I led a group to Medjugorje when the Virgin Mary statue in the room of the seer Vicka became bright and luminous. It drew the attention of many reporters who came and took photographs and posted news articles on the phenomenon. During this pilgrimage, a photo of the statue of the Virgin Mary in the square of St. James Church was taken. It was viewed by multiple pilgrims and persons for the past three years and then three days ago it changed. 
"On the photo there suddenly appeared in Mary's right hand what appears as a luminous book overshadowed by a pair of wings. I asked the person who sent this photo to me if she (the woman in
the photo: is a mother and wife) is absolutely certain the image above Mary's right hand was not there before, and appeared, as stated, suddenly in the last three days. The response was that not only she, but multiple other pilgrims saw this photo many times over the course of the past three years and never did this image over Mary's right hand appear until now. Now here is the oddity. Exactly three days ago the superior of a community I am presently assisting here in Italy had been asking me about many years of theological work on the sublime doctrines of the Divine Will contained in Luisa's Book of Heaven and the importance of prophetic revelation in these End Times, and voilà, this image appears on the photo. A coincidence or a sign? In Christ, Rev. Joseph."
Thank you, father.
[For a book on truly wondrous miracles, and spiritual advice — an excellent Yuletide gift — see The God of Miracles]
[Special Reports by Michael Brown]
[Emergency Supplies]