---
In 2017 a 70-year-old retiree was walking down a street in Tottenham north of London when he burst into flames. Fellow pedestrians witnessed it. And some tried to help. To little avail. John Nolan died the next day, with burns over much of his body. Nolan was a smoker, it was true. But his body went up like a wick – in such a way as to baffle initial investigators, who deemed it… "unexplained."
It is impossible to believe, of course — or is it any more so than certain alleged exorcistic phenomena?
In the early morning hours of December 22, 2010, a resident in Ballybane, Galway, in Ireland, was roused from sleep by a fire alarm. Rushing outside, there it was, a plume of smoke billowing from the home of a 76-year-old neighbor named Michael Faherty. Other residents were awakened and the fire brigade summoned. The inferno had been completely confined to the sitting room, and the only damage worth mentioning was to Faherty's gruesomely burnt body, the ceiling above it, and the floor beneath. There was no suggestion of an accelerant, no hint of foul play. The victim's head was near a fireplace… but the coroner subsequently told a board of inquiry that "this fire was thoroughly investigated and I'm left with the conclusion that this fits into the category of spontaneous human combustion, for which there is no adequate explanation."
In 2007 a Brazilian girl burst into flames while walking down a road — in full view of passersby who tried without success to smother the flames. Or so are the reports.
Is it possible for a living person to erupt in fire, spontaneously – from within?
Can a body be reduced to ashes – cremated – with no apparent cause, in a short time?
Can the human organism generate extraordinary temperatures of between 1,000 and 2,000 degree Fahrenheit? Or is there… a spiritual component?
The number of documented such cases: more than two hundred. Mark Twain wrote of it, as did Herman Melville. It was even mentioned in Bleak House by Charles Dickens. Some say it's a matter of drunkenness: that victims are often alcoholics whose blood is pervaded by alcohol, which theoretically can be set ablaze. In many cases, they are also smokers, or have been near a fireplace. Once a fire bursts forth, clothes can act indeed as a wick, drawing melted adipose tissue from below the charred skin like a candle feeds on wax.
The problem with ready explanations is that in some cases there are not exterior sources of fire, and very little around the charred corpse is damaged – mysterious enough that some have hypothesized the source as poltergeists or ball lightning. One man burst into flames, ironically, after watching The Twilight Zone.
Commenting on the television program, George Mott, of Crown Point, New York – a retired non-smoking fireman – had been heard to remark, "Nothing weird like that ever happens to me." His son discovered the three-and-a-half pounds of bone and ash the next day.
You may well have heard of it. There is that term, as we see, "spontaneous human combustion," and cases of it have been recorded at least for seven hundred years, perhaps much longer, if one takes into account "fire-breathers" (those who could exhale flames, or blow on material, igniting it) dating to 1000 A.D. We all know that humans can burn to a crisp in house infernos and other tragedies, not to mention a crematorium. Fire is both inherently mysterious and no rarity.
But calcinated heaps of ash – reminding us of what happened to Lot's wife when she glanced back at blazing Sodom?
It has happened in the past. It happens, apparently, still. And still, in some cases, there may be no explanation. Only maybe. Call this a little excursion into the wild side.
During the 1700s, a countess was burnt to a crisp, combusted inside-out while walking from her bed to the window. All that was left for officials to mull over: her lower legs and three fingers. Around five a.m. on September 13, 1967, a small clutch of people were waiting for a bus when one noticed blue flames in an apartment window and called for help. It was a derelict building – inhabited by homeless — and as firefighters barged in, they spotted the body of Robert Francis Bailey, with flames issuing from a four-inch slit in his abdomen. His teeth were clenched down on the newel post of a stairwell next to which he had collapsed. The flames were put out with a hose shoved into his stomach. Was it denatured alcohol he drank?
In St. Petersburg, Florida, a Mary Reeser was found in the center of her living room, reduced from a 170-pound homo sapien to ten pounds of inert ash, but for a foot (still in its slipper) and what was thought to have been an incredibly shrunken skull.
Whether it was really her cranium (and not a knot of melted muscular tissue) could not be discerned. This we know: Once more, there was little damage to nearby furniture. We also know that strange fires are often attendant to cases of poltergeists, "haunted" homes, and demonic possession. Hell is, after all, fiery!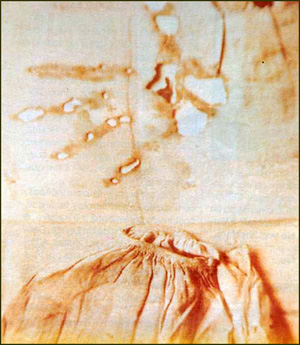 So is purgatory: at a purgatory museum in Rome is the scorched imprint of a hand from a deceased man who sought to show his suffering. Located in the Chiesa del Sacro Cuore del Suffragio, the Museo delle anime del Purgatorio has a history that dates back to 1897: when a fire destroyed a small chapel there. While surveying the damage, a priest named Father Victor Jouët found some burn marks on the wall behind the altar that looked like a human face with a sad expression. That literally sparked the idea for the one-room "museum."
As for human combustion: some have said it could be from the flammable nature of alcohol – overindulging — but a little hitch here: tests on flesh soaked in liquor have shown it does not ignite in nearly the way depicted in such cases. Others point to the action of enzymes on abnormal intestinal gas. Could this be the fuel for a human "blowtorch"? Not very likely. Or might there be large build-ups, from somewhere, of methane?
Explanations beg the question when no alcohol or cigarettes or fireplaces are around, when a person doesn't have much body fat, or when – as happened with a Mrs. Charles Williamson, of Bladenboro, North Carolina — a body burns to a cinder at the same time that a pair of another person's trousers ignite (into blue flames) in a closet of her home, as do a bed and curtains in another part of the house away and unconnected from her.
In the United States, a fellow named Frank Baker started on fire as he and a hunting friend were in his living room preparing to head out for a day of hunting – his doctor determining that the heat had originated from within. They were just sitting there, ready for a derby and chatting about guns when fire suddenly erupted on Frank's left side, causing as much terror as surprise – and painful.
Frank survived – beating out the flames with the help of that friend (this in Vermont) — but maybe it is an argument for abstinence: the two men had been quaffing beer and having what Baker all too accurately said had been "a helluva time."
[Michael H. Brown will hold retreats in Tampa (2/23) and New Orleans (March 16) on Catholic spiritual matters, including strange manifestations and spiritual warfare; details soon to be announced]