Can a holy man be an amazing saint without being a great one?
And anyway: who defines "great"?
Case in Point: Joseph of Copertino (some spell it Cupertino) of Italy.
Too few pay heed to this Italian Capuchin — though when it comes to devotion, self-sacrifice, and marvels, one has to search long and hard, even considering incredible saints such as Francis of Assisi and Padre Pio, to match him.
In fact, Saint Joseph of Copertino, a humble priest, who long struggled with studies and was ordained only through Divine intervention, spent a good number of years in Assisi, in the footsteps of his hero.
Born in 1603 — four centuries after the great Francis — this is a mystic whose phenomena, in some regards, save for Christ Himself, may be without precedent.
That can be said, at least, about the phenomena for which he was and remains most well-known: levitation of his actual physical body while in ecstasy, not just an inch or two, but ten or twenty or more feet off the ground, witnessed not only by the devout, other priests, and his bishop, but a Pope. (That's one way of assuring canonization.)
They called them "flights": Hard it is to believe, but in a meditative state, Saint Joseph would sail skyward, often hovering, near or above, a holy picture he was venerating. Most often he rose from the floor during Mass.
"It was on October 4, 1630, that the Lord chose him for a mission which was to characterize him," notes a little book, which we picked up during our pilgrimage to (among other incredible places) Assisi. "In Copertino, a procession in Saint Francis's honor was taking place when Joseph, who was one of the sacred ministers, soared into the air and remained ecstatic and immovable before the eyes of the stupefied crowd. An interior voice was persuading him to dispossess himself of everything for Christ's sake."
And this meant everything — even clothes, which he then had to borrow.
"The episodes of levitation during Mass were a daily occurrence," notes the book. "Even during the day, if his spirit burned with devotion, he would soar into the air and remain suspended over the altar or a tree or a holy image."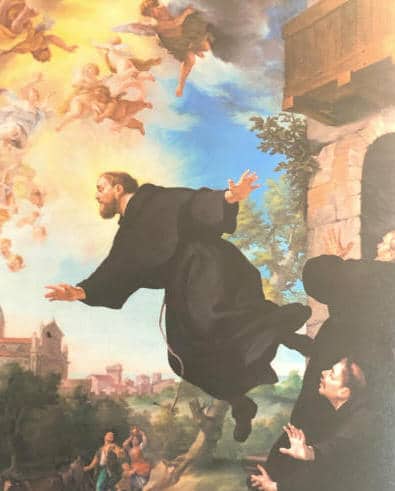 Healings and confessions surrounded him. Like Francis, he loved animals, even worms and insects, and could induce a wild bird to perch on him.
"When a heavy hailstorm had killed a flock of sheep on one of the nearby farms," continues the book, "Joseph picked up one of the sheep, commanded, 'Rise in  the Name of God!' This continued until the entire flock was restored to life."
Impossible to believe?
And yet documented.
Remember, this was hundreds of years after Saint Francis — not exactly the dark ages.
He read souls, did Saint Joseph of Copertino (ala Padre Pio), foretold future happenings, and knew what was occurring at a distance, including the death of a Pontiff.
He had a special affinity for an image known as the Virgin of Grotella (as painted by Cimabue).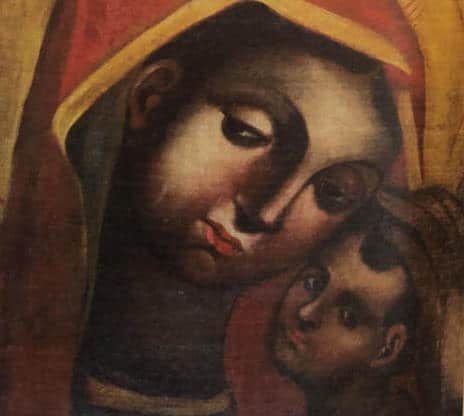 Here he is pictured, rising before Pope Urban VIII.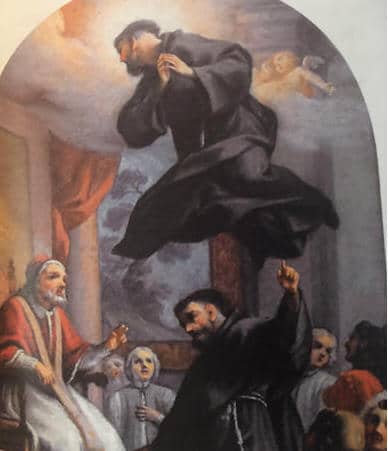 When other friars went to bed, the mystic would secretly slip into the basilica at Assisi to pray in front of Saint Francis's tomb or a statue of the Immaculate.
But it was during Mass that his powers were exhibited in full force.
"The phenomenon of his ecstasies was continual, both during and outside celebration of Holy Mass," explains the book. "And over the course of the years, it became ever greater. Joseph never cared for any kind of showy display that exposed him to the curiosity of others. Very often he would excuse himself by informing visitors and guests that he was not feeling very well or was in need of some sleep."
In Assisi, he exuded the odor of sanctity, which sometimes would linger at a place for twenty or more days.
Before moving to Assisi, he had gone there on pilgrimage and also the shrine at Loreto, where we also stopped on our recent journey (very, very potent, this spot, where a wall; from the Virgin's home in Nazareth is preserved in a large basilica).
True servants of God, taught Saint Joseph, "simply go inside themselves. The important thing is interiority. Our interiority is what matters."
He died in September of 1663.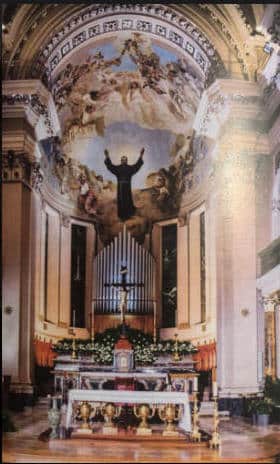 "Praised be God!" he exclaimed before expiring. "May the Will of God be done!
"I shall forever sing the mercies of the Lord! Charity, charity! Obedience, obedience!"
A message for our day, for any day.