---
The Vatican may want to clarify or further expound upon a recent remark the Holy Father made regarding hell.
In a homily at St. Marta's House Friday, Pope Francis said that  distancing oneself from God Who gives happiness and Who loves us so much is the "fire" and the road to eternal damnation.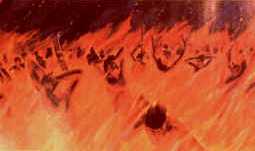 "Eternal damnation is not a torture chamber," said the Pope, according to Vatican Radio. "That's a description of this second death: it is a death. And those who will not be received in the Kingdom of God, it's because they have not drawn close to the Lord. These are the people who journeyed along their own path, distancing themselves from the Lord and passing in front of the Lord but then choosing to walk away from Him. Eternal damnation is continually distancing oneself from God. It is the worst pain, an unsatisfied heart, a heart that was created to find God but which, out of arrogance and self-confidence, distances itself from God."
There is certainly truth — much — to that. But the clarification needed has to do with the issue of fire and torment. For hell is certainly that.
These matters are directly addressed in the New Testament, whereby Jesus said (Matthew 5:22), "But I say to you that everyone who is angry with his brother shall be guilty before the court; and whoever says to his brother, 'You good-for-nothing,' shall be guilty before the supreme court; and whoever says, 'You fool,' shall be guilty enough to go into the fiery hell."
And (Mark 9:43: "If your hand causes you to stumble, cut it off; it is better for you to enter life crippled, than, having your two hands, to go into hell, into the unquenchable fire,"
Plus James 3:6: "The tongue is set among our members as that which defiles the entire body, and sets on fire the course of our life, and is set on fire by hell."
In other words, the fire seems to be just that: fire, and for some, immediately upon death.
But one must be quick to add that what the Pope says has great insight and merit: hell — and purgatory, for that matter — bear as their greatest torments distance from the Lord. He also had brilliant things to say about not conversing with the devil, and how materialism sends us on the road to perdition.
Contemplating what the Holy Father said more deeply, and despite a sometimes incomplete way of expressing himself (which has caused controversies), one sees much justification in Scripture for what he said — and arguably for the way he said it. For instance, in 2 Peter 2:4, we see how the fallen angels were placed in "everlasting chains under darkness unto the judgment of the great day." In other words: not immediately into the lake of fire.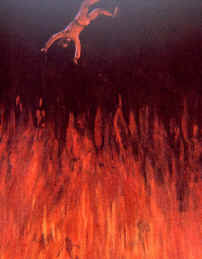 Elsewhere in the Bible is mention of what seems like a dark in-between place called "sheol" — the distancing, the road, to final perdition, unless there is final Mercy. In near-death experiences have been described journeys that seemed endless on the way to torture before they cried out to the Lord.
In Revelation, we also see how the evil are in chains until the Final Judgment, when they are thrown into the fire.
Yet, how can we understand the non-physical? No need to parse every syllable and syntax.
The Pope noted that the reading from Revelation describes how the Lord will judge the great and the lowly "according to their deeds" with the damned being thrown into the pool of fire and he said this is the "second death."
Was he thus saying that first there is distance, then final condemnation? That certainly is possible — and perhaps even a new way of viewing the situation, one that has validity and does not contradict Scripture. (We'll explore it further soon.) 
There are, however, those who describe seeing the fire immediately. Or — as at Fatima — were given visions of the flames (this occurred too at Medjugorje, where a beautiful woman was seen entering the fire and transforming into something that was half-human-half-animal).
At Fatima, it was people floating on what Sister Lucia described as "a vast sea of fire. Plunged in this fire, we saw the demons and the souls [of the damned]. The latter were like transparent burning embers, all blackened or burnished bronze, having human forms. They were floating about in that conflagration, now raised into the air by the flames which issued from within themselves, together with great clouds of smoke. Now they fell back on every side like sparks in huge fires, without weight or equilibrium, amid shrieks and groans of pain and despair, which horrified us and made us tremble with fright (it must have been this sight which caused me to cry out, as people say they heard me). "
In a recent near-death experience, an anesthesiologist named Dr. Rajiv Parti explained how:
"My world turned dark, and for a moment I was relieved. I'm returning to my body, I thought. But that relief was replaced by fear as I saw a distant lightning storm off to my right, one that seemed to draw me in very quickly and soon became loud with the sound of thunder and… What is that?… screams and moans of pain and anguish as wildfire moved over burned souls that withered from the intense heat. I was made to lie on a bed of nails, where their needle sharpness tortured my flesh.
"I was drawn in as if on a moving sidewalk that took me to the edge of this flaming canyon. Smoke filled my nostrils and with it the sickening odor of burning flesh. I was on the lip of hell.
"I tried to turn and I couldn't. I tried to move back but couldn't. Every time I took a step back, an unseen force moved me forward, leaving me with a horrific view of the most agonizing place one could ever imagine."
[resources: February Michael Brown retreat: Vero Beach, Florida and afterlife books]
[February retreat in Vero Beach; details here]
[March retreat in Atlanta]