We're hardly alone, it seems,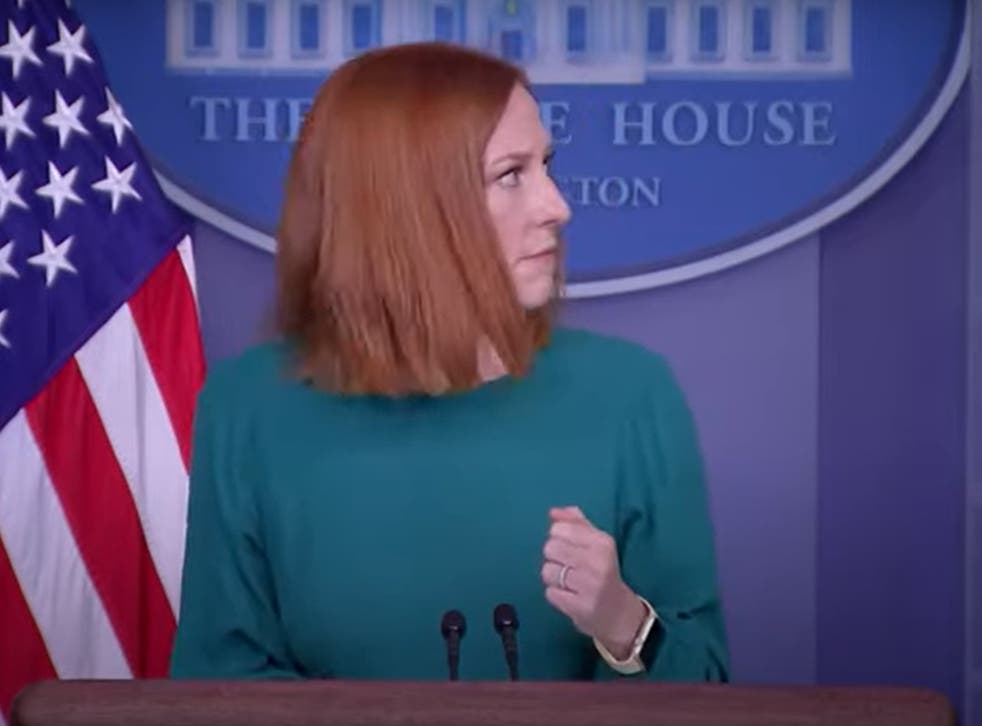 in discerning the existence of what Christ and His Apostles and King Saul called spirits of the dead or "ghosts."
Witness not just all those shows on television, and countless books and blogsites, but this query, yesterday, from the London Independent:
"Is the White House haunted? Previous occupants, from presidents Truman and Reagan to first lady Michelle Obama and overnight guest Winston Churchill, have all reported spooky goings-on at 1600 Pennsylvania Avenue.
"There appeared to be more evidence of a supernatural explanation when Jen Psaki's press conference on Tuesday was repeatedly interrupted by strange creaking sounds. Glancing nervously above her, Joe Biden's press secretary wondered aloud whether the room was being haunted by the ghost of Abraham Lincoln. As she responded to questions about new guidance that vaccinated people can stop wearing masks outdoors, an elongated creaking noise suddenly sounded from over her left shoulder."
We've carried articles before on the White House and alleged spirits. But added to the Psaki story was of course a pandemic angle: The strange sounds occurred as the press secretary was discussing easing of covid restrictions, including the okay for vaccinated people to take off their masks outside (something most have been doing for months, but now officially okay).
If there was anything strange about the sounds (beyond an old building), and if their timing bore meaning, why would they come at such a moment? Was a ghoul protesting the easing of restrictions, or protesting masks to start with?
Yes, that's said (partially) with tongue in cheek.
But also one could mention that at the same press conference, Psaki was asked about President Biden, the U.S. bishops, and the White House decision to re-establish the use of aborted babies and their parts again for federally-funded research.
Perhaps not as ghostly as ghastly.
Woe, the pneuma and kobolds! (Or was repair work being done somewhere?)
The transcript (starting with a reporter's question):
"Right now, with only roughly a third of the American population fully vaccinated, are there concerns that this could cause, in some form, a resurgence — or that this relies on the honor system and thereby could cause any uptick in COVID?
MS. PSAKI:  Well, Peter, I think one of the priorities of the President's and Vice President's and our entire team, of course, is abiding by health and medical experts and guidance — but is providing information — transparent information to the public to make clear what the benefit —
(The briefing is interrupted by a creaking sound.)
Have no fear, the ceiling is not falling — that I'm aware of.  Okay. (Laughter.)  Okay.
Q    And I trust you.
MS. PSAKI:  I — hopefully.  It's an old building.
Q    It's Lincoln's ghost.  (Laughter.)
MS. PSAKI:  One — maybe.  Lincoln's ghost, that's quite something.  Maybe it is.
One of the President's priorities is ensuring people understand — who are vaccinated out there, who are contemplating whether they should get vaccinated — what the benefits are."
WHITE HOUSE: Jen Psaki jokes about hearing "Lincoln's ghost" during a White House Press Briefing pic.twitter.com/18Q8UIfuVj

— Forbes (@Forbes) April 27, 2021
————-
Speaking of the pandemic, and beyond masks, the hot-button issue of vaccines: there has been the concern that the mRNA vaccines (Pfizer and Moderna) could cause changes in the DNA of recipients. Government experts discount that.
Now, there is concern that sufferers of long-term Covid effects may be a result of genetic material changed by the virus itself. Notes a website called Study Finds, "A new study finds coronavirus actually causes long-term changes to an infected patient's genes. Specifically, scientists reveal the spike protein of SARS-CoV-2, the virus causing COVID-19, creates long-lasting changes to human gene expression." This is not your typical pathogen!
---
On the prophetic front, we occasionally check in with several supposed seers and locutionists such as Luz de Maria of Argentina, whose messages are long and from which we should take what strikes the spirit as good and leave the rest. As always, pray and fast before taking anything to heart and spirit.
A recent one, which she believes was from the Virgin Mary: "My Immaculate Heart longs to keep you within, to protect you. You must look at yourselves: you must examine yourselves so that you become aware that conversion is what will keep you firm in the Faith. Looking at yourselves without dissimulation, being transparent with yourselves, will lead you to live in "spirit and truth" (Jn. 4:23), more attached to the Divine and further away from what is worldly. Beloved children:
"You are living in these dangerous times where evil is spreading its poison, without the poison causing you to die immediately, but slowly. The suffering of the People of God brings joy to evil and therefore, children, you must prepare yourselves so that you would not fall at the moment of temptation. You are being silenced immediately, for global power does not accept criticism, nor that the Truth reaches you. Pay attention to the language that all the governments are using to address the peoples; in this way, by means of this uniformity, those who are faithful to My Son will be made to suffer. Do not fear, My Son will not forsake you, the Angelic Choirs will help you and this Mother will intercede for you."
As for actual events, this alleged seer quotes Mary as saying, "Pray for Central America: it will be shaken forcefully. Pray, pray: the economy will fall and the peoples will rise up against the rulers. Pray, pray: volcanoes are becoming active and will block the light of the sun on earth. Pray, pray: the Church of My Son will enter into strife."
The most unusual part of the message: "Beloved children of My Immaculate Heart, it is necessary that you strengthen your immune system, the plague is advancing mercilessly. Use the mugwort plant as an infusion at this time."
Notes a medical website, "The mugwort plant has been traditionally used for everything from digestive disorders to beer-making, insect repellent, and more. Mugwort (Artemisia vulgaris L.) is a perennial plant in the Asteraceae family. The plant is native to Northern Europe, and Asia; it can also be found in many parts of North America. Historically, mugwort was used by the Romans, who are said to have planted it by roadsides, so that marching soldiers could put the plant in their shoes. This was done to relieve aching feet. St. John the Baptist was said to have worn a girdle of mugwort. There is not enough medical research data to prove—or disprove—the safety of mugwort."
We'd always be careful with what we take internally.
The last time we checked in an alleged stigmatic-locutionist named Giselle Cardia in Italy was warning that a crisis was about to erupt in Syria.
That hasn't occurred (at least not yet). A recent message (from, she believes, Jesus):
"Beloved brothers and sisters, here I am with you who have asked for my intervention. Brothers and sisters, I ask you to pray and to raise up your prayers so that the time might be shortened even more. I am ready, and soon a Storm will befall humanity; it will be so strong that the world will have known nothing like it. I pray to my Father that the remaining ounce of mercy might be used on these confused children [i.e. people]. My brothers and sisters, everything will suddenly change; you will struggle to distinguish good from bad influences if you are not prepared. The world will change as you have never seen before."
Our Lady she quotes as saying, "My children, do not be afraid of the times that will come, as long as you are faithful to Him: then nothing will disturb you. Children, conversion is urgent, because time is over; do not be attracted to the things of the world, because soon you will be stripped of everything, but you will be able to have joy and serenity with God's help alone. Children, do not let yourselves be deceived by the words of the evil one who finds solutions for you that are easy but dangerous for your souls. My beloveds, viruses will continue to spread as cruelly as the devil himself, but Jesus alone can be your salvation. Pray for the Church, where confusion will cause her pillars to collapse. Love each other and unite, testifying to the love of God; be true Apostles. Now I bless you in the name of the Father, the Son and the Holy Spirit, Amen."
For your discernment.
And Pedro Regis in Brazil, whom we have periodically looked at for more than a decade (and continue to discern): "Dear children, courage! Do not lose your hope. My Lord is with you. Trust in Him and everything will turn out well for you. There will be no defeat for the righteous. Open your hearts and accept God's Will for your lives. I am your Sorrowful Mother and I suffer because of your sufferings. Give me your hands and I will lead you on the safe path. Do not get away from prayer. When you are far away, you become the target of God's enemy. Whatever happens, remain faithful to My Jesus and to the true Magisterium of his Church. Onward in the defense of the truth! I will pray to my Jesus for you. This is the message that I give you today in the name of the Most Holy Trinity. Thank you for having allowed Me to gather you here once more. I bless you in the name of the Father, the Son, and the Holy Spirit. Amen. Be at peace."
That, asserts Regis, was from "Our Lady Queen of Peace."
At Medjugorje, the most recent message:
"Dear children! Today I am calling you to witness your faith in the colors of spring. May this be a faith of hope and courage. May your faith, little children, not waver in any situation, not even in this time of trial. Go courageously with the risen Christ towards Heaven, which is your goal. I am accompanying you on this way of holiness and am placing all of you in my Immaculate Heart. Thank you for having responded to my call."
A time of trial — and discernment — indeed.
[resources: The Last Secret and Sent To Earth]