There it is, again, a demonic image/symbol for all to see in New York.
Said the Christian Broadcast Network: "During the current times of taking down statues of historical figures due to the woke crowd, the United Nations has placed a giant statue in New York that resembles an end-times 'beast' from the New Testament's book of Revelation. The U.N. recently tweeted a photo of the statue."
Indeed it did.
A guardian for international peace and security sits on the Visitor's Plaza outside #UN Headquarters. The guardian is a fusion of jaguar and eagle and donated by the Government of Oaxaca, Mexico @MexOnu. It is created by artists Jacobo and Maria Angeles.
UN Photo/Manuel Elías pic.twitter.com/q8SSsQhz1L

— United Nations Photo (@UN_Photo) November 9, 2021
See also here. 
Was it really done with any diabolical intent?
Here is the couple who made it.
But intentional or not, it symbolizes another example of the Big Apple pushing the envelope — totally forgetful of the messages inherent in the coronavirus crisis that engulfed it a year ago (remember the Brooklyn hospitals?) and before that, the fires (and demonic images) of 9/11.
A few years back, there was that monument of Baal in the city.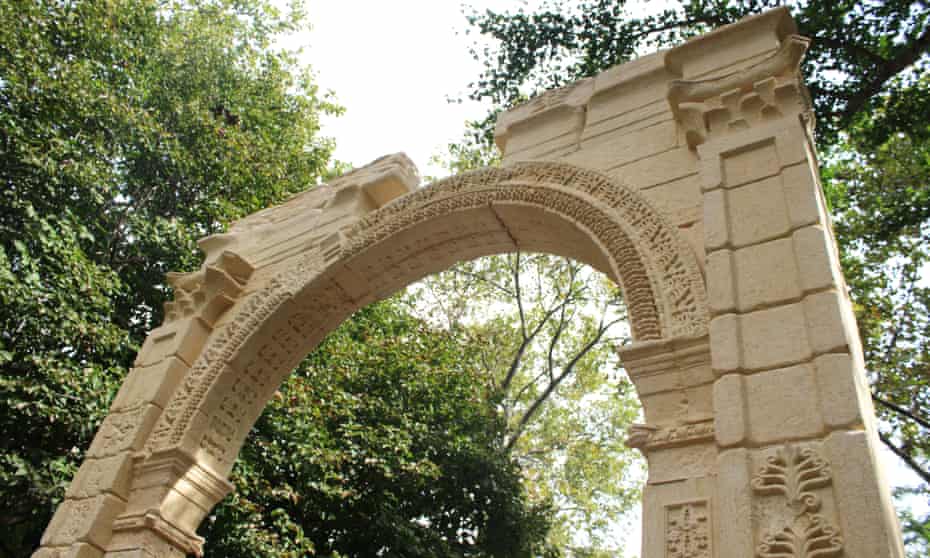 Reported the London Guardian back in September — that bewitching month of September! — of 2016: "The arch historically served as the entrance to the 2,000 year-old Temple of Baal, which was then converted to a Christian church and finally, a mosque. First put on display in Trafalgar Square in London last April, it will stay at City Hall park for one week, before moving to its next destination, Dubai. The 11-ton arch was placed in the small park directly outside of New York's City Hall, in the heart of the financial district. The park is usually occupied by tourists visiting city hall and the nearby World Trade Center memorial and office workers on their lunch breaks."
We are considering the release of a novel about New York (and the rest of the world) called The New York Prophecy, but haven't made a final decision yet (we don't usually carry novels).
At any rate, during a recent, personal trip to Manhattan, there was much to observe.
The world's most fascinating and dynamic stretch of steel and concrete has its good and evil like anywhere else, but being New York, displays it with grander and more acute panache than elsewhere.
This is not to downplay the evil there, for nowhere is more materialistic, fashion-obsessed, sexually aberrant, irreligious, abortion prone, humanistic, profligate when it comes to entertainment, media, and of late, violence.
Yet it also has pockets of surprising holiness.
Take the largely unknown Saint Padre Pio Shrine in a church dedicated to John the Baptist at 213 West 30th Street.
Rare in all of North America is a holier sanctuary.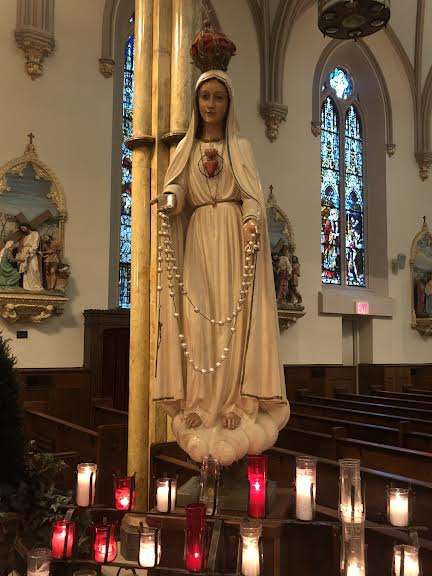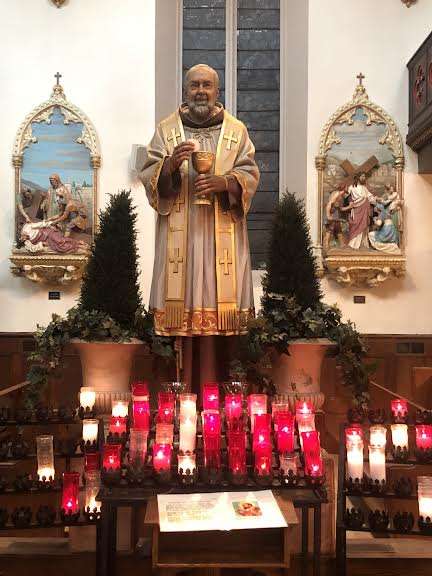 Inside are remarkable statues of Our Lady of Fatima, Saint Michael the Archangel, and of course Saint Pio — along with relics such as a sock and glove that covered his stigmata.
One of the reliquaries contains that cloth used to absorb the blood from the sacred stigmata, which still bears the stain. There are other first-class relics. These are used in blessings and veneration; one contains the scab of the stigmata, and the other some of Saint Pio's hair.
(The shrine is not to be missed — and for those who can't visit, blessed oil is available at phone number at end of this article.)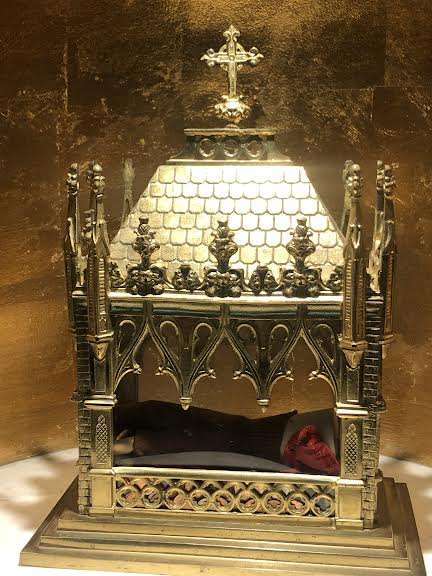 Of course, being New York, across the street are stores selling furs to the rich — who dominate Manhattan.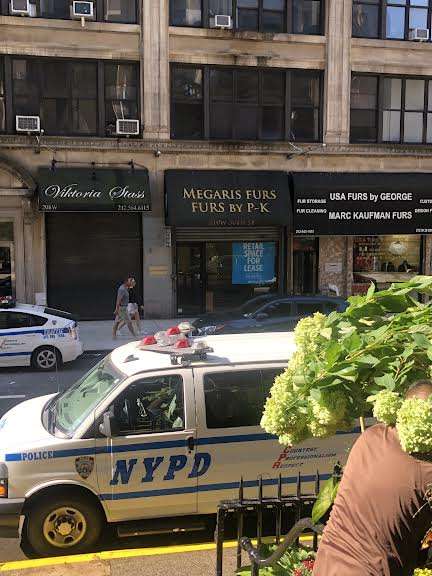 Did you know there are more than a million people in the New York area who have assets equaling or exceeding a million dollars, and 99 billionaires?
About 33,000 New Yorkers make a million dollars or more per year.
At 432 Park Avenue is a penthouse that sold for $169 million — in a building that towers 1,396 feet above Manhattan.
Average rent in Manhattan: $4,072.
A studio four floors up in an old walk-up can fetch $800,000! SoHo and Greenwich Village have nudged aside the vaunted Upper East Side when it comes to celebrities (for those who pay them any heed).
Those who projected the beginning of the end for the city during the pandemic, and before that 9/11, can take a look at the construction to know that the opposite is in progress. There has not been the donning of sackcloth. There is a donning of those furs.
Never before, in visiting many times, and twice living there, have we seen nearly as much construction. Old rail yards on Manhattan's West Side near Chelsea are growing into a city unto itself, with Google set to build massive offices and already enough new apartment buildings and offices to challenge the skyline of San Francisco — in just this one part of Manhattan).
Did you know the Empire State Building is now just the seventh tallest structure there?
Unfortunately, one new structure on the West Side (prayer need) has led four to commit suicide from it.
And litter is back.
The streets are busy again and restaurants jammed (though for how long, with all the variants, no one can as yet foretell. One has to have a vaccine card and mask to enter.). This year, the San Gennaro Festival was packed.
But in all this madness, again: those pockets of refuge.
San Gennaro, after all, is a Catholic saint — Januarius, whose blood liquefies in the reliquary in Italy — and there in Little Italy is august Old Saint Patrick Cathedral, where we attended Mass.
The statue of San Gennaro paraded around the festival each year, meanwhile, is in a church dedicated to the Precious Blood.
We even spotted a statue of Our Lady of Fatima appearing to the children right on a street near Bleecker in the Village (this a monastery).
And so it goes, in New York.
Yes, real warfare here.
Yes, at times, real Grace.
Yes, real danger.
[Saint Padre Pio Oil is available at the St. Padre Pio Shrine at 212-564-9070, ext. 280. To help defray the cost of materials, a $10.00 donation per bottle is suggested plus shipping and handling. Please add $13.00 for US Priority Mail in Continental United States and handling. Please only 2 bottles per person and NOT FOR RESALE.]