---
Is it just our imaginations that the weather has been different? 
Not at all.
Violent? Extremes here and there?
Here was Associated Press Thursday:
"Last year's global weather was far more extreme or record breaking than anything approaching normal, according to a new report. The U.S. National Oceanic and Atmospheric Administration on Thursday released its annual checkup of the earth, highlighting numerous records including hottest year, highest sea level, and lowest sea ice in the Arctic and Antarctica. The 299-page report, written by scientists around the world and published in the Bulletin of the American Meteorological Society, shows that 2016 was 'very extreme and it is a cause for concern,' said co-editor Jessica Blunden, a NOAA climate scientist." [Full story]
(Unfortunately, both sides of the spectrum make political hay now even with the weather, instead of seeing it for what it is: a sign from the Lord.)
---
Meanwhile, an asteroid the size of a house is set to wing nearly as close to the earth as some of our satellites in October. (A week ago, one three times larger was not noticed until it had already passed earth.)
---
Nice to see a vacation photo of Vladimir Putin, the Russian leader, wearing what appears to be a Cross.
---
Was everyone who had worried about microchips, back twenty-five years ago, when folks in the Marian movement first raised alarm, just being "paranoid"?
A few years ago, that's the term the "adults in the room" used.
Here's a Thursday headline in USA Today:
'YOU WILL GET MICROCHIPPED — EVENTUALLY."
It's followed by a video report, with a caption that says:
"After a Wisconsin firm embedded microchips in its employees, social media wants to know — is my company next?" [Full story].
---
And so it is. 
Genetic manipulation?
Remember the "1990 prophecy"?
This is Thursday's New York Times:
"In a striking advance that helps open the door to organ transplants from animals, researchers have created gene-edited piglets cleansed of viruses that might cause disease in humans. The experiments, reported on Thursday in the journal Science, may make it possible one day to transplant livers, hearts and other organs from pigs into humans, a hope that experts had all but given up. 
"If pig organs were shown to be safe and effective, 'they could be a real game changer,' said Dr. David Klassen, chief medical officer at the United Network for Organ Sharing, a private, nonprofit organization that manages the nation's transplant system." [Full story]
And also Thursday the Washington Post reports creation of mutant ants.
Google is funding modified mosquitoes! [Full story]
North Korea. Wasn't that somewhere in prophecy?
From Fox News (yes, yesterday, Thursday):
"Trump turns up heat on North Korea, warns of unprecedented response if Guam attacked." [Full story] 
Thursday, Thursday: can't trust that day…
[resources: New special prophecy report; Where the Cross Stands and Tower of Light]
[Feedback, from viewer Donna Sherwood: "President Putin never takes the icon off.  It was given to him by his devout mother when  he was young. There had been a fire completely destroying his dacha in country where he had left the medal on a bureau. He found it undamaged in debris and has not taken it off since that day.  It is also reported that he attends church at beginning of every day worshiping full rite on his knees. Just like these characters we have here and I wish it was funny.
"My English first husband, one of the most remarkable men of last century, told me in '75 a year before his death of his belief it 'would prove impossible to beat the piety out of the God-fearing Russian people.' Reports, one I believe from your site, is that Russians are reopening closed churches and cathedrals in the hundreds weekly. After Russia was liberated one of the first things done was the rebuilding of the Cathedral of Christ the Savior in Moscow brick by brick which had been demolished by Stalin in '31. We have nothing but scandalous church closings, some demolished, others converted to real estate."]
Donna.
[Return to www.spiritdaily.com]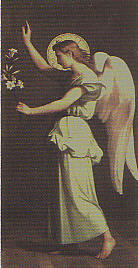 Pray always for purity and love
+++