We all know there is much craziness going on around us, and on all sides.
Consider the abortion issue: incredible it is, that the minimum concession one bishop sought, as a starting point for discussion with pro-abortion U.S. liberals, was simple protection for babies who survive abortion. We have to beg even for the lives of infants who are breathing on their own (usually, gasping for breath)?
---
Oh, what a time. Another question, this one to do with transsexuality (as it was once known): Might the Catholic Church one day admit a female-turned-male to a seminary? Probably not. If so, a ways off. But who can predict, any longer? If that happened, one ponders whether that seminarian would in effect be the first female priest.
---
When it comes to Church matters and perspective, there is our Pope. He is widely labeled (and often attacked) as a liberal. And in certain matters, he certainly seems to be. But consider the confounding fact that unlike most liberals, the Pontiff exhibits deep devotion to Mary (as deep as any previous Pope, perhaps on the level of Saint John Paul II or even Pius XII, crowning her statues and visiting her at Saint Mary Major Basilica in Rome before and after every major trip), and how, despite widespread perception of him tolerating homosexuality, his Curia issued a document that formally forbids the blessing of same-sex weddings (one Church official, in explaining it, said, in the strongest, clearest terms we've heard on this topic from Rome in decades, that "God does not bless sin") and more recently he oversaw Vatican opposition to proposed "anti-homophobia" legislation in Rome. In other words, the Vatican is indicating it will fight for the right to declare sin as sin.
A headline:
Vatican bars same-sex union blessing, says God 'can't bless sin'
Meantime, while allowing a synod to discuss the possibility of married priests in the Amazon, let one note that in the end, at least so far, the Vatican has taken no such action, and note also that, while seemingly tolerant of liberal Germans, Rome conversely has taken steps to rein them in.
Counterintuitively, for a "liberal," the Pope also has mentioned the devil as much or more than any recent Pope (if not quite as famously as Paul VI and that "smoke"), and frequently (including during a major talk Holy Week) condemns abortion.
A conundrum he can be. Certainly not boring! Liberal? Moderate? Conservative? Or simply Latin American Jesuit Catholicism?
————-
Another seeming contradiction: The Pontiff appeared antagonistic to Medjugorje — repeatedly expressing skepticism about it to the press, even poking fun at the idea of Mary as a daily "postman" — but ended up assigning an apostolic visitor there, in effect giving Medjugorje its own archbishop (which took it away from a bishop in Mostar who was trying to quash the apparitions). The Vatican also listed Medjugorje as one of the world's top twenty-five Marian shrines during a worldwide Rosary crusade to end the pandemic, and complimented a commission that determined the apparitions as having been authentic, at the very least, the first week of Mary visitation in 1981. Under Francis, the Vatican also is allowing official parish pilgrimages there (Medjugorje is very traditional Catholicism) and reportedly the archbishop has discussed plans for a major new church. (On June 25, 368 priests con-celebrated Mass there!)
---
Can you imagine if everyone spent as much time praying as hashing and rehashing and arguing and blogging over Church issues and politics? There would be far more unity and holiness and holiness is the most powerful force in convincing others (anger and criticality accomplish the opposite) and fending off the rush of the enemy.
—————–
Yet, there was Pachamama (perhaps a bit too much "tolerance"?), and in recent months, a conference at the Vatican that included Chelsea Clinton (majorly pro-abortion), a heavy-metal rocker, and Deepak Chopra (majorly new age). How to reconcile and integrate this? It is an interesting point of discussion, if discussion accomplishes anything.
Was it a major-league scandal or tempest in a teapot — that "Pachamama" uproar during a synod on the possibility of married priests in the largely priestless Amazon?
Now, we see that a Pachamama-like figure was used (if briefly, before it was spirited away) as a monstrance at St. John Macías parish in Zapopan, immediately west of Guadalajara in Mexico.
Unless everyone is mistaken — and it was meant to be the Madonna (who the Church allows as a monstrance; see why here), — that was certainly a bridge too far.
And, certainly, a pagan idol has no place whatsoever, however well-intended, in a Catholic setting.
---
Speaking of occultism, and brushing up against it: You may remember the eerie "coincidences" attendant to the brutal slaying of actress Sharon Tate, her unborn child, and others by the Charles Manson clan in 1969.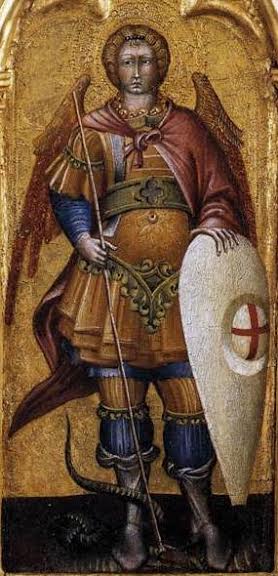 For instance there was the fact that Tate's husband, Roman Polanski, had recently filmed a movie, Rosemary's Baby (at the Dakota in Manhattan), about a demonic cult not dissimilar to the Manson clan. He'd also directed a horror comedy, The Fearless Vampire Killers, that had wife Tate in it.
In addition, "Tate's first major role was that of a witch in the British occult horror film, Eye of the Devil," notes Grunge.com. "The movie tells the story of a young couple hoping to restore a vineyard to its former glory. Tate's character convinces the couple that grapevines will only respond to blood sacrifice. To make Eye of the Devil more, ahem, realistic, the filmmakers brought in a Wiccan high priest and his wife, Alex and Maxine Sanders, as consultants. In her autobiography, Fire Child, Maxine Sanders claims that Tate was fascinated by Wicca's neopagan rituals and became an adherent of sorts."
Bad things happen when we touch, not to mention immerse ourselves in, darkness. (Polanski was later driven out of America by charges of raping an underage girl — also something that can bring spiritual detritus with it.)
The Lord rebuke you, Satan!
Prayer need: That's playing with fire indeed.
[resources: Lying Wonders, Strangest Things]