---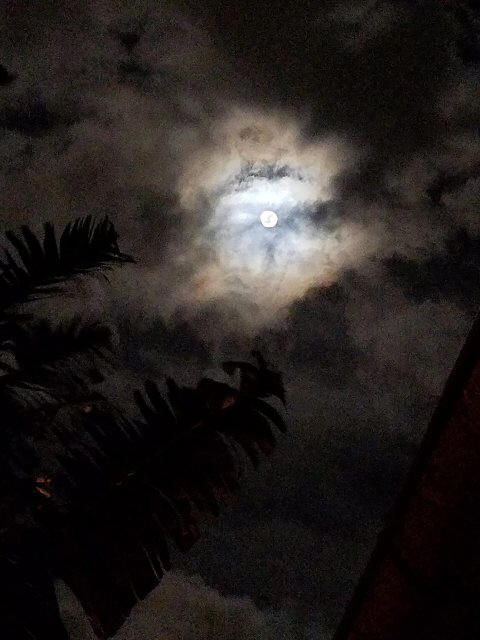 Call this "Bad Moon Rising," as in the music of Credence Clearwater Revival. 
That song from the Sixties (see lyrics at the end of this article) was playing on the intercom of a cafe in a motel Saturday night just as we passed by on our way to see damage to a coast road called A1A in Flagler Beach, Florida. 
("I see the bad moon arising, I see trouble on the way, I see earthquakes and lightnin', I see those bad times today… I hear hurricanes a blowing, I fear rivers over flowing, I hear the voice of rage and ruin…) 
Or call this "the gospel according to Matthew." ("You know how to interpret the appearance of the sky, but you cannot interpret the signs of the times" (16:3-4)
The hurricane by that very name bequeathed a strong sense — scanning road asphalt that had collapsed into roiling ocean waters, and or seeing the signs blown down (speaking of "sign of the times," as a local newspaper labeled an article about damaged signs) — of both the storminess that the Atlantic can conjure as well as the storminess in our lives, in our culture, in our horrible political situation, in our times.
Buckle up. 
Emergency officials had expected "catastrophic damage" from a direct hit by a category-three storm along this part of the coast. One official, Jim Judge, told the Daytona News-Journal  that they had expected homes to be blown away or flooded to their roofs.
In the end — surely, due in part to prayer — the area dodged the proverbial bullet (really, better described as a cannonball).
As a headline Sunday said, "30-mile 'wobble' spared area."
"Nothing was going to withstand those winds," the official said. "You are looking at a large tornado coming over the community." 
Adding to the destruction would have been an even higher wall of water surging from both the Atlantic Ocean and intra-coastal — from Cape Canaveral to Jacksonville — leaving barrier islands and even cities such as Edgewater underwater. ("You would have been able to go fishing from the Interstate-95 overpass," Judge commented.)
The overpass is a couple miles from the water.
Instead, in His Mercy, "Matthew" offered just a glancing blow, with sustained winds that never made it to hurricane force.
But there was the road damage and sections of the area where trees were toppled.
Most distressing to the communities — and showing our fantastic dependence on electricity — were outages that lasted up to several days.
Tens of hundreds of thousands were without it — granting us just a taste of what could happen in a much larger and perhaps national event.
No bottled water in the stores. Food totally out within three weeks. No gasoline, no banks, no ATMs, no regular radio, no internet, no TV, no air conditioning, no electric ovens and worst of all, of course, no lights.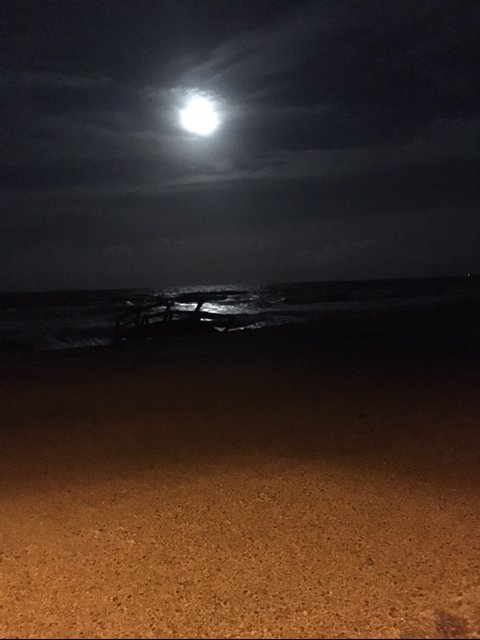 There was this sense: We're only being warned. We are being prepared. As Mary said at Medjugorje, "The world has been drawn into a great whirlwind. It does not know what it is doing. It does not realize in what sin it is sinking. It needs your prayers so that I can pull it out of this danger.")
Just last week, President Obama signed an executive order for the nation to prepare for a national power outage, which could come through terrorism or a solar storm.
Can you imagine being without electricity for weeks to even months?
"As individuals, my children, you cannot stop the evil that wants to begin to rule in this world and to destroy it," Mary also said. "But, according to God's Will, all together, with my Son, you can change everything and heal the world."
For now, still God's Mercy. In Flagler, most neighborhoods looked like they had not been hit by anything but a very strong thunderstorm. The wind blows where it will. 
Are not hurricane "winds" also blowing in our society? Do they not blow through the political arena? Will we continue to have wanton abortion? Will it become even more welcoming to homosexuality? Will we continue our unfettered materialism? Will it not some day soon manifest in natural events? A periprastic society can not perceive this.
For now, too, it remains in a song — just music, playing at an odd moment, perhaps chosen by the motel owners for the occasion, more likely, an example of "synchronicity;" just busted asphalt, broken piers. 
After dinner, as we headed for home, darkness fell over the ocean, still astir (frothy from another hurricane called "Nicole" out there). A full "supermoon" lit through dark clouds on the horizon, sending a bit of a chill through the psyche, along with the notion of autumn, of Halloween, of more synchronicity. 
–MHB
[The full lyrics:
I see the bad moon arising
I see trouble on the way
I see earthquakes and lightnin'
I see those bad times today
Don't go around tonight,
Well it's bound to take your life,
There's a bad moon on the rise
I hear hurricanes a blowing
I know the end is coming soon
I fear rivers over flowing
I hear the voice of rage and ruin
Well don't go around tonight,
Well it's bound to take your life,
There's a bad moon on the rise, oh right
Hope you got your things together
Hope you are quite prepared to die
Looks like we're in for nasty weather
One eye is taken for an eye
Well don't go around tonight,
Well it's bound to take your life,
There's a bad moon on the rise
Don't come around tonight,
Well it's bound to take your life,
Therrrre's a bad moon on the rise — end]
[Are you in San Francisco? Join us at our retreat here]