---
[Part 1:]
Hear ye, all Protestants:
Somehow, in the speed and obfuscations of our time — the division — it largely has slipped unnoticed, or nearly unnoted, or ignored: the astounding documentation of how the bones of Peter the Apostle were discovered, and meticulously documented, directly under St. Peter's Basilica at the Vatican.
In fact, the bones, as a new, fascinating book details, are virtually under the basilica's center — slightly relocated to one side for rebuilding centuries ago but basically still below the altar where the Pope, successor of the apostle, consecrates bread and wine during Mass.
The relevance is as clear as it is momentous:
Evangelicals, pentecostals, charismatics and other good  non-Catholic Bible-believing folk insist on strict interpretations — literal interpretations — of the Bible, and that being the case, the findings can only be connected — and very directly — to this quote from Jesus: "And I say also unto thee, That thou art Peter, and upon this rock I will build my church; and the gates of hell shall not prevail against it," (Matthew 4:18, KJV).
And so it is that if we take Scripture literally, we must acknowledge the findings, which show St. Peter's Basilica in Rome is built — literally — on the "Rock of Peter." 
The book is The Fisherman's Tomb: The True Story of the Vatican's Secret Search — and at turns it reads like a spy novel and resembles a bit of Indiana Jones.
Written by an attorney named John O'Neill, whose works have made The New York Times's 'bestseller" list, the book begins with Pope Pius XII and his bold, risky decision to see if Peter's bones are actually under the august church.
Pius XII's quest came after a team of workmen that was burying his predecessor, Pius XI, beneath the basilica (as that Pope had requested) happened, during that excavation, upon "an amazing and until then unknown world, with bright mural paintings of flowers (particularly roses), birds, vases full of vividly colored fruit, idyllic landscapes, cupids, and pretty-winged beings," along with the remains of a Roman consul's daughter and the simpler grave "of a woman from the mid-second century with Christian inscriptions on her tomb."
In other words, they discovered that, as tradition held, there were indeed graves beneath the basilica. In fact, there was an entire necropolis, buried through the ages sixty-feet deep. 
Was Peter among those bones, wondered Pius XII?
The investigation was totally clandestine, the Vatican aware that if they didn't find the Apostle's remnants, Protestants would seize on that as proving Catholicism was not the Mother Church.
It had always been said that Peter had been in Rome and was executed by Nero around A.D. 66, then buried on Vatican Hill. A number of first-and-second-century writers supported the tradition. Moreover, early Christians secretly worshipped at the exact spot on Vatican Hill where they believed Peter had been buried.
When the first basilica was constructed — by the Emperor Constantine — it was believed he had picked that place because of Peter, though later efforts to actually locate his bones were abandoned in the fourteenth and fifteenth centuries.
It was said that Constantine assembled a marble enclosure for Peter's body, with a great treasure of gold and silver objects in his honor. This was recorded in an ancient document called the Liber Pontificalis.
But none of those things had been proven. "It is unknown where the City of Rome and the bodies of Saint Peter and Saint Paul are located or even whether they are there at all," intoned none other than Martin Luther himself.
And in fact many historians and archeologists believed Peter's bones had been simply thrown into a river or mass grave.
But backed by a massively rich Texas oilman, George Strake, the search was initiated anew by Pius XII following discovery of a necropolis that now is described as one of the greatest archeological sites of the ancient world. Begun during World War Two, the effort to find Peter — if he was indeed there — would take seventy-five years.
Rife were rumors of a "curse" upon anyone who sought the Apostle's bones, and it seemed as though every historical attempt to find Peter's relics indeed "had faced unexplainable and puzzling events," writes O'Neill. Many excavators in olden times reported strange sickness. Even Pope Urban VIII, who ordered excavation for the Bernini baldacchino in the 1600s, fell ill.
Thus it was no surprise to superstitious workmen when, in 1949, disaster befell the necropolis by way, during unusually heavy rainfall, of water that "suddenly and inexplicably" filled the excavation "as if it alone, and not its surroundings," writes O'Neill, "had returned to ancient times."
But in the meantime, excavators had found many coins and votive offerings indicating not only a burial ground but a Christian one. Murals of saints were discovered at the center of the necropolis — again, directly under the Vatican altar — and digging deeper, a small opening near the base of a wall was found "and in that opening, they encountered bones."
In 1942, the bones had been placed in lead-lined boxes and at the Pope's direction, moved to his own apartment, where they secretly remained for many years.
Coins discovered on the floor of the grave dated to the first and second centuries, close to the time of Peter's death.
In 1949, an Italian journalist learned of the secret and soon was the headline in The New York Times: "BONES OF ST. PETER FOUND."
Celebration was in order. Was it?
Or was the curse still operating?
Did they belong to the Apostle — substantiating Catholicism as the seat of Christianity?
[Next: the epic discovery that should have shaken the world]
[Highly recommended: The Fisherman's Tomb: The True Story of the Vatican's Secret Search]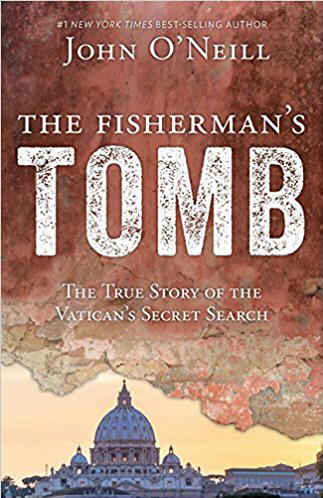 +++++++++++++++++++++++++++++++++++++++++++++++++++++++++++++++++++++++
+++++++++++++++++++++++++++++++++++++++++++++++++++++++++++++++++++++++
+++++++++++++++++++++++++++++++++++++++++++++++++++++++++++++++++++++++
+++++++++++++++++++++++++++++++++++++++++++++++++++++++++++++++++++++++
+++++++++++++++++++++++++++++++++++++++++++++++++++++++++++++++++++++++
+++++++++++++++++++++++++++++++++++++++++++++++++++++++++++++++++++++++