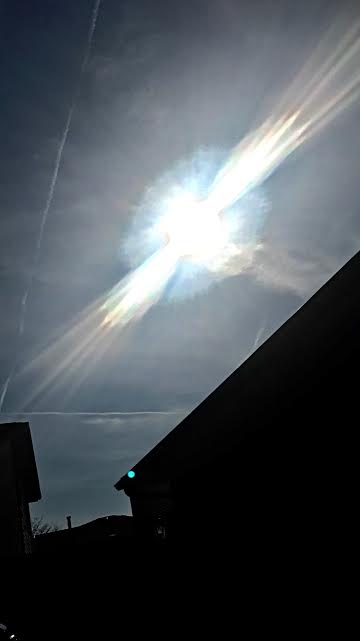 When we reach into the mailbag (and if we've been a while answering mail, please be patient), we find the usual and intriguing amalgamation of photos, dreams, notions that ring a spiritual bell.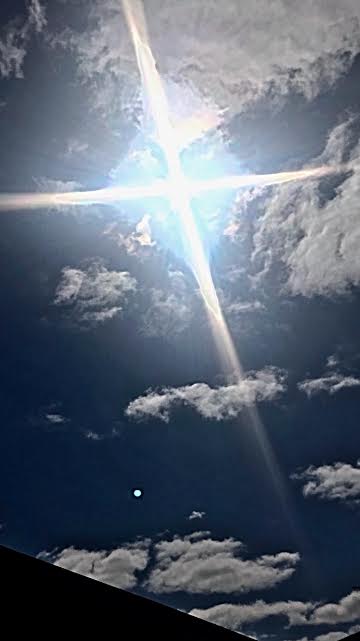 How can the photos [above and left and right] not remind us of the Holy Spirit/dove descending, and a Cross thence forming?
True Christmas-season stuff. How early it now starts! Are we earnest due to the pandemic?
The Dove was first, followed by the Cross, which twenty-one centuries later is still our illumination.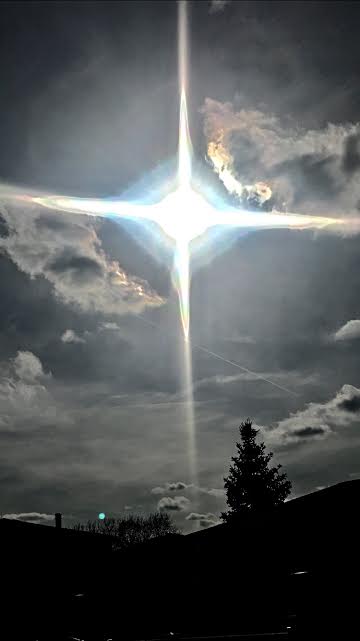 Notes a viewer who sent it, "The first was taken in my backyard in Tinley Park, Illinois, on March 27 at 9:27 a.m. looks like the Holy Spirit. The second was taken March 31 at 12:24 p.m. looked like Mama Mary, and a third was taken 12:34 p.m. same day. The sun is gone instead the big white Cross appears and in the center is the blue heart shape. The fourth was taken April 1 at 4:11 p.m. looks like a big white Cross like a sword or nail… with a diamond blue image at the center."
And so it does:

 God, at certain moments, gleams at us. Spiritual forces also work through dreams. 
A dear friend, Fran Behrens of Florida, sent us this just the other day (below)?  "Look at my new puppy Boot's chest," she wrote (11/6/21). "He has a white bird on it. Can't make this stuff up!"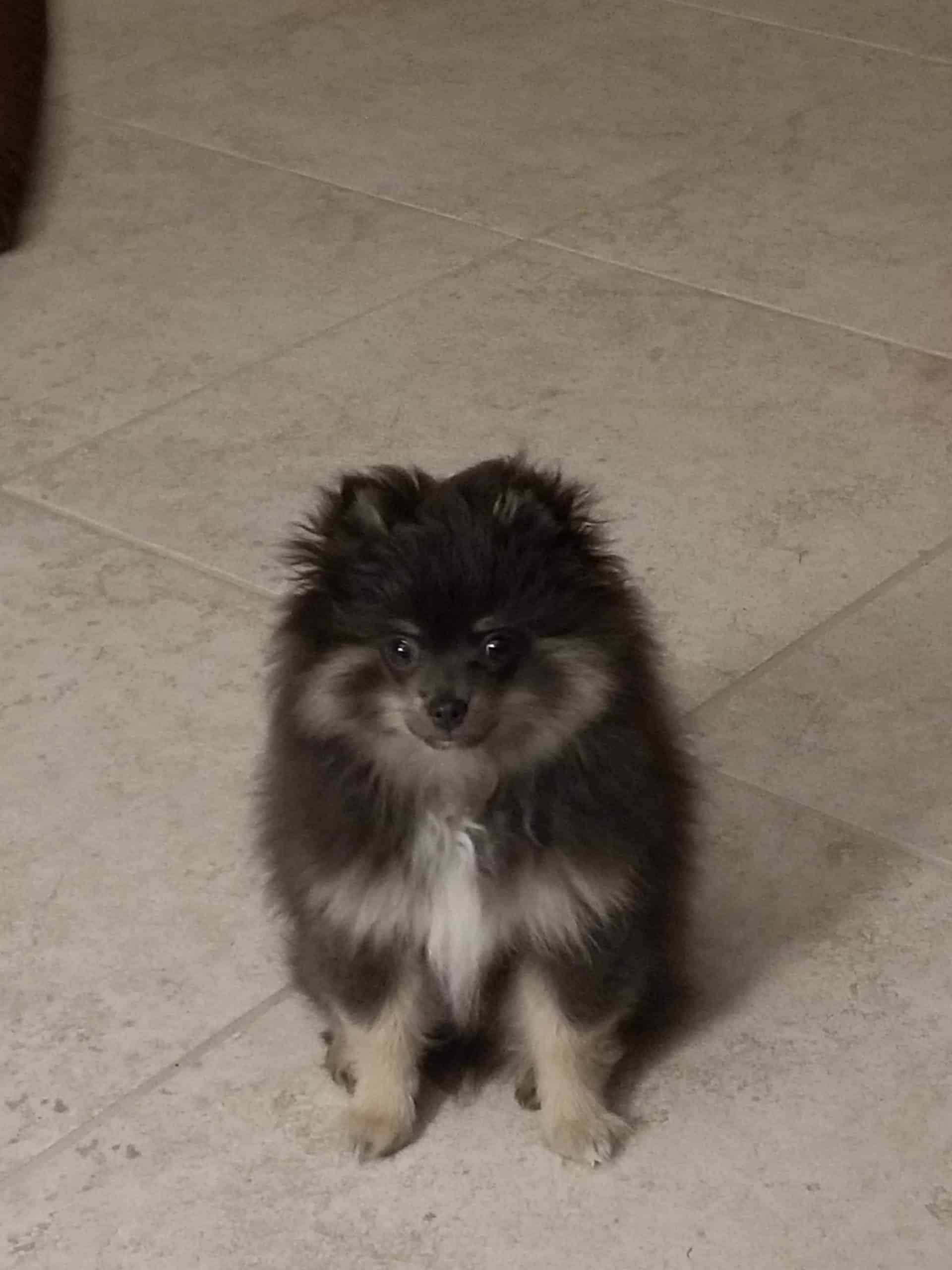 The pup, three months old, is a blue tan wolf sable Pomeranian.
Said another viewer from Voorhees, New Jersey, a few years back: "I would like to share with you this dream that I had last night. In this dream, everyone was looking up at the sky and the right Arm of God appeared in the sky with the right index finger extended.
"The person on the left of me asked me what this meant and I responded, 'I know what this means; it's a warning from God that unless we change our ways, justice will fall upon us.' Then the dream was over. Afterwards I began searching in the Scriptures as to where I had read about the Arm of God, and this is what I found: Isaiah 52:10: 'The Lord has bared His holy Arm in the sight of all the nations, that all the ends of the earth may see the salvation of our God.' Also, in Exodus, chapter 8, the Finger of God is mentioned in reference to the plagues brought against Egypt. The Finger and the Arm of God also refer to the power of God. Also the Ten Commandments were written on the stone tablets by the Finger of God. I found this dream to be very interesting, to say the least."
Others find a spiritual indicator is the strange things of our time, such as unexplained "rumbles" and "hums." They are reported around the world, as we have previously related. A natural phenomenon?
Commented Patty Jensen: "
My personal note is that people with a physiologically sensitive 'body' are being blasted by this noise all the time and it is getting worse. Sixty years ago, when I was a kid, we didn't have this noise — so probably, a natural disaster will wreck the engines that are running, the microwaves blasting, the airplanes flying, etcetera. Perhaps God will have mercy on us and take down the worldwide web and grid one day to give us souls a chance to go forward…"
So they are a… harbinger? Is that the point?
Perhaps the clearest harbingers are in current affairs, such as the news that Chinese scientists have inserted a human brain gene into monkeys that they say, when born, have better short-term memories.
It was just a decade ago that there was the far-out concern (see Tower of Light) that one day there would be chimp-human hybrids ("humanzees"). 
Such developments make some folks nervous. We address it at retreats. 
"I have a hunch the 'three days of darkness' are getting close," writes another, sending a little video snip. Every Christmas or Easter season we seem to hear about it, especially during Holy Week. 
Quite a dramatic prediction, was that. Is it plausible?
For our (very cautious) discernment (again)!
[resources: A Life of Blessings]