From Croatia News:
Pope Francis is expected to name a special administrator for Međugorje.
Pope Francis will reportedly soon appoint a special administrator of the Holy See for Međugorje. The unofficial information has not yet been confirmed, but it is assumed that the Vatican could take over in the next few months. It is assumed that this would mean that Međugorje would get a status of a shrine which would be managed by the Pope's administrator, while the parish of Međugorje and pastoral activities would remain in the hands of the Franciscans of the Herzegovinian Franciscan Province, reports Večernji List on July 3, 2016.
It would seem that the decision would be a win-win situation for everybody. Herzegovinian friars would lose a part of their autonomy in decision-making, but they will no longer have to deal with the local bishop because the Vatican would take over all responsibilities. Međugorje would become "extraterritorial" in a way, which would mean the end of 35 years of problems in relations between local bishops and the Međugorje phenomenon. On the other hand, the Bishop of Mostar-Duvno Ratko Perić can also be satisfied, because the authority of the Vatican would guarantee that there would be no deviations in Međugorje.
[Return to www.spiritdaily.com]
[Michael Brown Books and More]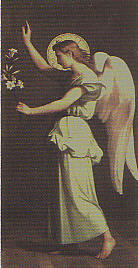 Pray always for purity and love
---