---
There are so many miracles. God can protect in any circumstance. During the greatest wildfire in U.S. history — one foreseen as a chastisement by the Virgin Mary (near Green Bay) — a makeshift shrine dedicated to her survived despite flames that roared right up to its wood fence. The Blessed Mother, it seems, saved those who were praying there — miraculously — halting the flames, which actually scorched the fence, and presenting what afterwards was described as "an oasis of emerald" in what was otherwise a million-acre landscape of ash. During the atomic blast in Hiroshima, a small clutch of Jesuits near Ground Zero — within a mile — somehow survived. No radiation poisoning. A Franciscan friary established by Maximilian Kolbe survived the blast at Nagasaki. In the midst of any mayhem, Heaven reaches out to us. We need only accept His Hand.
From the mail, we see little current-day miracles that present the same examples of protection. As posted by Daily Rosary Family on Facebook:
"Firefighters from Florida were stunned after witnessing an unexpected incident. While a popular tree was on fire and was supposed to cause the fire to spread, they noticed the image of the Virgin of Guadalupe painted in wood.
"They observed a grinding flame at the tree where the Blessed Virgin had been printed but were surprised to find that the fire had died out as it approached the image of the Virgin Mary. The firefighter was Jose Manuel Rivera Valenzuela, and he made this statement: 'We stood there, watching her for a while before putting out the fire. I was floored.'"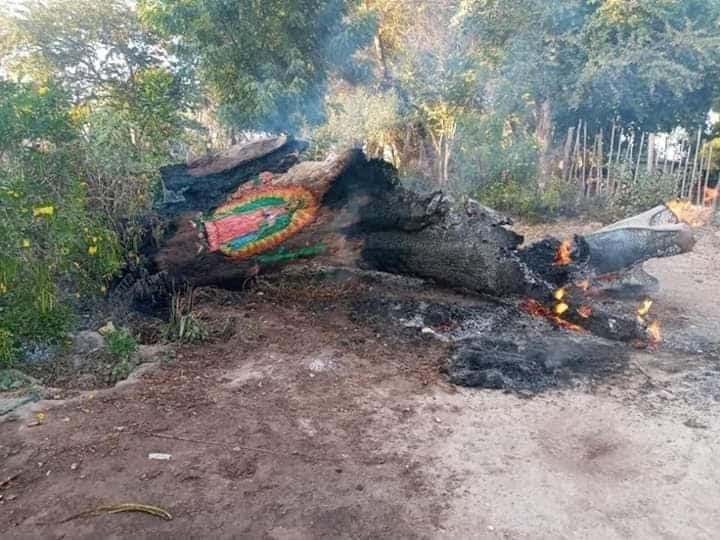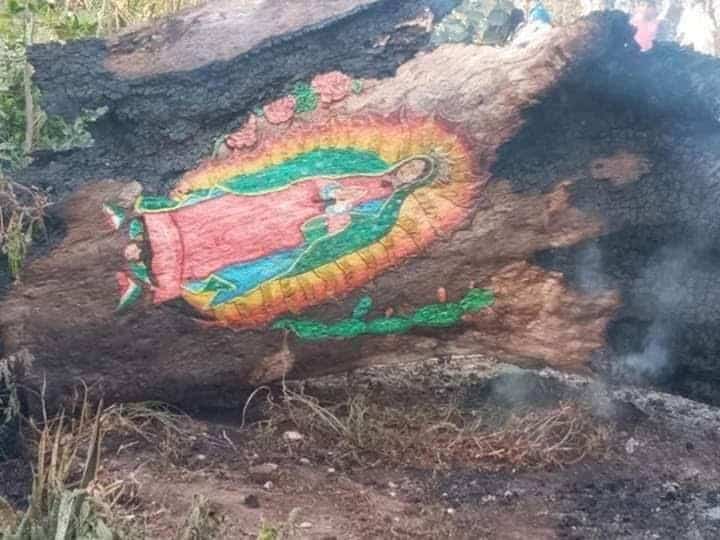 Note, as in Wisconsin, how the flames came right up to the border. 
 As a viewer, Judy Brown of St. Louis, points out: "There are 46 days in Lent, including Sundays. There are 46 stars on the Mantle of Our Lady of Guadalupe. Our Blessed Mother has said that the 46 is to remind us of Psalm 46 — 'Be still and know that I am GOD.'"
It is interesting

— is it not — that so many major apparition sites have been closed due to the the Great Coronavirus Scare (we still are waiting to see if it pans out — God forbid — as a truly historic pandemic). As far as we know, Guadalupe in Mexico is still open, but Lourdes closed, most of Fátima has also, and Medjugorje, which receives so many pilgrims from Italy, is a veritable ghost-town. There are many signs to discern.
+
At Medjugorje, we note that Mirjana Soldo has been told her monthly apparitions, which occurred on the second, have come to a halt after more than three decades. It is especially interesting, in the wake of coronavirus, that this would occur to the seer most associated with the site's alleged secrets.
In the mail, we received a note that said, "Mirjiana in Medjugorje is quoted on radio as saying the time of the revelation of the three secrets is near. Father Petar Ljubicic [her spiritual director] also is quoted as saying 'prepare.'"
We have found nothing to confirm that. And just now, in checking with a guide close to her, she says it is "fake news."
Father Ljubicic is the priest who is supposed to announce the event in her first secret. He did recently say, when asked about the coronavirus, "Dear friends, we should not be afraid, this is only a call that we should only be afraid of sin. Do not commit sins, pray, fast, make sacrifices, it is the best remedy against the coronavirus. Fear does not help, but you must have faith and turn away from sin. It is the safest way to fight the virus. In the Name of the Father, the Son and the Holy Spirit."
Meanwhile

— according to another correspondent —
Conchita Gonzalez, an alleged seer from the Spanish site of Garabandal, now residing in the New York City area, was
asked "if she would be kind enough to offer some words of advice to all of us, in this troubling times. Here are her words. 'God is detaching us from the securities of this world. In the silence of the Church or in our house, we are now able to make an examination of conscience so we can clean what prevents us from hearing the Voice of God clearly. With sincerity we can ask God to tell us what He wants of us today, and continue to do that every day. And spend as much time as possible with God at church or somewhere in your home or where you find the silence. He is all we need.'"
Speaking of fasting, a viewer named  William Simpson, commenting on a recent article on how the phrase "prayer and fasting" has been reduced, in many Catholic bibles, to simply "prayer": "The omission of the word fasting in Mark 9:29 appears to come from the revised version of the Latin Vulgate, which was issued in 2002. The revision was begun under

Paul VI and promulgated by John Paul II. As you say, it is the scholars at work, but we mere mortals are left wondering why the change and knowing in our gut feeling that it is wrong. Again thanks profoundly for your website, a rock to

cling to in current storms."
And getting back to Medjugorje, which is adjacent to Croatia, we note an earthquake there last weekend. Wrote a friend, Jim Singer, who is a native of Zagreb, now living in Canada, "

Apparently there are numerous injuries and, so far, one 16-year-old boy found dead. Many churches were damaged, three severely. One of these is the church where I was baptized (St. Peter's). Also, the top of the just renovated cathedral spire collapsed. The debris fell into the Cardinal Josip Bozanić's residence, right into his apartment.

The whole matter is complicated by the coronavirus.The country is already under the lockdown because of it. Hospitals are being evacuated into the streets and parks.The army is putting up tents." 
It is curious that some researchers believe the virus was transmitted by bats to the Asian anteater called the pangolin. Pangolins are threatened by poaching — for their meat and scales, which are used in Chinese traditional medicine for a variety of ailments.
 Those afflictions include: excessive anxiety and hysterical crying in children, women thought to be possessed by devils and ogres, malarial fever, and deafness. A spiritual connotation?
Speaking of the Church — and more to the point, "tremors" and crumbling — a lawyer from

the Buffalo area, James I. McAuley, wrote to defend the bishop who was recently forced out over the abuse crisis.
"What happened to Bishop Richard Malone is a travesty on two levels," asserts James. "
He came into a diocese where the corruption ran deep. The seminary was a mess, full of priests teaching heresy and error (denial of the Divinity of Christ, that masturbation was not a sin, that homosexual behavior was okay).
"Malone came along

and quietly began to reform things, especially at the seminary. He delegated a lot and trusted too much. He was like the Stewart Kings of England: excellent personal judgment, but all too many horrible advisers that he then deferred to. And many of these same advisors broke their fiduciary trust to him. They could get away with it, because he was a nice guy, a good guy. Malone also defended good priests.  When the late Father Robert Marino was accused of financial improprieties by a parishioner who wanted Father Marino removed, Bishop Malone did not rush to judgment, but listened to all the evidence and then kept Father Marino in his position. In the last two years Bishop Malone began to surround himself with good and holy priests. He was personally very good to me and let me and my family transfer to the Ukrainian Greek Catholic Church. I gave him a St. Michael stone. He always looked for the best in people, and too often that forgiveness he gave was thrown back at him. At the end, he offered up his resignation for the healing of the diocese."