---
Some anomalous matters, of late, from the news: 
In Nigeria, reports the Daily Post, "there was shock recently outside the gates of T.B. Joshua's Lagos-based Synagogue Church of All Nations after an image said to be an angel was sighted around the church."
A video uploaded on Youtube, it pointed out, shows what the local paper calls "a flashy figure in white… seen mysteriously crossing the road and entering inside the Church premises." 
"I have watched the video twenty times," wrote a commentator known on YouTube who described himself as a professional graphics editor. "This is not a reflection of any sort, neither is it editing; it's a pure angel," he concluded, citing the height of the sheetlike "being" and the speed of movement, not to mention going through traffic. (We'll let you decide whether or not it is staged, a clever edit insertion, or supernormal. A blowing sheet? A reflection in the glass? You may need to "refresh" the video page to ignore the thumbnails for other unrelated videos):
Now, at the other end of the spectrum — the not-so-bright end — comes eldritch news that an actress, Julia Roberts (she of Pretty Woman renown), felt haunted during a recent visit to a graveyard — this was in the line of duty while filming a new movie, Ben Is Back, in New York.
According to a tabloid, "As Julia regrouped for another take near the tombstones, she suddenly felt someone or something shove her. She quickly turned, but there wasn't a soul around! Julia hopes it was just a crew prankster having a laugh." 
Cemeteries can be tricky territory.
So can what goes beyond the grave.
For instance:
Below is a video snippet of a man named Jim Woodford who "died" and, as it says on the screen, found himself between hell and Heaven.
Go to 11:45 of the video (a bit less than halfway through; the beginning is intro and advertisements). 
The issue here: Did Jim, a pilot in Canada at the time, experience both angels and a demon in a tug of war over his spiritually-ambivalent soul?
We post. You discern.
His experience, Woodford told a television interviewer, Sid Roth, was like encountering two movie screens next to each other — Heaven on one, hell on the other. And yes: a gray area in-between. It's like he saw various stages or levels of the hereafter: from great to okay to not so great to horrible, in a sequence.
Start with Heaven.
"If we have a spectrum of colors on earth, Heaven has ten thousand times ten thousand more," said Woodford, contrasting it with what was on the other side of a dividing line. "To the right there was this beautiful mist-colored field, a mist — we pilots call it ground effect — with beautiful flowers showing through it, but then on the left of that line it was so different, because that beautiful green grass went from green, to brown, to scorched, to black, and dropped off into a crevasse.
"And I stepped back and I looked down into this cold blackness and then I saw something like a dim light at the bottom, like a light of fire, red fire.
"And then I heard the most incredible sound, like two massive iron doors opening and screeching on hinges that had not been used in a long time.
"And suddenly emerging from those doors was the most hideous creature you could ever imagine." 
Noted the pilot, who was clinically "dead" for hours, "Hollywood could never duplicate what I saw."
"Suddenly I'm assailed by this horrific smell that comes out of that pit. An odor of death and decay and of things long dead, things that should never see the light of day. It gazed up at me and with its fiery eyes looked up at me and started to make its way up the wall of that pit. But its body was formed of like a rolling mass of dark cloud with a face on it. And I heard the most horrific things, something screaming within the body of this creature.
"And then what absolutely horrified me was that I heard my name — my name being called.
"This creature knew me and was coming for me and I was terrified. And it reared out of that pit over me and the most hideous face imaginable, massive in size, snarled at me and there was this feeling of anticipation of glee, that it couldn't wait to get its claws on me. I was so horrified I turned from the darkness toward the light. 
"And when I did, I sensed this creature — its breath — on the back of my neck, the stench of its breath, and I felt a sharp claw move down my back. I could hear its saliva hitting the ground.
"And it was at that point I said, 'Jesus, forgive me.'
By his own depiction, Woodford was a man who had never given much if any thought to God. Irreligious.
But now he turned to the creature and — desperate — cried out, "God help me!"
And so the Lord, in His goodness, did.
Suddenly, three stars arrived like comets and turned into angels, their light instantly striking the creature and forcing it back into the pit. Close call.
And the point: being focused on God paves the way to Heaven — to those colors, to the radiance beyond the grave, to angels — while being lukewarm, on the other hand, can cause issues — bigger ones than many imagine — on the other side. (Show this to lukewarm friends and relatives!)
It's a choice we all make betwixt the two "screens" (or the grayness that separates them).
[Return to www.spiritdaily.com]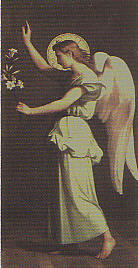 Pray always for purity and love
+++
[Return to www.spiritdaily.com]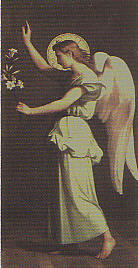 Pray always for purity and love