---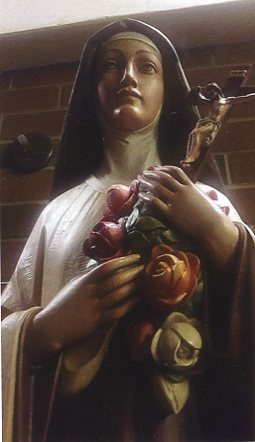 We enjoy hearing from our viewers — 17 years now, this May 13! — and are constantly uplifted by the way God operates in everyone's lives, when we let God operate, and when we notice what He has done and is doing.
The more we realize, the more we experience wonders. It's called living in faith instead of the world.
Don't worry if the worldly look down a collective nose at you.   
God is hidden until we uncover Him. It's the nature of His ultimate humility.
That humility responds to the humility in all of us.
He operates through His saints.
Arceli Liceralde of Gold River, California, the Sacramento area tells us of a happening, as she perceived it, a couple months ago.
"I am a member of the Secular Order of Discalced Carmelites since 2014 and I love the Carmelite saints, especially Saint Thérèse of Lisieux," she informs us.
"In October of 2014, my daughters and I went to France and had a Mass in the basilica of Saint Thérèse. I can't express the joy. It was a dream come true. After work, I go to Mass to Saint Ignatius Church and, for many months, I have constantly felt the presence of Saint Thérèse while walking to the church. I carry the book by Saint Thérèse, The Story of a Soul, wherever I go."
"Something very beautiful and miraculous happened on December 30, 2016," Arceli informs us.
"I was so tired that evening after a stressful week's work and having stayed up late packing my bags, because we planned to celebrate New Year's Day in San Francisco. I just wanted to go to bed.
"After taking out the comforter and blanket, I saw twenty or more yellow things, all the same size, on my bed and thought they were leaves [that somehow go there].
"I just ignored them and went to sleep.
"I can't remember the exact date, but maybe a few days after returning from San Francisco, I found a yellow rose petal on my bed and was surprised to find two more rose petals on the carpet!
"I asked my two daughters, who live with me, if they had put them there but they told me they never did. A week before it happened, my daughter, whose name is also Theresa, told me that she dreamed of Saint Thérèse and I told her to ask for intercession. Now when I found that these are roses from Heaven, I could not put into words how I felt — amazed, overwhelmed, so grateful, so blessed and loved by Saint Thérèse. What did I do to deserve this mysterious experience and so great a Grace from Heaven?"
 Saint Thérèse  and so many saints are faithful to those who have a devotion to them!
"It dawned on me that the twenty or more yellow things were also rose petals. I started looking for them, turning my bed upside-down, but [I had forgotten about them] and they had just disappeared. They were very fragile and the closest I can compare it to is the wings of a butterfly."
Often — in signs from Heaven — there is a extra special twist.
In this case, for example (and yes, we also say purportedly): it turned out that Arceli's family has a special fondness for yellow flowers and when her father died, all the roses at his wake were yellow. Was he also sending love?
"Several months have passed since this shower of roses happened, and yet the memory it has left in my soul has lost nothing of its freshness and heavenly charms. Every day I thank her and feel that the roses are always right in front of my eye."
What a prism, through which to look at the world.
[resources: The Story of a Soul, Michael H. Brown retreats, Toronto; to be announced later today: northern New Jersey]