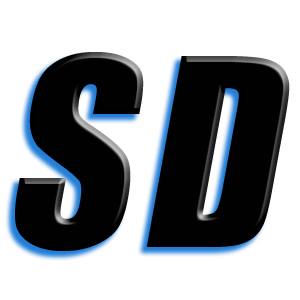 By Michael H. Brown
FROM KEY WEST TO 'KATRINA,' REMARKABLE ACCOUNTS OF BOTH MARY AND ARCHANGEL
Just as there was protection during the swarm of hurricanes in 2004, the Asian tsunami, and the great Gulf deluge, so now too, with Hurricane Rita, may there be already an intervention at the hands of the Blessed Mother — by way of a shrine in Key West known as the "hurricane grotto."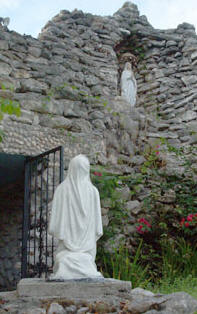 In 1922, Sister M. Louis Gabriel, a Canadian nun who spent her adult life serving Key West, built and dedicated the grotto to Our Lady of Lourdes and St. Bernadette. Sister Louis Gabriel lived through three destructive hurricanes. After the 1919 hurricane, the most deadly in Key West history, she vowed to construct the grotto with the prayer that no more hurricanes would devastate the island. It is known as "St. Mary Star of the Sea."
Many were those who swarmed to the shrine Monday, as forecasters were all but certain "Rita" would make a direct hit on the Keys.
It did not. Once more, it kept south.
During the past 82 years, 14 hurricanes have hit Key West or passed within 50 miles — yet none has caused catastrophic damage.
In 1998, Hurricane Georges passed directly over the island, but it diminished from a category four to a category two hurricane by the time it reached Key West despite the warm area waters. The same has been true of St. Augustine where there is a statue known as the "hurricane lady."
Does this mean they will never be hit? We do not know God's Will. But it is time for those rationalists of our era to acknowledge the role of God in modern times, including in storms.
Let us now focus on prayers for Galveston, Texas — which may be one of Rita's targets. Galveston was destroyed in 1900 by the worst hurricane event in American history (at least 6,000 dead) and at the time bore eerie parallels to New Orleans — with a reputation as one of America's great party towns and annual celebration of the Mardi Gras (a costume theme around that time had been "Beelzebub and the Devils").
Then the hurricane hit, causing effects that National Geographic described as "a scene of suffering and devastation hardly paralleled in the history of the world." Let us pray that such is not repeated (the levees there too are susceptible).
Such prayer works. The stories of such intervention keep rising out of Hurricane Katrina. From the mailbag:
"My little brother just called from his old neighborhood In Metairie," writes Ginna Dombrowski of Steubenville, Ohio. "The damage is unbelievable, unbelievable, unbelievable… It is as though the culture of death became visible in destroyed and decaying matter. But he wants people to know that every house that had a statue of the Blessed Mother in front of it still has the statue standing. In many places the houses are destroyed but the statues are still standing  upright in front of the rubble. 'She was here,' he said."
Indeed! As another correspondent named Mary notes:
"I live in Thibodaux Louisiana. We are located west of New Orleans. While damage was experienced here, it was certainly not catastrophic. However, I wanted to share with you my experience. Prior to evacuating my home before the hurricane, I sprinkled holy salt around the perimeter of my home. I did nothing else besides close the shutters and place a statue of Our Lady of Prompt Succor on the island in my kitchen. An eyewitness who was seeking shelter in a school near my home reported to me that he personally saw a tornado which appeared to 'jump over' my home and proceed down the street. When we returned after the storm we found our home completely intact – not even a shingle missing from our roof!
"My son is in the Seabees, stationed in Gulfport, Mississippi," adds Mary Jane Haley of Glen Burnie, Maryland. "He just built and moved into a brand new brick home in Pass Christian. In the past they left Gulfport for storms and found the exodus miserable. So, for Katrina, they did not leave.  Maybe they would have had they known it was a category-five, but by the time this was announced, there was no way out of Mississippi. My son, his wife, his two little boys, and his wife's parents stayed in his new house together, sometimes retreating to an interior closet when the wind seemed especially bad.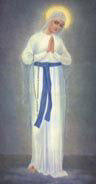 "And it was bad. They were in the eyewall of Katrina for twelve hours and the eye, which had been predicted to pass directly over them, had moved over and passed over Waveland, just across the river. It is flattened.
"When I heard how strong Katrina was, I asked God to send angels and saints to stand on my son Bill's roof  to hold it down, especially St. Michael. I also asked him to place them all around
the perimeter of the property. I read once that you have to ask the angels to help you and so as I prayed, I said, 'I am asking you angels to protect my son and his family, and the home of his in-laws in Long Beach.' 
"They heard my prayer. Although a few roof tiles blew off, Bill's house sustained no damage — and he did not even have time to board up his windows. Imagine 150-175 mile-per-hour winds driving rain into glass window panes for twelve hours. It did exactly that, but not one window broke! Only a little rain seeped in around a couple of the window frames — not even enough to damage anything. They have a brand new swimming pool — still intact. A tile from someone else's house skimmed across the water of the pool and cut a small hole in the lining above water level, but it isn't even leaking. His chickens were still in their little chicken house and the turkey, which hid beneath a tractor, is fine.
"As for Bill's in-law's house in Long Beach, the angels protected it too. He has some doors missing and one corner of his roof has no tiles, but the house is in good shape otherwise. Very few houses are left either in Pass Christian or Long Beach, but Bill's house is intact."
"I would like to express my thanks to you for the stories on the Ursulines of New Orleans and the Shrine of Our Lady of Prompt Succor," writes Sister Elizabeth McAdams of the Ursuline Academy in Wilmington, Delaware. "I am so relieved that the shrine did not suffer major damage. Our Lady of Prompt Succor is so powerful. Thanks you for putting her Litany on the site. The Ursulines are settled in our other convents in Dallas and St. Louis. We shall return!"
So many accounts! So many we would like to run…
For now, last but not least:
"I was just relayed a personal story, that happened to a friend and co-worker, of an event that happened to him in last week during a hurricane relief effort," writes Lee Mayeux of Baton Rouge. "A newly formed Knights of Columbus group in Pierre Part, Louisiana (near Morgan City) had taken it upon themselves to contribute to the relief effort in South Louisiana. They started cooking meals for evacuees at different shelters and providing ice in bulk to those in need. 
 "That week they cooked and transported 3,500 meals and over 13,000 pounds of ice to evacuees at Nicholls State University in Thibodaux. After coming home from a late Friday night feeding, they heard a plea on the radio from State Representative Ben Nevers to help the people of Washington Parish (North of Lake Ponchartrain) because no aid had arrived and the people there were in dire straits. They called each other in the late hours of the night and decided to do something about it.   
"There was no time, or food left, to cook so they decided to fire up the ice machines and haul as much as they could. They got to the first ice machine and the loading conveyor had broken, so they shoveled ice. They got to the second ice machine and the bagger had broken, so they shoveled ice. In all three men shoveled 5,000 pounds of ice into an insulated truck and began their journey. It's a good three-hour drive from Pierre Part to Washington Parish.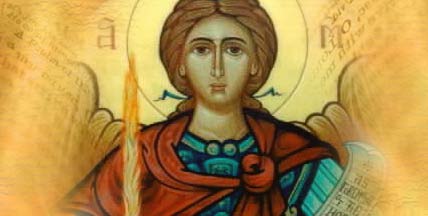 "They arrived in Washington parish and met up with the local sheriff. They were then escorted to town, where overnight several 18-wheelers full of food and water had shown up.  
"At this point the men were frustrated and wondering why they had even made the trip. They asked the sheriff if anyone needed the ice. The sheriff said there may be one more place — a shelter a couple miles away that no one has checked on in a couple of days. The three men followed the directions and found the shelter, eventually finding the person in charge.
"They stepped out of the truck and met an older woman wearing a Red Cross uniform who asked if she could help them. 
"The men responded that they had a truck full of ice and wanted to know if they needed any at the shelter. 
"The woman, now beginning to tear up, explained to the men that she and a group had been praying all night for ice to come the next day. And no less than ten minutes earlier had said a prayer to St. Michael asking for a 'truck full of ice.'  
"The men were humbled and thankful to now see that they were being used in part of God's plan. They themselves hadn't eaten all day and after shoveling ice, driving three hours, and experiencing the frustration of road block after road block, were now full of energy. They helped set up a freezer system for the food which was arriving later that day from the Red Cross and gave all 5,000 pounds of ice to the shelter. 
"After all was said and done, the lady in charge asked the three men their names. The men, now smiling, replied 'Michael, Michael, and Michael,' which, was indeed their names.
[prayer: Our Lady of Prompt Succor] [resources: Miracles Do Happen]
[Note: Is all the commotion in the world the reason Our Blessed Mother's statues weep myrrh? That aromatic resin represents mortality, suffering, and sorrow — but also healing.]