---
There is the issue of fire and prophecy. In the Notre Dame fire — which has sparked worldwide attention to the good side of our Church, at the most intense time of year — some saw Jesus in the flames.
Once, when Padre Pio was asked about the future, he replied with a question: "Can't you see the fire?"
At Akita in Japan, a deaf nun "heard" the Virgin Mary predict to her that if men did not "better themselves," fire would fall, destroying a large segment of the global population.
At the Church-approved apparitions in Kibeho, Rwanda, the Virgin Mary, in speaking about coming chastisements, said, "Where will you hide when the fire comes?" To repeat: these were Church-approved apparitions (as Akita was likewise approved on a somewhat lesser level).
At Medjugorje, which now has partial Vatican approval, a strange, inexplicable fire was seen on at least two occasions — seeming to engulf the hillside spot of apparitions, and yet, when it was out, leaving not a single indication of actual flames. No ash, nothing charred.
Communists who at the time controlled the area raced there and were totally baffled.
The Blessed Mother told seers that it was a forerunner of a prophesied "great sign."
But back to chastisement: in 1859 at Champion, Wisconsin, the Blessed Mother warned that if men continued their wayward, materialistic, irreligious ways — minus any catechism, and if the devout failed to pray enough — there would be a chastisement from Jesus.
Exactly twelve years to the week later (perhaps to the day), the greatest wildfire in the recorded history of America occurred in this precise area where Mary appeared (turning an area the size of Rhode Island to a sea of ash).
At the very same time, the greatest urban fire in U.S. history occurred more than two hundred miles to the south, in Chicago.
Now, we see flames from the Cathedral of Notre Dame — fire and smoke — just as there was fire and smoke on September 11.
Fire falls.
Flames.
Heat, as in the nether regions.
At LaSalette — in 1846 — the Blessed Mother allegedly told one of the two visionaries, ""For a time, God will cease to remember France and Italy because the Gospel of Jesus Christ has been forgotten. The wicked will make use of all their evil ways. Men will kill each other; massacre each other even in their homes. At the first blow of His thundering sword, the mountains and all nature will tremble in terror, for the disorders and crimes of men have pierced the vault of the heavens.  Paris will burn and Marseilles will be engulfed."
Does that pertain to what just occurred?
Perhaps. If so, it probably finds more application, however, to what happened to France in the 1800s, for during that century, France went through revolts and bloody, fiery civil uprisings that preceded events (one may say, chastisements: World War One, the Great Depression, World War Two) around the world.
A mystic named Marie-Julie Jahenny, again in the 1800s (mainly 1870 t0 1890) said, "France will be the starting point for the world-wide chastisements, as France was Catholic before other nations and was granted more graces than other countries. It (France) has been given the mission to defend the Church and the True Faith through times of persecution and heresy. Because of its failures and its rejection of its heaven-blessed monarchy, it would be struck first, but then the punishments would spread throughout the world."
As just stated, France and the world already have suffered miseries that could be associated with such alleged prophecies (which began to rise from French convents in the 1700s). It probably pertains to past events. France suffered much in those times. But it also may be a prophetic template for what occurs now and may occur in the future.
Many forget that, before her time, during the French Revolution — which was preceded by many mystics with very similar prophecies (including "three days darkness") — the Cathedral of Notre Dame, which had been commissioned way back in the 12th century — saw its altars blasphemed and a statue of a pagan deity, the Goddess of Reason, installed where Mary, for whom the cathedral was named, once stood. Church bells and chalices were seized and melted. More than two hundred priests in Paris were slain.
In other words, Notre Dame has been through all this (including damage and rebuilding) before. (In August of 1944 Hitler himself (full of the devil) had slammed his fist on a table and shouted at his chief of staff, "Is Paris burning? Jod! I demand to know! Yes or no? Is Paris burning now?"
Thus we see that the prophecy, which went further than the officially recognized secret from LaSalette, and was given to Melanie alone, may well have pertained to World War Two, and if so, the outcome — Paris burning — had been "miraculously" altered.)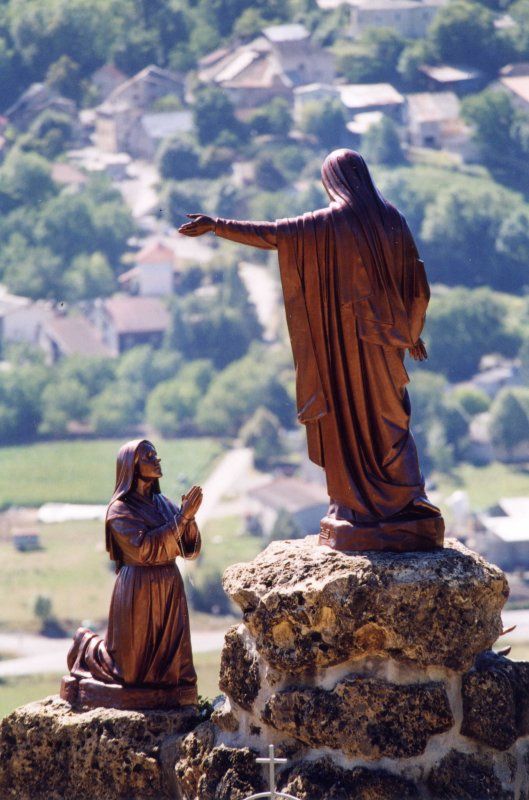 Tribulations and a battle of evil were also prophesied during the Miraculous Medal apparitions in Paris (again pertaining to the 1800s) and at the Church-approved site of Laus, south of LaSalette. [See below for protection of Miraculous Medal] A part of the Miraculous Medal prophecy said, "The times are evil. Misfortunes will fall upon France. The throne will be overturned. The entire world will be overcome by evils of all kids." This then was reiterated by mystics such as Jahenny, and the events indeed materialized.
No wonder Mary appeared in France. The country's best astronomers, mathematicians, and politicians were openly preaching humanism and joining Masonic lodges. At Lourdes a parish church had even been confiscated by the local government and turned at one point into a "temple of reason." It may be worse today.
Fire. Fear of fire. There is fire in the future. It is a good fire because it is a cleansing fire.
Notre Dame will rise from the "ashes," just as it has before. But take from this a key lesson of Our Lady's protection: in Wisconsin, the fire that demolished 1.2 million acres went right up to a wood fence that enclosed a twelve-acre shrine dedicated to the 1859 apparition, but never crossed it — charred the fence, but then was stopped cold.
This is how astonishing the Virgin's mantle can be. The holocaust stopped in its tracks, back in 1871. Provable fact.
With Mary comes great protection. She was with Jesus, unto even the Cross.
Remember that, in the years to come.
[resources: Fear of Fire and Michael Brown retreat, Chicago]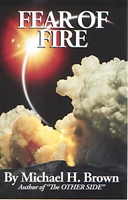 [Footnote: An Alleged Recent Message on Miraculous Medal:
I protect all those who wear my Medal around their neck Little children of my Heart, the Peace of my Lord be with you all, and the protection of my Miraculous Medal assist you and always accompany you. My little children, I am your Mother of the Miraculous Medal and I want this day and this week to give you many Graces and Blessings. From today until the end of the week, all those who pray my Holy Rosary and say at the end of each Mystery, my short prayer: "O Mary, conceived without sin, pray for us who have recourse to Thee", will receive an extraordinary Plenary Indulgence, for one time only, that will serve you to erase your sins or to reduce your stay in purgatory, when you arrive in eternity. Little Children, My Holy Medal is the strength of my consecrated ones; I am your Mother, I protect and cover all those who with faith, wear my Medal around their neck. During the times of the great tribulation, none of my
devotees will be touched by the evil one. I promise to assist and to protect all my devotees in this life and in eternity. My Miraculous Medal is a healing for the sick of the body and the soul, if with faith you invoke Me with my short
prayer. Immerge It in holy or exorcised water, say my short prayer and give it to the sick to drink and if you do it with faith, I assure you that this one will recover the health of the body or of the soul. My Miraculous Medal is the terror of demons; when you feel attacked by the evil one, say my short prayer: "O Mary, conceived without sin, pray for us who
have recourse to Thee"; and the power of my Medal will keep the demons away and will not allow the evil one's incendiary darts to harm you. During the times of the great tribulation, you must have my Miraculous Medal because my
Father has bestowed upon great power to heal from many diseases, plagues and viruses, all those that carry it with faith. My Miraculous Medal will get rid from you of many evils, plagues and incurable diseases, in those days of spiritual combat. The power of my Miraculous Medal is a protective shield that liberate you from the forces of evil. If you are in danger and invoke Me by saying my short prayer, I will free you of all material and spiritual enemies. Those who are my
devotee will not know sudden death, nor bloodshed. I, your Mother of the Miraculous Medal, I promise to assist all my devotees in the hour of their death; No demon can disturb the peace of the dying who were my devout faithful. In
eternity, I will be the intercessor and the advocate of all of my devotees, and my faithful little children will not suffer a long stay in purgatory. My devoted little children make my Holy Medal be blessed and exorcised again, so that it will give you greater protection during the times of spiritual combat that are approaching. All of my devout and faithful ones will be spiritual warriors during the times of the great tribulation, for the power of my Medal is a Powerful Armor that will keep demons away. My exorcised Medal, in the times of the great tribulation, will emit rays of light that will blind Satan and his demons. My exorcised Miraculous Medal placed on the sick of the soul, will get rid of the attacks of the demons from them. Consecrate yourself to my Miraculous Medal and say my short prayer: "O Mary, conceived without sin, pray for us who have recourse to Thee" after every mystery of my Holy Rosary and I assure you that you will obtain from this
Mother: protection, healing and deliverance. Do not fear my children, all this week for one time only, you can earn my indulgence. The most important thing is that you become my devotees, so that my protection will remain in you. May
the Peace of my Lord, accompany you always and the power of my Miraculous Medal, protect you from all evil and danger. Your Mother, the Lady of the Miraculous Medal. Let, my devout children, make my message known to all mankind."]