Can northern lights be a sign?
If you believe in Fatima, the answer is a definitive "yes."
The last living seer there, Sister Lucia dos Santos, wrote that a highly unusual display of the aurora borealis in 1938-1939, though explained away by scientists (auroras are "caused" by the interaction of solar emissions with earth's magnetosphere), was the "sign" foreseen in the secrets as presaging the start of a second world war.
Described by pilots as like curtains of fire, Lucia wrote that "if scientists would investigate, they would find that it was not an aurora, in the form in which it appeared, but the 'great sign.'"
And now, in our own time?
Auroras once more — not yet at the level of 1938, but close to it and seen over large parts of the globe. As The New York Times, in an article headlined "Northern Lights Are Seen In Places Where They Normally Aren't," reported earlier this week, "An unusually wide swath of the Northern Hemisphere's sky lit up with a brilliant show of color late Sunday and early Monday, bringing vivid purples, greens or yellows as far south as Arizona, central California and southern England."
It added: "For those unaccustomed to seeing the night sky illuminated by streaks of green or red, an aurora borealis — in folk tales, the northern lights have been associated with spirits and divine forces — can inspire awe, or even fear."
"Lancaster University's AuroraWatch issued a rare 'red alert' for the Northern Lights at about 12.50am on Monday morning," reported the London Mirror. "It's incredibly rare for the aurora borealis to make an appearance in the UK."
Maine, Wisconsin, Toronto.
And a couple more shots of the #aurora from our office. #AuroraBorealis #NorthernLights #wywx pic.twitter.com/SV1haQJcRa

— NWS Riverton (@NWSRiverton) April 24, 2023
In America, up to thirty states and of course Canada were expected to glimpse them.
Another headline: "Southern and northern lights sweep planet in stunning display of auroras," with the subhead: "A 'severe' solar storm triggered the outburst of auroras. Even California, Arizona, Arkansas and Virginia reported sightings"
Said the Washington Post: "Forecasters at the Space Weather Prediction Center in Boulder, Colo., issued warnings for a Level 4 out of 5 'severe' geomagnetic storm, which happens on average only 60 times every 11 years. The episode may have been even more intense at times, sparking auroral displays as far south as California, Arizona, Arkansas, and Virginia."
So it wasn't that unusual.
(Or was it?)
There were similar displays after 9/11.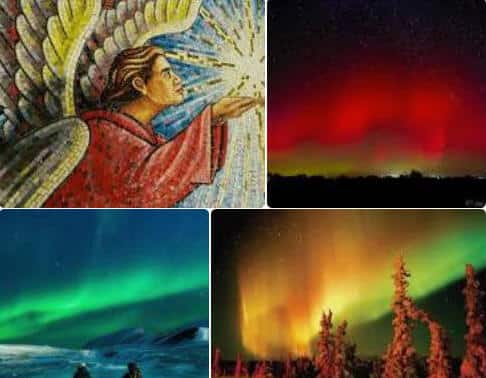 Northern lights (aurora) in Kyiv tonight 😱 pic.twitter.com/T9zzMNxPom

— Igor Novikov (@igornovikov) April 23, 2023
In recent days they also have been widely seen in Ireland and Australia (spectacular there).
And so one wonders.
These are photos taken various years, including last weekend.
And whatever the portents, we keep receiving seeming prophetic words, increasingly so from near-death experiencers, who, for our discernment, say much the same that alleged apparitions do. Wrote one such man in 2021:
"Death is not an end—it's a new beginning. It's your gateway through to eternity. We are living in troubling times. After 9/11, our country launched a war with Al-Qaeda, Iraq, and other countries. It's now twenty years later, and major problems are still going on in that region of the world. The stock markets are crazy. They've been going up and up and up, but any day, it could crash when we are not ready for it. It seems like huge corporations are running everything. People are losing faith in the nation's future. This new world we live in with COVID-19 is becoming divided and broken up. Russia has just invaded the Ukraine. These are warnings that things need to change. This is the time to make choices that can change the outcome of our world. If we are unwilling to change our current methodology, it will bring us to total devastation and distraction."
Added this fellow, Bill Tortorella: "There is a positive and negative energy that has endured throughout the ages. Living with the fear, violence, and hate that exist today is living on the dark side. Our society is residing in a negative plateau."
That seems beyond question. Also, a lack of the happiness, a contentment that accompanies those occupied with Jesus.
A negative, rancorous condition is transcended by those who spend adequate time reading Scripture and in prayer.
Said Mary at Medjugorje in her monthly message this week, "Dear children! I am calling all of you to be carriers of the peace and joy of the risen Jesus for all those who are far from prayer; that the love of Jesus, through your lives, may transform them to a new life of conversion and holiness."
She closed with a line that was noticeably missing from her previous message:
"Thank you for having responded to my call."
[resources: video of Michael Brown's April retreat and Pilgrimage to Italy]