---
It was more than twenty-five years ago that Maria Esperanza of Caracas, Venezuela, intoned a sentence that was mysterious at the time. "It will begin here," she said in The Bridge To Heaven, indicating something was going to occur in her homeland that would then spread around the globe. Venezuela would be a harbinger.
Perhaps it is a mystery no longer. At the time of her utterance, Venezuela was doing just fine. Overall its economy was booming due to oil exports from the world's largest reserves and while struggling, in pockets, with crime and poverty, cities like Caracas were becoming quite cosmopolitan — perhaps as much as, or more than, anywhere in South America. It was a system of democratic capitalism and the Church was held in high regard.
Now it is just the opposite: the economy has collapsed — to the point where electricity is rationed, peasant women have been forced into prostitution, residents attempt to flee for anywhere, and city dwellers are hunting down stray dogs for food. A basic dictatorship, its socialist leaders have truculently insulted bishops who dare to differ with them. Once a friend, it is now antagonistic to the U.S.
Overnight, its dreams have turned into nightmares. There is even a major drought. There is an eruption of tuberculosis.
Notes Reuters: "Many Venezuelans are unable to eat properly on salaries of just a couple of dollars per month at the black-market rate, sparking malnutrition, emigration, and frequent sights of Venezuelans digging through trash or begging in front of supermarkets."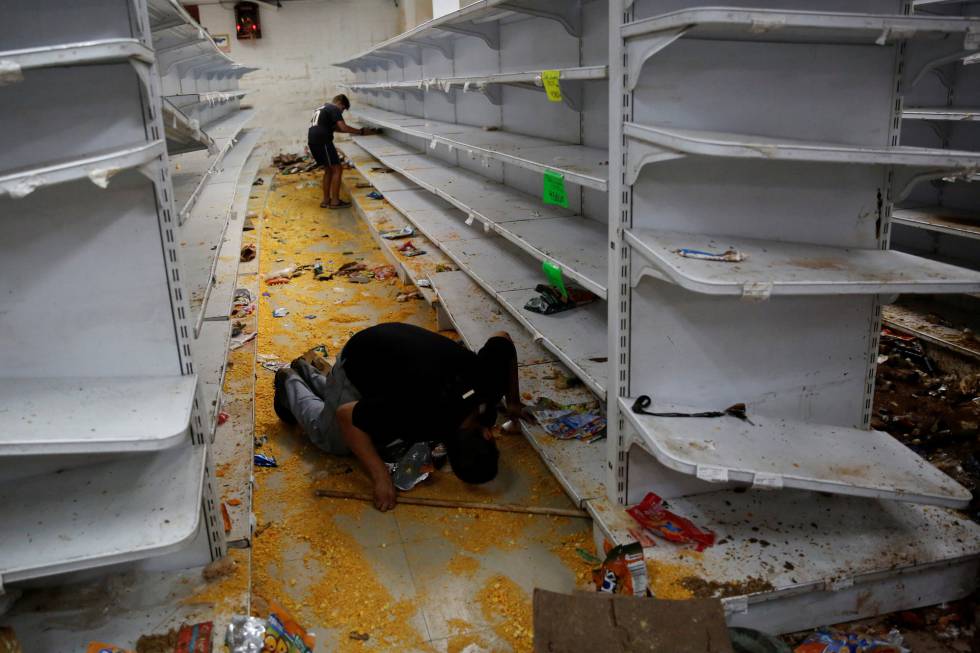 Notes even a Muslim news outlet, in warning to its own region: "[The] political crisis has deteriorated to the point that many government offices open for only two days a week to save electricity. Food shortages are causing lengthy ques for basic necessities. The healthcare system has collapsed and inflation is now officially over 1000%. Tension has spread to the streets of Venezuela as both government and opposition accuse each other of trying to stage a coup d'état. Anti-government protests have swept the nation and many have been killed or injured in protest-related violence."
Prisoners have been reduced to eating rats in the failed socialist state; zoo animals starve and feed on each other. What perhaps should most gain our attention is the upheaval. Said an earlier Reuters account: "The cab of Carlos Del Pino's big rig gave him a nerve-rattling front-row seat to a surge in mob attacks on Venezuela's neighborhood markets, cattle ranches and food delivery trucks like his.
"Shortly after pulling away from the docks at Puerto Cabello, the country's biggest port, he witnessed twenty people swarm a truck ahead of him and in a frenzy fill up their sacks with the corn it was carrying to a food-processing plant. The driver was held at gunpoint. 'It fills you with terror,' Del Pino said."
In nearly startling fashion it brings to mind Dr. Howard Storm, a former atheist from Kentucky who said he encountered angels during a near-death experience, angels who, he purports, told him that America would be turned into a third-world nation sometime in the not-too-distant future, with people shooting each other "over a cup of gasoline" [above, a looted store; from El Pais].
And so we pray. And attempt to cull the truth from it.
So often with alleged prophecies, we find truth in them only in retrospect; also often, we overly anticipate them; we expect their arrival in a way that is premature — instead of praying to ward them off: that our nation develop the purity and love necessary for this.
"Upheaval" is a watchword because upheaval — chaos, shootings, bombs, turmoil, protests, division — are signs of the times, as are events in nature, if we heed certain proclaimed seers such as Nika Van Den Dycke of Belgium, who long ago — 1947 — conveyed the message, presumably from the Lord: "I will bring America to its knees through a series of natural disasters. The status of America will be reduced to that of a village."
Is this just fear-provoking (fear comes from the enemy) or a plausible way of viewing the end result of recent, intensifying events?
And if prophecies are to borne out, when will they be borne out — that is, not only these precursors, but the fulfillment of truly transformative situations? Often we fail to see them creeping up on us, more a tide than a tsunami.
As a "privilieged soul" quoted by the late Marian filmmaker and former Paramount executive John Bird (who died at the apparition of Garabandal, Spain, a week ago) said: "The time is coming soon when all that I suffered in the last hours of My Passion, especially in the final three hours, is going to be lived out by mankind the world over, but do not let your hearts be troubled, because what will take place is for the eternal good of every soul.
"Things will intensify until the moment when the earth will tremble and the [spiritually] dead will rise from the sepulchre [of sin] and the veil [of deceit and hypocrisy] will be torn from top to bottom. Then in the darkness the Cross will be seen in the sky and the light from My Sacred Wounds will shine forth to judge all of mankind."
Real stuff — or simply a "mediation" (on previous prophecies from Saint Faustina, who also saw a Cross illuminated in the sky as a future happening)?
Time will discern the sibylline for us — in a way that cannot be challenged.
But when?
Here we come to the curious claim, also conveyed by Bird, that a seer, Conchita Gonzalez, from that controversial site of Garabandal, allegedly had said: "One day very shortly before [a prophesied great] miracle takes place, something will happen which will cause many people to disbelieve in the apparitions in Garabandal. The doubts and disaffection will not come as a result of the length of time [at that point, 1961-2012] people have been waiting for the coming of the Great Miracle." Bird asserted that the seer also had said, "A time will certainly come when people will no longer believe in the truth of our apparitions. No one, or almost no one: very few at any rate. When the majority of people no longer believe, then the Great Miracle will come." The same was said of the equally debated, if far larger, site of Medjugorje, where a Vatican commission has affirmed at least the first week of apparitions.
Words are one thing. We discern — open but cautious, careful not to grow cynical but also not to enjoy "tickled ears."
Again from that so-called "privileged soul": "Do not be fearful, for with a generous love, greater than ever before, I shall entrust you to My Holy Mother and her Immaculate Heart.
"In My desire to save souls, especially those who fight against Me and those who have apostasized, My plea of mercy: 'Father, forgive them for they know not what they do.' will reach out to embrace all Creation."
[Footnote from the mail: "Our Lady to Mirjana on March 18th seem to be warning of what is to come:  'My children, your battle is difficult. It will be even more difficult, but you follow my example.  Pray for the strength of faith; trust in the love of the Heavenly Father.'"]
[resources: The Bridge To Heaven and Tower of Light]