The Catholic Exchange:
Now, the gift that belonged to the giver becomes the possession of the one who receives it. The Gift of God is ours through the stu­pendous prodigy of love.
Almost every time that Sacred Scripture speaks of the mission of the Holy Spirit in our souls, we find the word give. "I will ask the Father, and He will give you another Advocate";"In this we know that we abide in Him and He in us, because He has given us of His Spirit";"For the Spirit had not yet been given, since Jesus had not yet been glorified."  The word give has a meaning proper to the Holy Spirit. The Father gave us His Son because He loves us: "God so loved the world that He gave His only-begotten Son." It is characteristic of love to give gifts, but the first gift, the gift par excellence, is love itself. The Holy Spirit is the Love of God; therefore He is the Gift of God. God gave His Son to us through love; consequently, that inexpressible gift is through the first Gift, through the Gift of all gifts.
[Return to www.spiritdaily.com]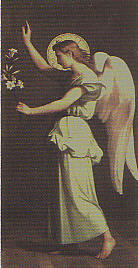 Pray always for purity and love
+
Please report any inappropriate ads or content
---