---
Battlefield: Santa Barbara, California, the most recent sign of the times.
You've been seeing it on the news (if you watch the news): an autumn of frightening, historic, deadly wildfires morphing with suddenness into a season of ravenous deadly floods.
Thus, charred-out landscape cherished so much by Hollywood stars and the wealthy in general, at least up there on those hillsides — a gorgeous, Mediterranean-style place — has given away literally to runnels of mud. It rains on the good and evil alike, says the Bible.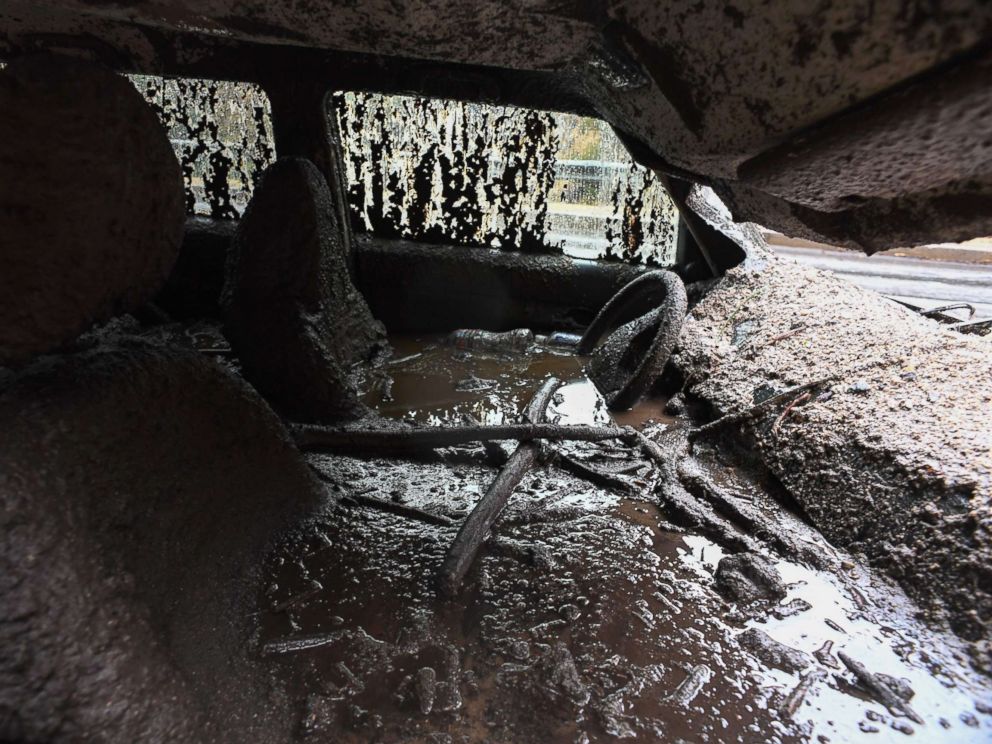 Nearly twenty have died from the torrents (prayer need here), dozens had to be rescued from rooftops this week, and others watched as manicured lawns sloughed off into those rivulets, granting a thick earthen sheath to once-pristine streets. Perhaps underlying spirits of locales are brought forth as a sign, as a warning, be it fire or sludge. Like the tide, these warnings lap higher by the year, inch by inch, but unrelentingly.
Ironically, among those whose homes were damaged (albeit "minimally") was Oprah Winfrey, who was all over the secular news Monday for her speech at the glitzy Gloden Globe Awards but who by Tuesday was photographed wearing boots in the slurry encompassing her palatial estate in Montecito (the uppermost of this up-scale area). At one point, a rescue helicopter whirled above. Noted People: "Oprah Winfrey took to Instagram again on Wednesday to document the extensive damage the mudslides in Southern California caused to her Santa Barbara community. 'So, there used to be a fence right there,' she says in a video showing the TV host wading through at least a foot of mud and fallen tree limbs in her yard. 'That's my neighbor's house—devastated. Debris is everywhere,' the media mogul, 63, notes, indicating a nearby home."
For she's hardly alone when it comes to neighbors and to "celebrities": Rob Lowe, Al Gore, Drew Barrymore, Malcolm McDowell, Jeff Bridges, and comedienne Ellen DeGeneres also call this area home. "Most deaths were believed to have occurred in Montecito," county spokesman David Villalobos said, according to Associated Press. "The town of about 9,000 people northwest of Los Angeles sustained heavy damage after mudslides slammed into homes, covered highways and swept away vehicles."
Is Santa Barbara alone? Hardly. Who hasn't been feeling the wrath of nature?
In the Alps, record snow.
In the Midwest and Northeast, record cold (atop Mount Washington, wind chill of close to minus-100).
And even fifteen inches of snow on a part of the Sahara Desert. All this after a record hot summer.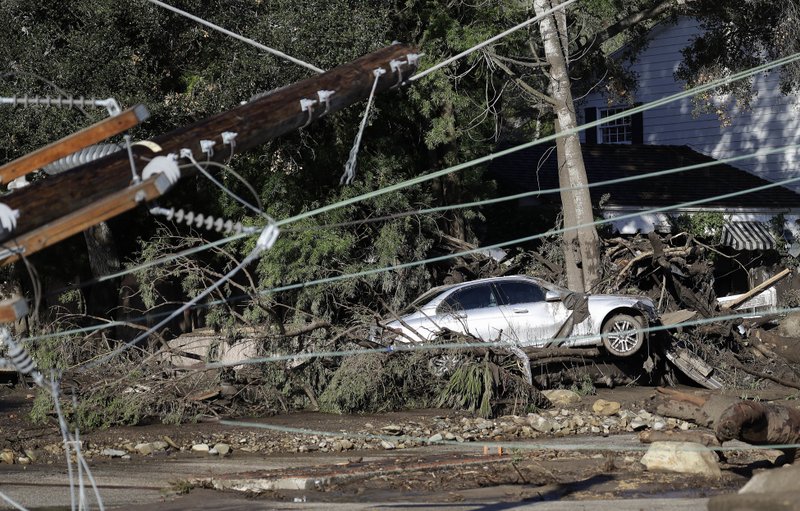 "The U.S. experienced a record year of losses from fires, hurricanes and other weather related disasters in 2017, according to the U.S. National Oceanic and Atmospheric Administration," as BBC put it,
"Total losses amounted to $306 billion the agency said, over $90 billion more than the previous record set in 2005. Last year saw 16 separate events with losses exceeding $1 billion."
Let that sink in:
Sixteen disasters with damages at more than a billion dollars. (Remember all those hurricanes, below, Houston?)
And recall what in Ezekiel the Lord said to Jerusalem, about why Sodom was destroyed.
"Behold, this was the guilt of your sister Sodom: she and her daughters had arrogance, abundant food and careless ease, but she did not help the poor and needy. Thus they were haughty and committed abominations before Me. Therefore I removed them when I saw it" (16:48).
Let that sink in also. (It wasn't just sodomy.)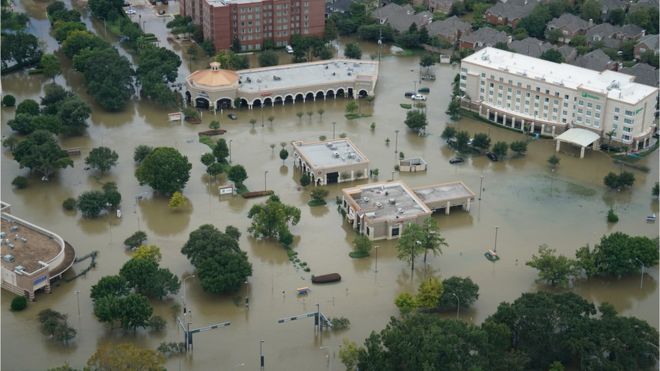 Santa Barbara first came into its own in old-time Hollywood where actors seeking respite went here to get just beyond the urban sprawl.
It is — was — a gorgeous area. It will be, when they clean things up this suspiration of nature. It will again glint in the sun with the Santa Ynez Mountains as dramatic backdrop, and downtown, there will still be Mediterranean-style white stucco buildings with red-tile roofs reflecting the city's Spanish colonial heritage. "Upscale boutiques and restaurants offering local wines and seasonal fare line State Street," notes the city's website. "On a nearby hill, Mission Santa Barbara, founded in 1786, houses Franciscan friars and a museum."
Right now, fire and mud put us in mind of many things that can be taken as Divine tokens.
Or is the word "omens"?
That mission: we visited it, and it's great, as all these missions along that coast are. There are some strong Catholics and all-round great people here. But there that glitz and materialism and New Ageism (an annual Solstice Parade that once featured a sexual bondage theme), and vilification of nature.
When one walks the beaches of Santa Barbara, one looks out to the Pacific and sees: an oil rig.
In the sand are sometimes globules of petroleum.
And so, perhaps, nature rebels.
Fame. Money. Sexual immorality. Violation of Creation.
It goes together like water and murk, like tinder and fire.
[resources: Where the Cross Stands and Tower of Light]
[Return to www.spiritdaily.com]
[Footnote: Meanwhile, did a Catholic TV personality, before a stroke, once describe an apocalyptic scenario, "as just-punishment cannot be any longer forestalled," such that "severe cold will afflict the mid-western, continental United States. (It will be an act of God, not of man.) The cold will be so extreme, that railroad tracks will spontaneously twist out of shape. People in remote, isolated mid-western towns will starve because of disruption of food transportation"? We don't know. Many things float around the internet. Is it an angel? A reflection? A sheet of plastic litter? All kinds of supernormal claims. Some contrived. Some likewise signs…"Flee to Saint Joseph, and the Blessed Mother of the holm oak who tells us that brightness can be found only by those who practice the diligence of prayer amid consternation," said a word of knowledge last March. "Those who framed the future in accordance with their own time tables now find disbelief in prophecies though they unfold around you."]